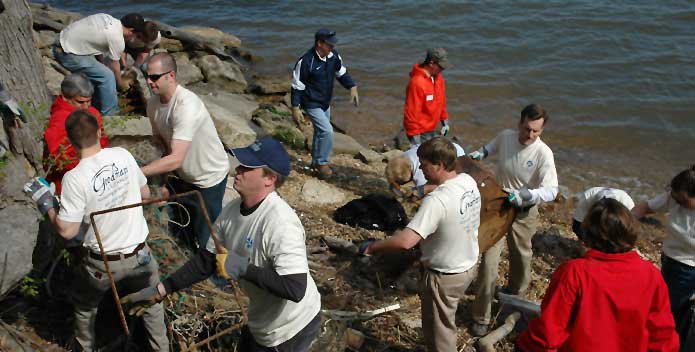 Dixon Hughes Goodman, one of the premier public accounting firms in the country, supports CBF in a variety of ways, including recently making a leadership investment in the Bay's future by supporting our Environmental Education Program. In addition, company employees participate in corporate service days, donating their time to help out at CBF's Oyster Restoration Center in Virginia.
In 2008, then Goodman & Company announced a $300,000 investment to establish a Student Leadership Fund to allow CBF to expand its environmental education programs for middle and high school students in Virginia and the metropolitan Washington, D.C. area.
But management and staff at Goodman were clear: they wanted a hands-on partnership, so that employees of the firm could have a real share in CBF's mission to preserve and protect the future of the Bay. That led to employees joining CBF on multiple Earth Day projects.
"The environmental goal of the Chesapeake Bay Foundation—saving the Bay for future generations—ties in nicely with our own branding, 'Accounting for Your Future,' and the Bay's watershed closely fits the footprint of our operating regions," said Tom Wilson, Dixon Hughes Goodman CEO.
Learn more about Dixon Hughes Goodman at dhgllp.com.