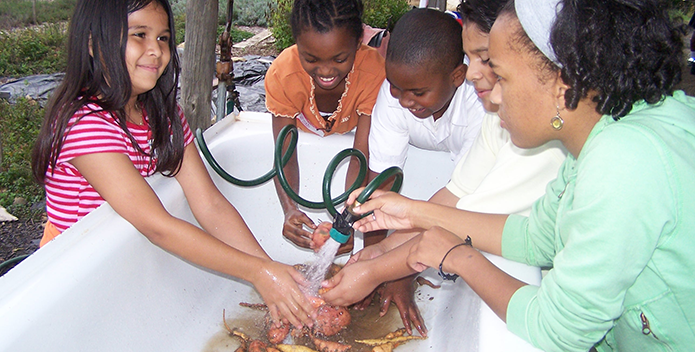 Kaiser Foundation Health Plan of the Mid-Atlantic States, Inc. (Kaiser Permanente) and CBF are teaming up to promote healthy eating, access to local food, and sustainable agriculture.
Through our programs at Clagett Farm, we are working with Kaiser Permanente to increase access to healthy food by demonstrating sustainable farming techniques, and to provide fresh organic produce to low-income communities and local families. The partnership also allows us to educate and engage students, community members, consumers, and decision makers on the connections between sustainable agriculture, clean water, local food, and human health.
"Increasing access to healthy foods is at the core of our "total health" mission—but we don't just stop at access," says Maritha Gay, Kaiser Permanente Executive Director of External Affairs and Community Benefit. " We support the full spectrum of the food chain including sustainable agriculture. Our work with the Chesapeake Bay Foundation allows us to achieve this here in the region and to encourage better health for many."
To learn more about Kaiser Foundation Health Plan of the Mid-Atlantic States visit kp.org/midatlantic.