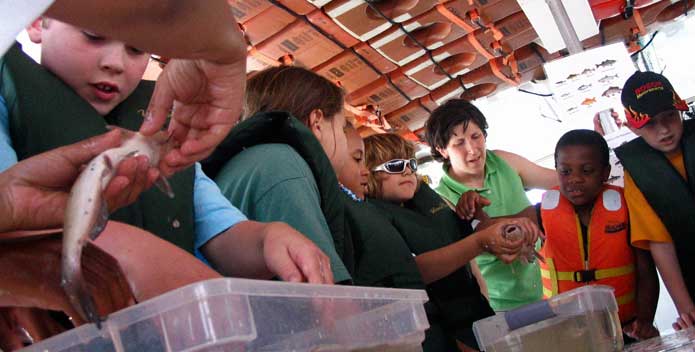 Lockheed Martin has been a longtime generous supporter of CBF's environmental education program.
Just outside Baltimore, Maryland, one of the world's largest defense contractors, Lockheed Martin, has undertaken a decade-long environmental cleanup that demonstrates not only their commitment to the environment, but to the local community as well.
In the 1990s, contamination was discovered at the corporation's Middle River Complex and Martin State Airport in Middle River, Maryland, that can be traced back to an airplane factory that operated there some sixty years earlier.
Since that discovery, Lockheed Martin hasn't looked back, forging ahead with extensive environmental tests—actively investigating groundwater, soil, and sediment at both locations. They voluntarily accepted responsibility for the cleanup at both locations, including adjacent properties and waterways in addition to land and buildings owned by the corporation.
Gary Cambre, Senior Manager-Corporate Energy, Environment, Safety & Health, explains it was all about doing the right thing, "Lockheed Martin's environmental investigations and clean-up efforts have been a proactive way for us to be a good corporate citizen and provide a safe environment for our employees and the community that surrounds both properties."
To learn more, visit http://www.lockheedmartin.com/us/aeronautics/community-relations.html.