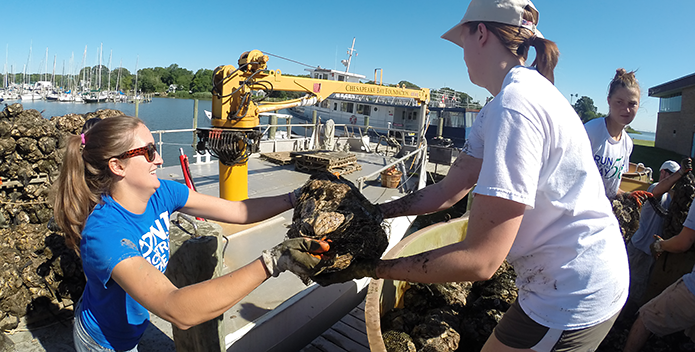 Every year, with the help of generous donors, like The Orvis Company, and hardworking volunteers who donate their time and energy, CBF plants millions of baby oysters in local waters.
For 2016, The Orvis Company selected CBF as one of four recipients of a $30,000 matching grant from a pool of international applicants. Through this grant, they committed to matching every dollar—up to $30,000 — for a total annual contribution of $60,000. Together with their customers, The Orvis Company is helping CBF restore a healthy oyster population in the Chesapeake.
Through our Oyster Restoration Centers in Shady Side, Maryland and Gloucester Point, Virginia—and with the help of thousands of volunteers—CBF will restore 4 acres of live reef habitat. Utilizing a full suite of restoration techniques—recycled oyster shell, citizen-grown oysters, juvenile oysters, and reef balls (dome-shaped concrete structures to which oysters attach), CBF will add 20 million oysters to targeted, protected reefs in the Chesapeake Bay. Such generous support from The Orvis Company enables our efforts to restore the Bay's once-plentiful oyster population, reduce water pollution, restore oyster reefs and fish habitat, and educate and engage residents throughout the Chesapeake Bay watershed.

"Protecting the natural world and a love of the outdoors is not just a corporate commitment, but a way of life that resonates with all of us here at The Orvis Company. That's why we give 5 percent of pre-tax profits to protect nature. This year, a portion of this commitment goes towards the Chesapeake Bay Foundation's work in restoring the oyster population that is so critical to the health of the Bay," said Perk Perkins, CEO of Orvis.