Educating the Public
As we grew, educating the public became critical to our success.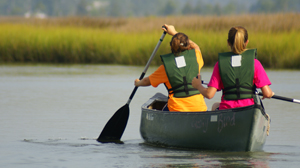 CBF began providing Pennsylvania students access to environmental education through a canoe-based education program.
CBF opened a second satellite office on the Susquehanna River in Harrisburg bringing clean-water advocacy to Pennsylvania.
A U.S. Supreme Court ruling firmly established citizen suits as a force in protecting the environment under the federal Clean Water Act following CBF's arguments in the case of Gwaltney of Smithfield, Ltd. v. Chesapeake Bay Foundation, Inc. and the Natural Resources Defense Council. The Gwaltney meat-packing plant was a notorious polluter of the Pagan River, a tributary of Virginia's James River.
CBF released its first annual State of the Bay report, now a successful model that other organizations have adopted.
CBF satisfied growing demand for environmental education with the acquisition and renovation of two additional residential education centers at Port Isobel Island near Tangier, Virginia, and at Bishops Head, Maryland.
CBF responded to the Pfiesteria crisis by educating potential victims, the press, and legislators about the connection between pollution and human health risks and by monitoring vulnerable rivers and streams for outbreaks.
CBF Fisheries Director Bill Goldsborough was named to the Atlantic States Marine Fisheries Commission, which adopted mandatory management plans for shad, herring, spot, croakers, sea trout, and other migratory fish along the East Coast.
CBF's leadership helped secure Pennsylvania's groundbreaking Nutrient Management Act, requiring detailed management plans for manure use and certified nutrient management plans for all concentrated animal operations.
CBF successfully opposed the elimination of water quality standards in Pennsylvania.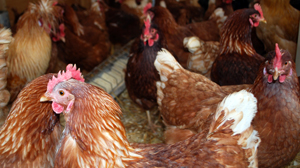 CBF successfully championed a new Virginia law requiring permits to better manage animal waste on poultry farms.
The State of Maryland, with intensive advocacy from CBF, passed the Water Quality Improvement Act. The legislation requires farmers to have nutrient management plans for nitrogen and phosphorous use on their farms.
CBF commissioned a University of Maryland study of toxic contamination in Baltimore Harbor, disseminated a list of toxic hot spots, and successfully pushed the Bay Program's Executive Council, which includes the governors of Maryland, Virginia, and Pennsylvania; the mayor of D.C.; the EPA Administrator; and the Chair of the Chesapeake Bay Commission, to sign a zero toxic contamination strategy for the Bay.