Leading the way
As we matured, we became leaders for clean water rights.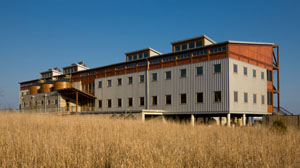 The U.S. Green Building Council presented the world's first Platinum LEED Award for environmental sustainability to CBF for the innovation carried out in the building of CBF's headquarters, the Philip Merrill Environmental Center.
CBF helped write and lobbied for Virginia's Non-tidal Wetlands Protection Act.
After lobbying by CBF, Maryland created the Chesapeake Bay Restoration Fund, a precedent setting program that established a dedicated fund to upgrade the state's largest sewage treatment plants.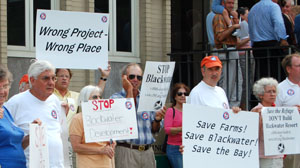 A citizen supported CBF campaign stopped a $1-billion golf, housing and retail complex called Blackwater Resort on Maryland's Eastern Shore. The sprawling development would have been built on non-tidal wetlands and farm fields and polluted one of the region's gems, the Blackwater National Wildlife Refuge.
The Virginia Supreme Court unanimously ruled in favor of CBF in a landmark case against Philip Morris USA. The decision recognized citizens' groups standing to bring court challenges on behalf of their members.
CBF helped secure two of the largest funding programs for farms in Pennsylvania history, Growing Greener and the Conservation Reserve Enhancement Program (CREP).
Following a CBF led advocacy effort targeting the Farm Bill, Congress passed the Chesapeake Bay Watershed Program, a four year, $188-million program to support Chesapeake Bay farmers in reducing nutrient pollution, the largest mandatory regional Farm Bill program in history.
CBF played a leadership role in a diverse coalition that successfully lobbied Pennsylvania legislators to approve the Resource Enhancement and Protection Program (REAP). REAP allows farmers to earn tax credits for using conservation practices.
CBF's Vice President for Education, Don Baugh, founded No Child Left Inside Coalition, a national partnership of more than 2,000 organizational and business members, that provides support and funding for environmental education.