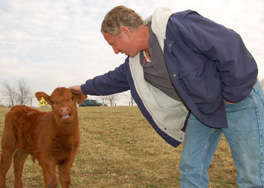 It is a particularly steamy Friday morning on CBF's Clagett Farm in Upper Marlboro, Maryland. The cows are testy, lined up, and waiting expectantly for Farm Manager Michael Heller. We pull up in his '96 Ford Ranger, windows down, Beethoven's Coriolan Overture on the radio. The cows take notice, mooing their greeting before charging to the fence. The herd of red angus and red devon are anxious to move on to the next field to graze, occasionally nudging Heller with their noses as they pass. "Our cows are very gentle," says Heller with pride.
Clearly, Heller and Clagett Farm are a natural fit. The Pennsylvania native grew up working on the farm next door, bird watching with his mother, and tending his garden: "My friends used to joke that I was the only high school quarterback with a wildflower garden." In 1982, after stints at Hawk Mountain Sanctuary, the National Park Service at Cape Hatteras National Seashore, and the University of Maryland, Heller got a call from CBF.
Soon thereafter, Heller was managing CBF's newly acquired 285-acre farm, running the on-site education program, and writing grants. "It was a wonderfully impossible job," says Heller with a glowing enthusiasm, "and here 30 years later, the learning curve keeps going up and up...I still feel like I'm just getting started!"
From the beginning, the avid environmentalist was determined to use truly sustainable farming methods. "Building soil quality is probably the single most important thing to improving water quality," says Heller. "From day one I have not used pesticides." Instead, Heller, a University of Maryland plant ecology master, generated pasture fields of orchard grass, timothy, clover, and other species that don't require tilling, soak up nutrients, build the soil, provide great sustenance for the cows, and most importantly, improve water quality.
"The beauty of working on the farm here is it directly affects water quality and the Bay." says Heller. "It also allows me and CBF to get a real perspective of what farmers need to do to be successful and protect the Bay."
Heller's contributions to the farming and environmental communities go well beyond Clagett Farm. He was instrumental in starting both Future Harvest, a regional sustainable agriculture organization, and Maryland Grazer's Network, a mentorship program for sustainable farming. CBF's Renaissance farmer is also co-author of the cookbook The Grassfed Gourmet, founder of Clagett's Community-Supported Agriculture, a Johns Hopkins visiting scholar, father of three, and a grandfather.
Heller spends as much time as possible either on a tractor or in a canoe. "I'm never happier than when I'm in a canoe, listening to marsh wrens and bitterns calling."
When asked why it's so important for future generations to come out and get a taste of Clagett Farm, Heller doesn't take long to answer: "My kids are different for having grown up on a farm. When students come out here, they work a little bit. They see that there's a tangible result to work—a connection between the land and what's happening in the water."