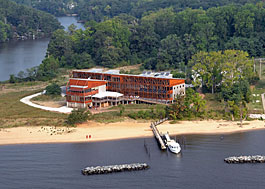 FACILITIES
Q. How many hours does the rental fee cover for my event?
A. The total rental is for 8 hours, which includes 2 hours for setup, 5 hours for the event, and an hour for cleanup. Music must end by 10 p.m. on Saturday and Sunday, so most evening events are held from 5-10 p.m. On Fridays, evening events run from 5:30-10:30 p.m., as parking will be an issue during business hours.
Q. Is parking available on site?
A. We have a total of 125 parking spaces available. Cars can be left overnight but must be picked up the next morning in preparation for the next event.
Q. Are restrooms available?
A. Restrooms are located off of our lobby space and are easily accessible from all areas of the venue.
Q. Are there any décor restrictions?
A. Nails, staples, tacks, or any other permanent application is not allowed. Any candles must be contained within a hurricane or votive candle holder.
Q. Can we use our own caterer and/or rental company?
A. No. You must select a caterer and/or rental company from our approved vendor list.
Q. We have heard that your facility is a "green" building. What does that mean?
A. The Merrill Center is constructed of the most environmentally responsible building materials available, and consumes significantly less energy, water, and resources than similar commercial buildings. Not only does the building's design prevent thousands of pounds of nitrogen and phosphorus pollution from entering the Chesapeake Bay, it is extremely cost-effective, and operates in harmony with the land, natural resources, and the water. The U.S. Green Building Council awarded the Merrill Center its first ever prestigious LEED Platinum designation, making it the world's greenest building.
Q. What is provided with the rental fee?
A. Everything listed under Features and Services.
Q. Are tables included in my rental?
A. Yes. We provide:
10 60-inch round tables (seat 8-10 people each)
4 36-inch cocktail tables
24 5x2.5-foot rectangular tables (great for gift tables, DJ tables, bars, etc.)
Q. Are linens, chairs, and decor included?
A. Linens, chairs, and additional needs (silverware, glassware, plates, etc.) will be rented through your caterer. You are welcome to bring in your own décor or rent items, as well. We do have some decor items that are automatically included in the rental price, which you are welcome to use. More information on those will be provided by our event coordinator.
FOOD & BEVERAGE
Q. Is there an onsite kitchen?
A. Yes. There is a catering kitchen conveniently located off of the Joseph and Bonnie Kies Canvasback Conference Room
Q. Can we use a caterer that is not on your list?
A. No, you must choose a caterer from our preferred caterer listing. Our catering listing has been carefully chosen due to their knowledge of our facilities and their service to prior clients. All caterers listed are full service and will handle setup, cleanup, and all rental items on your behalf. The catering list is updated yearly and we regularly evaluate the service levels of our preferred caterers. All other service providers, such as photographers, DJs, and florists can be chosen at your discretion
Q. May we bring our own alcohol?
A. Yes, you may. We will obtain the required one-day liquor license from Anne Arundel County on your behalf as a service to you.
WEDDING SERVICES
Q. Do we get a rehearsal for our wedding?
A. Rehearsals are included in the venue fee and will be finalized at least 30 days prior to the event. CBF staff does not assist with rehearsals, but you are welcome to use our beach, dock, or deck for the rehearsal.
Q. Can my pet come to our ceremony?
A. We adore your furry friends—bring them along for the fun! Please note, however, that animals are allowed on the beach area only.
Q. Is use of the beach and dock part of the rental fee?
A. Yes. The rental fee covers the use of the room, catering kitchen, deck, dock, and beach. Though we do allow our staff to use the far end of the beach, this area is not in front of the center and staff use will not disturb your event.
Q. Is the tent included in the pricing?
A. Yes, the tent that covers our entire deck area is included in the pricing. There are lights already installed in the tent, along with ceiling fans and clear side panels.
Q. Can we have candles during our event?
A. All open flames must be contained within a hurricane or votive candle holder. We do not allow sparklers or fireworks on the property.
Q. Are there any décor restrictions?
A. Nails, staples, tacks, or any other permanent application is not allowed. Otherwise, you are free to customize your event as you wish.
Q. Are there any restrictions on where we are allowed to take photos?
A. We encourage you to utilize our unique 31-acres of natural beauty for whatever pictures you would like for your event. The property includes a private beach, wooded walking trails, private access to a creek, as well as plentiful tall grasses and trees.
Q. Are we allowed to enter and depart by boat?
A. Absolutely! We love adventurous couples! We have a 125-foot dock. The area off our beach is shallow, so the boat you use must have no more than a 2-foot draw.
Q. Do you provide a day-of coordinator?
A. While there will be an events staff member present for your event, we do not provide day-of coordination services. The responsibility of the staff member is mainly building maintenance, setup, security, and to be available for you and your vendors. You are welcome to designate your own coordinator or hire a professional.
WEDDING CONTRACT INFORMATION
Q. What is the payment schedule?
A. Upon contract, a 50 percent venue deposit and $500 security deposit are due. The remaining 50 percent payment will be due at the final walkthrough 30 days prior to the event. Extra hours are $500 each. The $500 security deposit will be returned after the event so long as there is no damage to our facilities.
Q. Will you hold dates?
A. We do not officially hold dates. However, once a contract for your requested date has been drawn, the date is held for one week for you to submit the deposit payment. If no payment is received, we will release your requested date.
Q. Is event insurance required?
A. Yes, we require a standard $1,000,000 policy to be issued at least one month prior to your event date. These policies can be issued through your exiting homeowner's insurance policy or through several event insurance websites.
Download our Meeting & Event Packet or Wedding Brochure for additional information.