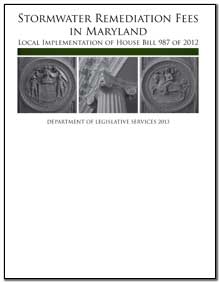 The Stormwater Remediation Fees report from Maryland's Department of Legislative Services outlines the background and fees of House Bill 987 of 2012, commonly known as the Stormwater Utility Fees. The following are all PDF documents.
Table of Contents
Summary of Local Stormwater Remediation Fees by Jurisdiction
Summary of Stormwater Remediation Fees Implementation
Fee Credits, Rebates, and Exemptions
County Stormwater Fact Sheets
The problem of polluted runoff is most severe in the following 10 Maryland jurisdictions. These jurisdictions are already required, by the Clean Water Act, to deal with the pollution they discharge into local creeks and rivers.

Anne Arundel County | Baltimore City | Baltimore County | Carroll County | Charles County | Frederick County | Harford County | Howard County | Montgomery County | Prince George's County
---
ANNE ARUNDEL COUNTY
Polluted Runoff in Anne Arundel County complete packet (PDF 4.6MB)
or view fact sheets individually:
BALTIMORE COUNTY
Polluted Runoff in Baltimore County complete packet (PDF 4.17MB)
or view fact sheets individually:
BALTIMORE CITY
Polluted Runoff in Baltimore City complete packet (ZIP 5.20MB)
or view fact sheets individually:
CARROLL COUNTY
Polluted Runoff in Carroll County complete packet (PDF 0.77MB)
or view fact sheets individually:
CHARLES COUNTY
Polluted Runoff in Charles County complete packet (PDF 4.0MB)
or view fact sheets individually:
FREDERICK COUNTY
Polluted Runoff in Frederick County complete packet (PDF 0.80MB)
or view fact sheets individually:
HARFORD COUNTY
Polluted Runoff in Harford County complete packet (PDF 2.8MB
or view fact sheets individually:
HOWARD COUNTY
Polluted Runoff in Howard County complete packet (PDF 3.1MB)
or view fact sheets individually:
MONTGOMERY COUNTY
Polluted Runoff in Montgomery County complete packet (PDF 0.85MB)
or view fact sheets individually:
PRINCE GEORGE'S COUNTY
Polluted Runoff in Prince George's County complete packet (PDF 5.93MB)
or view fact sheets individually: