December 2018 - New Classroom to Open at Brock Environmental Center
Press Release Archive (2012-2015)
Articles
Amerigroup Foundation Donates Materials; Supports CBF's Brock Environmental Center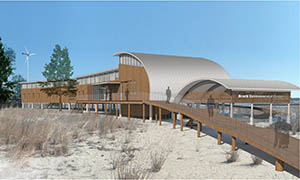 There are so many different ways for each of us to help save the Bay. Granite countertops, kitchen sinks, and lockers, though? Who knew?!

Hampton Roads Community Foundation Makes Generous Gift to Support CBF's Brock Environmental Center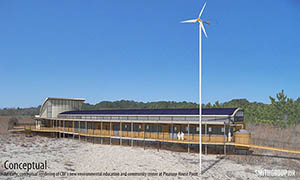 CBF's work to build what will be one of the greenest facilities in the world—the Brock Environmental Center at Pleasure House Point in Virginia Beach—just got a big boost thanks to a grant from a longtime friend of the Bay and CBF, the Hampton Roads Community Foundation.
Awards
The Brock Environmental Center and Pleasure House Point Master Plan were presented the Best Master Planned Project Award of Excellence, the Best Sustainable Design Award of Excellence, and Jurors' Choice Award by the Hampton Roads Association for Commercial Real Estate in October 2015. Read More
The Best New Environmental Sustainability Award was presented to the Virginia Beach Parks and Recreation Department in recognition of the preservation of Pleasure House Point Natural Area. This natural area was acquired and preserved in July 2012 by the City of Virginia Beach through a forward-thinking partnership with the Trust for Public Land in collaboration with the Chesapeake Bay Foundation. This 118-acre legacy acquisition contains a mile of shoreline on the Lynnhaven River and Pleasure House Creek. The City of Virginia Beach succeeded in preserving one of the last undeveloped parcels of land on the Lynnhaven River. The award was presented by the Virginia Recreation and Park Society.