The project experienced a terrible start with the illegal disturbance of 13.5 acres of forested land atop the cliffs in late 2017 without required permits.
The Virginia Attorney General's Office has filed a lawsuit against the developer, known as Virginia True LLC, for numerous violations first cited by the Virginia's Department of Environmental Quality (DEQ).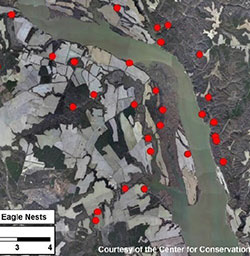 A developer's failure to protect water quality would be of concern anywhere, but it's especially outrageous at Fones Cliffs. The extensive forest and high cliffs along this dramatic spot on Virginia's Northern Neck provide ideal hunting grounds for the hundreds of eagles that migrate to the area every year. The Rappahannock below is a major spawning and nursery area for fish, including striped bass, shad, and sturgeon. This bend in the river has played an important role in Virginia history dating at least to 1608, when Capt. John Smith noted a skirmish there with the Rappahannock tribe.
The developer illegally disturbed 13.5 acres of forested land adjacent to the cliffs without necessary sediment and erosion controls, destabilizing the area. This allowed bare soil and mud to run into the river and contributed to the collapse of sections of the cliffs during heavy rains in the spring of 2018. The land clearing only came to light after sharp-eyed neighbors and conservationists spotted the damage and notified officials, leading to a stop-work order from Richmond County in December 2017 and numerous violations from the DEQ.
Permits and environmental safeguards protect our quality of life, economy, and the waters we all enjoy. Fones Cliffs is a remarkable natural area, and we urge developers to respect this unique and sensitive site. CBF will continue to work with DEQ and Richmond County to ensure that developer violations are deterred and any future work on the site meets the strictest environmental standards.
History of Fones Cliffs Development
Fones Cliffs has long been recognized for its natural beauty, and it has in recent years become a target for development. In 2015, developers asked Richmond County to rezone a 976 acre site atop Fones Cliffs to allow for a massive commercial-residential development. The original proposal included 718 homes and townhouses, 18 guest cottages, an 18-hole golf course, 116-room hotel, restaurant, a small commercial center, a skeet and trap range, equestrian center with stables, a 10,000 square foot community barn, and seven piers along the river.
CBF strongly opposed the rezoning, working with the community and local officials closely on the issue. However, in November 2015 the Richmond County Board of Supervisors ultimately approved rezoning the land to allow for the development. In 2017 the land was sold by Diatomite Corporation to New York-based Virginia True Corporation, the current developers.
Timeline of CBF Engagement at Fones Cliffs
1976: CBF begins leading environmental education courses on the Rappahannock River around Fones Cliffs.
September 2015: CBF leads a press tour of Fones Cliffs by boat on the Rappahannock River.
October 2015: CBF submits comments to the Richmond County Board of Supervisors opposing the rezoning of property along Fones Cliffs to allow for a large commercial-residential development.
November 2015: CBF staff testify at the Richmond County Board of Supervisors in opposition to the rezoning of the property.
December 2017: CBF verifies reports of illegal clearing at Fones Cliffs and contacts Virginia's Department of Environmental Quality (DEQ) and Richmond County.
April 2018: DEQ continues enforcement action, filing a second notice of violation with the Fones Cliffs developer after it fails to take steps required to address the damage. CBF calls for strong action to deter future violations.
August 2018: CBF calls for significant penalties for the Fones Cliffs violations in comments filed with DEQ on a consent order with the developer.
September 2018: DEQ refers Fones Cliffs developer violations to the Virginia Attorney General's Office. CBF applauds the decision.
October 2018: Terrell Bowers, who owns 250 acres of Fones Cliffs adjacent to the property under enforcement actions, announces that his portion of the cliffs is under contract for sale to The Conservation Fund for preservation.
October 2018: The Virginia Attorney General's announces that it has filed an enforcement action in Circuit Court that charges Virginia True with violations following illegal actions at Fones Cliffs. Applauding the action, CBF calls for the developer to be held to account for its flagrant disregard of environmental protections.


Podcast
29 Sep 2015
Episode 14
|
00:16:25
Video