---
Note: In a similar matter, CBF has joined Earthjustice and others to sue the U.S. Environmental Protection Agency for failing to reduce interstate air pollution in another ruling involving several Eastern states. The suit has been filed as Downwinders at Risk v. EPA.
---
Power plants traditionally have been a major source of both air pollution and water pollution in the Chesapeake Bay region. Coal plants are especially dirty. They spew—among other pollutants—nitrogen oxides, which contribute to both ground-level ozone and to "dead zones" of low oxygen and other problems in our waterways.
Thanks to government regulations, power plants in general are cleaner than they used to be. As a result of state and federal laws requiring pollution controls, ozone levels have fallen dramatically. A University of Maryland (UMD) study published in 2016 also found a bonus to this cleaner air: less nitrogen oxides coming from power plants helped produce cleaner streams and rivers.
But we're not out of the woods. According to an estimate from the Maryland Department of the Environment (MDE), on bad ozone days in Baltimore about 70 percent of the ozone problem is the result of air pollution from power plants and vehicles drifting to Maryland from upwind states.
Even more frustrating, 19 specific plants in five of those states—Pennsylvania, West Virginia, Indiana, Ohio, and Kentucky—have pollution control measures in place similar to those required by Maryland plants, but they don't always turn them on—even during hot summer days when ozone can be a real problem. That's because those five states' standards aren't as rigorous as Maryland's. If their plants can turn off their controls and save money while still complying with air standards, they can, regardless of health problems they cause downwind.
Maryland Calls for EPA to Step In
In November of 2016, MDE petitioned the U.S. Environmental Protection Agency (EPA) to require those 19 power plants to turn on their pollution controls in a manner consistent with Maryland law.
"Maryland has been working with upwind states to reduce the smog that comes from their smokestacks and is breathed in by Marylanders, but we now need the EPA to step in," said Maryland Secretary of the Environment Ben Grumbles. "We're not asking for anything that we're not already doing in Maryland. This common-sense approach—running the pollution controls that are already installed but are not always being used in out-of-state power plants—is the single biggest step we can take to protect our citizens' lungs and health and level the regulatory playing field for our businesses."
The Clean Air Act sets a deadline for EPA to grant or deny this kind of petition. EPA failed to respond to the Maryland petition by the deadline. On September 27, 2017, MDE filed suit against the EPA for this failure to respond to the petition. On October 4, 2017, CBF and six other regional and national environmental and public health organizations filed a similar lawsuit.
"Today's unhealthy air in Maryland underscores the need for federal action," said CBF Vice President of Litigation Jon Mueller in a press statement.
On June 13, 2018, Judge James K. Bredar of the District of Maryland federal court issued a decision in the joint cases brought by the State of Maryland and the organizations. Judge Bredar ruled that EPA failed to comply with the explicit terms of the Clean Air Act which provide that EPA was to respond to Maryland's petition within 60 days. EPA had missed the 60-day deadline by almost a year before the state and citizens filed suit.

While recognizing that EPA had violated the law and had failed to provide a solid reason for doing so, Judge Bredar acknowledged that his job was not to punish EPA by imposing an unrealistic deadline but to fashion a remedy that met the purposes of the Clean Air Act. Therefore, he ordered EPA to issue a final decision on the petition by September 15, 2018. In reaching that conclusion, Judge Bredar admonished EPA for openly violating Congress' directive to timely respond to state petitions. "EPA and the Administrator may not take seriously the deadlines set by Congress, but this Court expects and demands that they take seriously the deadlines set by it," he said. Accordingly, Defendants are hereby placed on notice that no further delays will be tolerated or extensions granted."
The decision was the fourth in 2018 alone in which federal courts found that EPA violated mandatory Clean Air Act deadlines requiring the agency to take actions relating to ozone pollution.
On September 14, 2018, EPA Acting Administrator Andrew R. Wheeler denied Maryland's petition, as well as four similar petitions submitted by Delaware. A month later, Maryland appealed that denial to the U.S. Court of Appeals. Two days later, CBF and a coalition of public health and environmental groups also petitioned the D.C. Circuit for review of EPA's denial. We will continue to support Maryland and Delaware's efforts to reduce the interstate transport of air pollution.
"If EPA will not act to reduce air pollution that hinders the Chesapeake Bay cleanup, accelerates climate change, and harms human health then the Chesapeake Bay Foundation will do everything it can to support states such as Maryland that will challenge the federal agency in court," said CBF's Mueller in a press statement.
Upwind Profits Mean More Ozone for Maryland
In its 2016 petition to the government, MDE calculated that the 19 plants specified garnered an extra $24 million in profits in 2014 simply by turning off their pollution controls.
But pollution from that profit-taking makes its way to Maryland. And on hot and sunny days, oxides of nitrogen (NOx) and volatile organic compounds (VOCs) undergo chemical reactions that form ground-level ozone.
MDE has estimated that in 2015 about 39,000 tons of NOx reductions could have been achieved in the hot months if the 19 out-of-state plants had simply run their control technologies effectively.
There is solid legal ground for EPA to act. The federal Clean Air Act directs EPA to establish air quality standards for pollutants known to endanger human health and welfare, including nitrogen oxides and ground-level ozone. The federal law also includes a "Good Neighbor Provision," which requires each state to ensure its air pollution doesn't interfere with air quality attainment standards in downwind or neighboring states. States are allowed to petition the EPA to enforce that provision.
The Health Effects of Ozone Pollution
Ozone can cause the muscles in the airways to constrict, causing immediate health problems such as shortness of breath, wheezing, and headaches. It can also aggravate lung diseases such as asthma, emphysema, and chronic bronchitis. Long-term exposure is likely to be one cause of asthma and may also be linked to permanent lung damage, especially in children.
Maryland has already had several so-called "Ozone Action Days" this summer, days when ozone levels are deemed unhealthy for children, the elderly, and those with respiratory or heart conditions.
How Air Pollution Affects Our Waters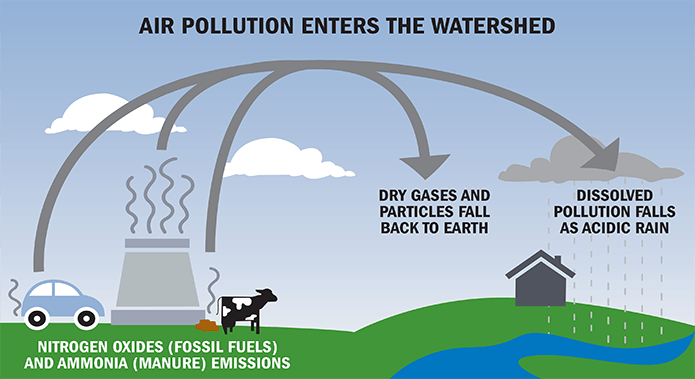 Nitrogen oxides from neighboring states' power plants are a double whammy for Maryland. Not only do they endanger the health of Marylanders, especially children; they also pollute our water. A portion of these gases fall directly into our waterways or are washed off the land. Nitrogen from these "air depositions" is a significant contributor to the Bay's poor health. Nitrogen acts like plant food in the Bay, feeding massive algae blooms that suck oxygen from the water when they die off.
The good news is a relatively simple thing like turning on pollution controls, or continuing to tighten clean air laws and regulations, can produce cleaner air to breath and water to drink and enjoy. These measures can both help ward off climate change and improve the immediate environment.
The UMD study referenced earlier found, in fact, that federal and state clean air efforts starting in the 1990s were responsible for significant reductions in nitrogen to our local waterways and the Bay. Continuing to improve our air will benefit our water.
What Can Be Done
Changes at the power plants—especially plants at which controls are already installed—are affordable. Power companies and some politicians complained when Maryland passed its Healthy Air Act in 2006, predicting energy bills would soar, plants would close, jobs would be lost. The opposite happened. Similar narratives have played out on the federal level.
Children's lungs, and the health of our water, shouldn't suffer so power companies can earn higher profits.
EPA must act to ensure the 19 plants do what is right—and required—under the federal Clean Air Act.