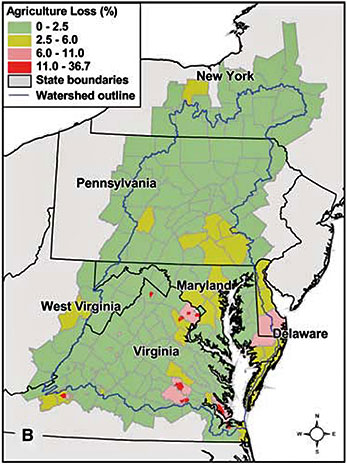 Natural and agricultural lands are important to the quality of the Chesapeake Bay region for several reasons. Agriculture remains important as an economic sector and valued cultural landscape feature. Properly managed farms also help maintain water quality. As farmland becomes fragmented by scattered, low-density, "sprawl" development, its economic viability is compromised to the point at which it loses the capacity to continue as working farms.
Forests and forested streamside buffers play a crucial role in maintaining water quality and providing wildlife habitat. Blocks of forest above 100 acres provide crucial interior habitat for wildlife that require undisturbed forest environments. Wetlands, now more constrained than ever, have long been recognized for their high value to water quality, flood control, and wildlife habitat.
The Chesapeake Bay watershed has more forest now than it did a century ago, but most of the gains have come in the headwater areas of the system. Forests continue to be lost from the densely populated lands closest to tidal waters, where the Bay needs them the most to absorb and filter runoff.
As low-density residential and commercial development fragments forest and agricultural lands and impinges upon wetlands, these resources lose their value and viability economically, culturally, and environmentally. Replacing the natural function of these lands with built facilities, from concrete stream channels to wastewater treatment plants, becomes a further economic liability to the region's residents. By accommodating new growth in and adjacent to existing urban areas, negative impacts can be minimized while maintaining the natural and economic vitality that defines our region.