---
On January 30, 2020, the Maryland General Assembly overrode Gov. Larry Hogan's 2019 veto of a bill to create a consensus-bsed process to recommend a new fishery management plan for oysters. The legislation has the potential to increase the state's oyster population long-term.
Details
---
Since colonial times, the Chesapeake (meaning "great shellfish Bay" in Algonquin) has lost more than 98 percent of its oysters. Gone are the days when oyster reefs posed navigational hazards to Chesapeake Bay explorers or watermen pulled 17 million bushels of oysters each year. Now, Maryland and Virginia watermen and the seafood industry have lost $4 billion in income in the past 30 years alone. But all is not lost.
A two-month Maryland Department of Natural Resources survey conducted in 2011 revealed higher levels of oyster reproduction and a lower mortality rate. In fact, Chesapeake Bay oysters seem to be growing heartier and more robust.
Given that each adult oyster filters and cleans up to 50 gallons of water per day—gobbling up algae, and removing dirt and nitrogen pollution—that's good news for the health of the Chesapeake Bay and for us.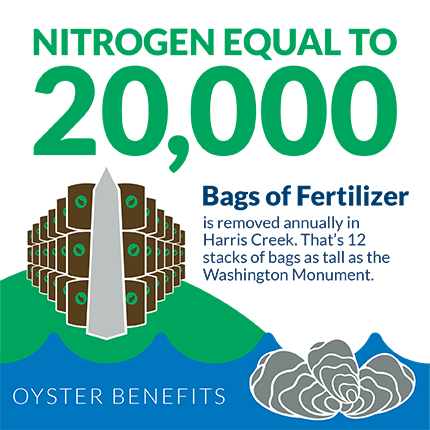 On Maryland's Eastern Shore, for example, restored oyster reefs in Harris Creek are estimated to remove an amount of nitrogen equivalent to 20,000 bags of fertilizer annually and can filter the entire volume of the creek in less than 10 days during the summer. And because reefs provide important habitat for crabs and fish, researchers estimated mature, restored reefs in the Choptank River will increase total commercial fish and shellfish harvests by 80 percent.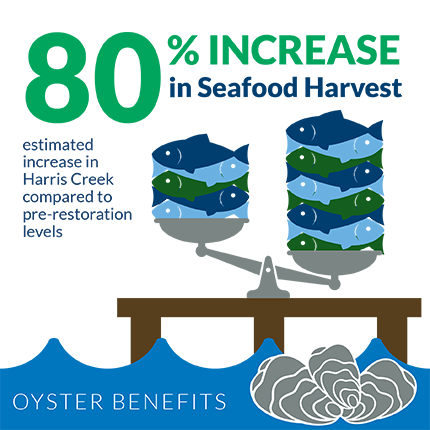 After a devastating bout with disease in the late 1980s combined with decades of overharvesting, habitat destruction, and water pollution, the oyster was hanging on by a thread. "That was a turning point really," says CBF Fisheries Director Bill Goldsborough, "because up until that point, for the previous 100 years, oysters had supported the most valuable fishery in the Chesapeake Bay."
Now, thanks to increased awareness, extensive restoration efforts such as CBF's citizen oyster-gardening program and reef ball production, resisting the introduction of a non-native oyster species, and favorable weather conditions, there is hope for the mighty oyster yet. Find out more about the state of today's oyster fishery.
Learn more about CBF's oyster restoration efforts.
Support Efforts to Restore Three-Dimensional Reefs to the Bay
SPREAD the word to your neighbors and friends about how important oysters are to the health of the waters and wildlife of the Bay.
SHARE your support for oyster recovery—and especially the unique value of vertical reefs—by writing a letter in your local paper or to state officials responsible for oyster restoration.

VOLUNTEER with CBF's active oyster restoration program by building reef balls, cleaning shells, or becoming an oyster gardener. Visit cbf.org/oysters
for more info.
MAKE A DONATION to support our oyster restoration program by giving the gift of oysters from our online Giving Catalog at cbf.org/catalog.
Multimedia