Thank you to the volunteers and partners who made the Keith Campbell Days of Service events possible. In spite of the weather challenges, we planted over 2,000 trees across York and Lancaster Counties. Over two weeks, more than 120 volunteers turned what could have been a wash out into a successful week of planting that will help clean Pennsylvania's waters—and ultimately the Chesapeake Bay—for years to come.
Who Is Keith Campbell?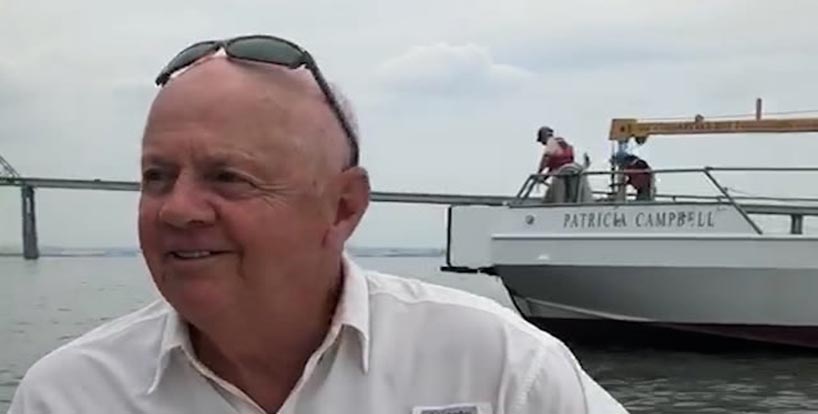 From working as a summer lifeguard in Ocean City when he was a teenager to founding one of the area's largest investment firms—Baltimore's Campbell & Company—Keith Campbell has dedicated his time, money, and passion to saving the Chesapeake Bay. His efforts have led to a decades-long partnership with the Chesapeake Bay Foundation.
Starting as a "rank and file member," Campbell's relationship with CBF has grown steadily. He served on CBF's Board of Trustees for over a decade, including three years as Board Chair.
He started The Keith Campbell Foundation for the Environment in 1998 with a laser focus on improving conditions in the Chesapeake Bay and other Atlantic coastal bays. The Foundation, now overseen by Samantha Campbell, Keith's daughter, has since become CBF's largest funder, sponsoring programs across the watershed, particularly in Pennsylvania. CBF's state-of-the-art oyster restoration vessel in Maryland, the Patricia Campbell, bears his wife Patricia's name
Why Plant Trees?
Trees are some of our most powerful partners in the work to clean our water. Our streams and rivers supply all the freshwater entering the Chesapeake Bay. But pollution from runoff and the air is a consistent problem, particularly upstream along the Susquehanna and its tributaries in Pennsylvania. This pollution can fuel climate change and cause harmful algal blooms and dead zones. Polluted runoff is also costly for local farmers, who want valuable nutrients to stay on their land.
But just when the water seems murkiest, a hero emerges: the tree. Trees have the natural ability to combat climate change, preserve valuable topsoil, and prevent polluted runoff. From capturing and filtering out pollution before it enters our waterways to alleviating flooding to purifying our air and increasing property values, trees provide countless health, economic, and environmental benefits. We need more trees, and you can help.
Watershedwide Opportunities
Clagett Farm Volunteer Day
Upper Marlboro, MD
May 3, 2022
Clagett Farm Tree Nursery Volunteer Day
Upper Marlboro, MD
May 5, 2022
Walk the Watershed
Virtual
April 15–May 15