Nitrogen and phosphorus pollution from urban and suburban areas and nitrogen pollution from septic systems continue to increase. Nitrogen reductions from agriculture are also off-track. On the positive side, Virginia has exceeded its pollution-reduction goals for wastewater and achieved its phosphorus pollution goal for agriculture. See sidebar graphs
See where things stand, below, and then take a look at some of the current and future challenges we face and what we need to do to overcome them.
VIRGINIA'S 2017 MIDPOINT PROGRESS TOWARD POLLUTION REDUCTIONS

By 2017, practices should have been in place to achieve 60 percent of the 2025 pollution reduction goals. Here's a look at how Virginia performed. Key

Nitrogen
Phosphorus
Sediment

VA

Virginia
Agriculture


U&S
Polluted Runoff†

Wastewater
& CSO† †

N/A*
ALL
SOURCES
Key

| | |
| --- | --- |
| red | Did not achieve |
| yellow | Within 5% of achieving |
| green | Achieved |
| | |
| --- | --- |
| * | No contribution from this source sector |
| † | Urban & Suburban |
| † † | Combined Sewer Outflow |
EVALUATING VIRGINIA'S 2017 KEY COMMITMENTS
In our evaluation of the progress toward 2017 midpoint goals we also wanted to understand which policies and programs added to this progress or contributed to any shortfalls. To that end, we evaluated whether the jurisdictions implemented key policies, programs, and funding committed to in their clean-up plans. These actions have a direct effect on the success or failure of achieving the pollution-reduction goals from wastewater, agriculture, and urban and suburban stormwater.
Wastewater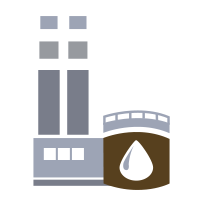 COMMITMENT: Accomplish wastewater treatment plant upgrades to reduce overall pollution.
PROGRESS: On Track
Virginia fully committed to achieving wastewater reductions through an implementation period governed by a nutrient trading program and a general watershed permit for significant dischargers, which have both been successful. Significant and reliable state investment enabled this success and led to substantial reductions and water-quality improvements. This progress allowed Virginia to achieve 2017 goals despite slower progress in other sectors. However, future population growth will result in increased flow to treatment plants, leading to increased wastewater pollution. There are a few remaining wastewater opportunities for reductions between now and 2025, including the promising Sustainable Water Initiative for Tomorrow (SWIFT) in Hampton Roads. Most plants have been upgraded though, and as a result, efforts to reduce pollution from agriculture and urban and suburban stormwater must be accelerated.
COMMITMENT: Re-evaluate James River chlorophyll criteria using new data and modeling tools by 2017.
PROGRESS: Slightly Off Track
Virginia has documented direct links between chlorophyll and damage to aquatic life from harmful algal blooms in the James River. The Virginia Department of Environmental Quality (DEQ), along with partners, drafted updated water-quality criteria for chlorophyll based on this information. These updated criteria, along with the tools needed to implement them, have been scientifically vetted. Despite this progress, these criteria and protocols have still not been approved, and as a result, incorporation into water-quality standards and permits has been delayed. We appreciate Virginia's thorough approach to this issue, but urge rapid action to prevent further delay.
COMMITMENT: Increase septic pump-outs, treatment levels, and sewer connections.
PROGRESS: Off Track
Virginia's nitrogen pollution from septic tanks continues to increase—exceeding anticipated growth in their clean-up plan. Virginia has achieved only 15 percent of the 2017 goal for advanced treatment and pump-out rates—and less than three percent of the sewer-connection goal. For this sector, Virginia needs to develop and implement new incentives to reduce pollution and to ensure that the regulatory framework is adequate.

Stormwater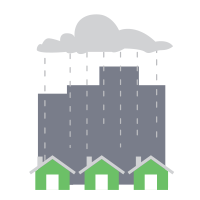 COMMITMENT: Utilize MS4 permits to ensure sufficient pollution reduction by 2025.
PROGRESS: Off Track
Virginia has made progress towards establishing municipal separate storm sewer system (MS4) permits to reduce stormwater pollution, but unfortunately, the issuance of these permits was substantially delayed. The first Phase II general permit (for smaller jurisdictions) was not issued until 2014, and the 11 Phase I MS4 permits, which represent the largest needed reduction, were not completely issued until 2016—over five years past the original schedule. As a result, some MS4s are not on track to achieve pollution reductions by 2025. To meet overall pollution-reduction goals from this sector, Virginia must ensure that all new permits require projects to be on the ground by 2025.
COMMITMENT: Achieve enhanced urban nutrient management.
PROGRESS: Slightly Off Track
Virginia has made progress in reducing nitrogen and phosphorus pollution from developed lands. In 2011, the Commonwealth passed legislation governing the sale of lawn maintenance fertilizer that includes phosphorus, and required urban nutrient management (UNM) on golf courses and state-owned facilities. As of 2017, 98 percent of golf courses are compliant resulting in 28,527 acres under UNM. Virginia has also established the Green & Clean Program to encourage nutrient management by homeowners. Despite these successes, Virginia has fallen far short of its goal of 300,000 acres under UNM, achieving only 30 percent of the acres needed to achieve 60 percent implementation by 2017.

Agriculture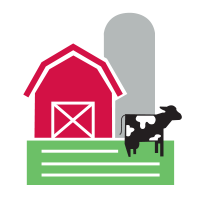 COMMITMENT: Increase livestock exclusion (fencing cattle out of streams) throughout the Commonwealth through Virginia's Agricultural Cost Share (VACS) program.
PROGRESS: On Track
Virginia spurred substantial progress in fencing cattle out of streams by offering 100 percent reimbursement costs from 2012 to 2015. In the Bay watershed, this program resulted in over 55 million dollars in project requests. To date over 5.6 million linear feet of streambank have been fenced off, excluding roughly 55,000 animals from waterways. These efforts will reduce pollution to local waters and Chesapeake Bay. Still, Virginia has substantial work remaining with livestock producers. For example, the implementation of practices that lead to healthier pastures and soil needs to double between now and 2025 to achieve the Watershed Implementation Plan (WIP) goals.
COMMITMENT: Implement the Resource Management Plan Program on most of Virginia's agricultural acres.
PROGRESS: Slightly Off Track
Virginia developed the Resource Management Plan (RMP) to speed the adoption of comprehensive conservation planning and practice implementation on Virginia farms. Program participants develop and commit to implementing a plan that meets minimum standards such as nutrient management, buffers, livestock exclusion, and cover crops. In return, farmers are exempted from most future state regulations relating to reducing nitrogen, phosphorus, sediment, and other impairments. The state has achieved significant progress in establishing this program and has developed over 350 written plans, which help protect nearly 100,000 acres. However, only 10 of these plans (corresponding to 3,000 acres) have been certified, which represents only one percent of Virginia's unregulated agricultural land. Accelerated implementation of this program must occur to achieve Virginia's goals of establishing RMPs on most agricultural acres by 2025.
COMMITMENT: Implement over 75,000 acres of forested buffers on agricultural lands.
PROGRESS: Off Track
Streamside forested buffers are among the most cost-effective conservation practices for reducing pollution, while also providing other benefits like carbon sequestration and improved wildlife habitat. Despite these benefits, Virginia's recent progress has been sluggish. The number of forest buffers in Virginia will need to increase by tenfold between 2017 and 2025, to achieve the commitment made in the WIP. Virginia must ensure its portion of cost-share for the Conservation Reserve Enhance Program (CREP)—a federal program that funds most of the implemented buffers—is stable and available. Last year, lack of state cost-share for CREP meant a substantial delay in sign-ups, and this discourages participation. In addition, cost-share for stream fencing should be prioritized, with more funding being offered to producers willing to install forest buffers. Lastly, Virginia should consider programs to increase the effectiveness of the Chesapeake Bay Preservation Act concerning buffers on agricultural lands.

Accounting for Growth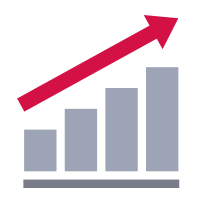 Key to maintaining the watershed-wide nitrogen, phosphorus, and sediment limits, once achieved, is to account for, and offset, new sources of pollution. It is also a requirement of the federal Clean Water Act. Additional sources of pollution include more septic systems, more impervious surfaces created by the conversion of forest or farmland to developed land, increased vehicle emissions, and the growth of the livestock and poultry industries, to name a few.
COMMITMENT: Account for expected future growth in each sector and offset these pollution increases.
PROGRESS: Slightly Off Track
The Commonwealth requires that new pollution from wastewater treatment plants is offset. Pollution from septic systems, however, continues to grow due to increased use of these systems. Virginia needs to revisit strategies to address increasing septic pollution and ensure sewer connections are achieved, whenever possible.
Virginia's WIP expected pollutants associated with agriculture to decline in future years and therefore did not plan for growth. However, the number of animals (mostly due to expanding poultry production) has steadily increased since 2010 offsetting some of the pollution-reduction benefits resulting from the implementation of conservation practices. Virginia must establish an approach to offset these new sources, including nitrogen from livestock and poultry ammonia emissions.
To reduce pollution from newly developed lands, Virginia established post-construction stormwater criteria designed to achieve a net neutral effect from new development across the Commonwealth's Bay watershed. These criteria have been tremendously helpful, and appear to have saved millions of dollars in potential costs related to retrofits. Still, pollution from stormwater is increasing, due to new development. This development trend is expected to continue through 2025. Stormwater criteria should be re-evaluated to determine whether further progress can be made to reduce pollution from new development. In addition, more environmentally sensitive local planning and zoning could reduce the amount of land conversion, especially pollution-moderating forestland.

WHAT'S NEXT?
Virginia has made progress in wastewater and agriculture, but needs to improve stormwater cost-share programs, account for growth in poultry farming, and strengthen MS4 requirements.
The Bay jurisdictions are starting to work on the third and final iteration of their clean-up plans, known as the Phase III Watershed Implementation Plans (WIPs). These plans will describe actions to take, between now and 2025—the deadline for full implementation.
These plans must be detailed and comprehensive, with attention given to addressing existing shortfalls. Local engagement will be key to successful implementation, hence, developing local pollution-reduction goals and ensuring robust outreach efforts involving the full array of local, regional, and federal stakeholders will be critical.
LOCALIZED STRATEGIES TO MEET CHESAPEAKE BAY GOALS
Virginia has made substantial progress towards addressing pollution to satisfy the Chesapeake Clean Water Blueprint, especially in wastewater but also in agriculture. There has also been progress reducing polluted runoff from urban and suburban areas, although any progress has been overshadowed by increased land conversion and permit delays. Looking forward, Virginia must make a substantial shift toward reducing pollution from stormwater, agriculture, and septic systems. One of the most important steps to addressing these issues is establishing strong incentives for local governments and ensuring they have all the tools and resources necessary to succeed.
Specific recommendations include:
Enhance focus on cost efficiency for agriculture and stormwater cost-share programs and establish new cost-share programs in sectors in need, such as loans or grants to homeowners to install nitrogen-removing septic systems.
Improve post-construction stormwater requirements to offset all future stormwater pollution.
Establish a new accounting-for-growth framework for agriculture, particularly related to expanding poultry production.
Ensure MS4 permits require all necessary practices be in place to meet the 2025 goals.