See where things stand in Maryland below, and learn about the current and future challenges we face. Then, take action for a strong, comprehensive clean water plan for restoring Maryland's rivers, streams, and Bay. The final phase of Maryland's Blueprint is critical to our health, economy, and way of life.
Maryland's Progress Toward Pollution Reductions

We used EPA's scientific model to estimate pollution reductions made between 2009 and 2018 and if those reductions are on a trajectory to meet the 2025 goals. Maryland's pollution-reduction progress is summarized in the table below. While no state is completely on track, sewage treatment plant upgrades in Maryland have already met the 2025 goals and are the main reason the state is close to on track. But Maryland needs to accelerate efforts in pollution reduction from agriculture and urban/suburban runoff. As of press time, new sediment targets from the states had not yet been established. (Key)

Nitrogen
Phosphorus

MD

Maryland
Agriculture


U&S
Polluted Runoff†

Septic


N/A*
Wastewater
& CSO† †

TOTAL

Key

| | |
| --- | --- |
| red | projected loads more than 20% off target or pollution is increasing |
| yellow | projected loads within 10-20% of target |
| green | projected loads within 10% of target |
| | |
| --- | --- |
| * | No contribution from this source sector |
| † | Urban & Suburban |
| † † | Combined Sewer Outflow |
Evaluating Maryland's Milestone Commitments
After examining EPA's scientific model to estimate pollution reductions (see chart above), we looked at how well the states have implemented the programmatic commitments they made in their two-year milestone goals—in other words, the practices and programs they will use to get the job done. The following is our analysis of each commitment.
Wastewater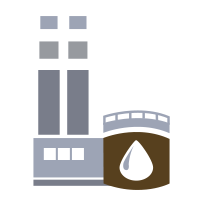 Why it's important: Maryland made major cuts to pollution from wastewater treatment plants, but pollution from septic systems remains a persistent problem.
Commitment: Provide technical and policy assistance to local governments to facilitate connections of septic tanks to wastewater treatment plants
Progress: On Track
Steps taken: Where feasible, connecting failing septic systems to wastewater treatment plants can reduce pollution at a competitive cost. The Maryland Department of Environment (MDE) committed to review problem areas for septic pollution and help local governments find solutions.
Steps needed: MDE should continue assisting local governments and ensure septic connections do not lead to sprawling growth. This is critical in areas with high concentrations of septic systems close to the Bay, and where local soil conditions or sea level rise create "hot spots" of failing septic systems.
Polluted Runoff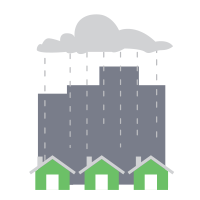 Why it's important: Due to new urban and suburban development and lagging efforts to reduce pollution in established neighborhoods, polluted runoff is increasing and will be Maryland's second largest source of nitrogen pollution by 2025.
Commitment: Market Bay Restoration Fund (BRF) as an eligible funding source for Stormwater Management Retrofit implementation
Progress: Slightly Off Track
Steps taken: Maryland recently awarded BRF dollars—historically used for upgrades at wastewater treatment plants—to a stormwater project for the first time.
Steps needed: With wastewater upgrades nearly complete, the state should work with local governments to focus much more of this funding on projects to reduce polluted runoff, especially those that retrofit stormwater systems in established neighborhoods.
Commitment: Provide local 2-year milestone support funding
Progress: Slightly Off Track
Why it's important: By setting county-level milestones for pollution reduction, local and state governments can coordinate and fund local actions to achieve Blueprint goals.
Steps taken: Maryland has provided at least $1 million annually to help local governments meet milestones. Unfortunately, less than half of Maryland counties submitted milestones to the state in the most recent period.
Steps needed: The state should further incentivize local milestones by increasing funding and coordinating with non-governmental organizations to help local governments implement them.
Agriculture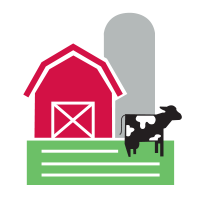 Why it's important: The success of Maryland's Blueprint depends on expanding practices that curb agricultural pollution, the state's largest source of pollution to the Bay.
Commitment: Improve documentation and increase Best Management Practice implementation to decrease nitrogen loads from agricultural lands
Progress: Slightly Off Track
Steps taken: The Maryland Department of Agriculture (MDA) checks nearly 20 percent of Maryland's farms annually to see if they follow plans to manage fertilizer and manure, two big sources of nitrogen pollution. Overall, more farmers are using best management practices that reduce pollution, but it remains a stubborn problem in some regions.
Steps needed: MDA should prioritize funding and technical assistance to farms in areas where the biggest pollution reductions can be made for the lowest cost. It should also prioritize long-term solutions, like cost-effective forested stream buffers and pastures that filter pollution before it reaches the water.
Planning and Accounting for Growth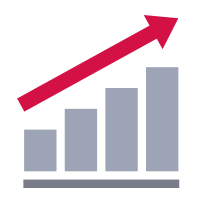 Why it's important: Development increases polluted runoff from hardened surfaces and adds pollution from septic systems. Maryland is losing about 3,000 acres of forest per year to development, impeding the state's goals to reduce pollution.
Commitment: Conclude formulation of an accounting for growth policy and regulations, if appropriate, as part of the Phase III WIP
Progress: Off Track
Steps taken: The state convened a task force in 2014 that agreed on many aspects of a program to account for additional pollution from growth, but it has not moved forward with a policy. Instead, the draft of Maryland's final Blueprint, technically called the Phase III Watershed Implementation Plan, calls on taxpayers to fund practices to offset the impacts of development.
Steps needed: The state must enact a policy that requires land developers to address pollution from growth.
Finishing the Job in Maryland
Maryland's record of dedicated funding, protective laws, and engaged communities puts the state on a trajectory to meet its 2025 pollution reduction goals. But these accomplishments will not be enough to sustain clean water over the long-term.
The state's draft Blueprint must now shift restoration efforts toward lasting, cost-effective practices. Maryland must not wait to accelerate efforts that address polluted urban runoff and septic systems—two sources where progress has stalled—and should include a more equitable plan to offset the pollution associated with new development.
The Blueprint should also set much stronger goals to plant trees and forest buffers along streams, encourage pasturing of livestock, and build green infrastructure in towns and cities. In addition to cutting pollution, these practices will help mitigate the effects of climate change.