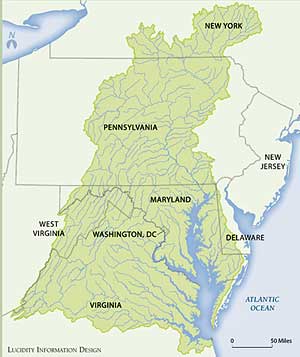 Pollution flows downstream, across state boundaries. Without federal and interstate cooperation, downstream economies and environments suffer from the waste generated by their upstream neighbors.
That's why almost 30 years ago the U.S. Environmental Protection Agency (EPA) signed the first of many inter-jurisdictional agreements with Maryland, Virginia, Pennsylvania, and the District of Columbia. The partners recognized the need for cooperative action if the Chesapeake Bay were ever to be removed from EPA's "dirty waters" list.
The Chesapeake Clean Water Blueprint provides 15 years—from 2010 to 2025—to cut pollution to the minimum levels science says is necessary to restore the Bay to balance.
Goals for 2025
(in pounds / % reduction)
*% reduction based on 1985 data
MD
Nitrogen
45,831,911
46%
Phosphorus
3,679,570
52%
Sediment
8,342,863,270
0%
PA
Nitrogen.
73,491,314
40%
Phosphorus
2,904,535
52%
Sediment
2,161,480,407
41%
VA
Nitrogen
52,953,857
37%
Phosphorus
5,582,682
59%
Sediment.
6,872,394,873
-2%
DC
Nitrogen
2,424,737
63%
Phosphorus
130,064
-45%
Sediment
41,939,846
3%
DE
Nitrogen
4,550,208
35%
Phosphorus
108,446
51%
Sediment
26,711,143
58%
NY
Nitrogen
11,796,630
37%
Phosphorus
475,556
60%
Sediment
532,744,766
33%
WV
Nitrogen
8,227,450
5%
Phosphorus
432,834
43%
Sediment
608,891,264
17%
TOTAL
Nitrogen
199,276,187
40%
Phosphorus
13,313,687
55%
Sediment
18,587,025,569
9%
Source: Chesapeake Bay Program
How Will the States Achieve These Reductions?
To achieve these limits, all seven jurisdictions agreed to create and implement state-specific clean-up plans (called Watershed Implementation Plans, or WIPs). The goal of the WIPs is to have practices and programs in place to achieve 60 percent of their needed pollution reductions by 2017, and 100 percent by 2025.
NEXT: How the Bay states' plan to meet their goals.
State Watershed Implementation Plans
In addition, the Bay jurisdictions established and have committed to Milestones that describe the practices and programs they commit to implement every two years to ensure progress is being made. These Milestones are critical components to restoration efforts because they provide the mechanism to hold government accountable for short-term progress toward their long-term pollution-reduction goals. They enable the states and EPA to identify shortcomings and take corrective action before the deadlines are reached.
NEXT: Are we making progress?