Our Headwaters Agricultural Stewardship Project focuses on two at-risk watersheds in Virginia's Shenandoah Valley, Christians Creek and South River. It is supported by a grant managed by the Virginia Department of Environmental Quality using funds from the U.S. Environmental Protection Agency.
Christians Creek and South River are in violation of the state's water quality standards for bacteria and supporting aquatic life, according to the Water Quality Improvement Plan developed for these watersheds. The waterways' primary threats include too much sediment and phosphorus.
To minimize these stressors, we are reaching out and working with farmers within these two watersheds to install conservation measures on farmland. These agricultural best management practices (BMPs)—including fencing cattle out of streams, planting buffers of native trees and plants along waterways, and adopting rotational grazing—are the most cost-effective ways for Virginia to meet its clean-water goals.
Through this program, we anticipate:
Installing 30,000 linear feet of fencing along waterways to prevent cattle from entering streams;
Planting 24 acres of trees and plants along waterways to help slow down and filter pollution, as well as provide leaves and shade;
Improving 40 acres of farmland with better grazing and pasture management;
Restoring 200 linear feet of streambank with project partner Trout Unlimited to remedy sediment pollution while providing habitat to Virginia's state fish, the brook trout;
Engaging the community on watershed restoration efforts by hosting volunteer planting events, participating at local agricultural community events, and speaking to community groups.
If you are a landowner who lives in the Christians Creek or South River watersheds and would like to discuss funding for agricultural BMPs on your farm, please contact Alston Horn at 540-487-9060 or ahorn@cbf.org; or Matt Kowalski at 540-233-1066 or mkowalski@cbf.org.
Background
Agricultural activities comprise the second largest land use in the Chesapeake Bay region. It is estimated that we could achieve almost two-thirds of the nitrogen and phosphorus reductions necessary to restore the Chesapeake Bay, at only 13 percent of the total cost of Bay restoration, by implementing agricultural conservation measures such as stream exclusion fencing, riparian buffer installation, and pasture management practices. The project responds to this need by working to reduce nutrient and sediment loading from agricultural sources in the targeted watersheds, in direct alignment with Virginia's Watershed Implementation Plan.
Christians Creek and South River are located in Augusta County (although a small portion of the Lower South River extends into neighboring Rockingham County) and their watersheds are primarily forested and agricultural. Situated in the Shenandoah Valley, Augusta County is the second largest county in Virginia by area. The 2012 U.S. Census of Agriculture ranks Augusta County second in the state for total value of agricultural products sold. With nearly 95,000 head of cattle, Augusta is also ranked second in the number of bovine livestock. Focusing on cattle farms in Augusta County addresses one of Virginia's largest concentrations of agricultural operations.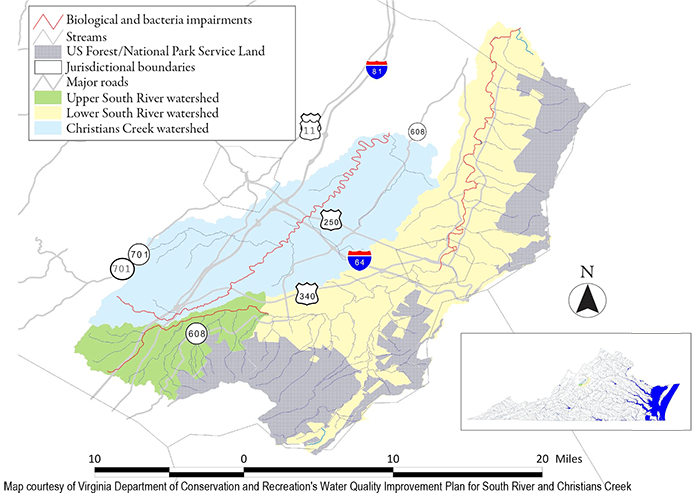 Livestock Stream Exclusion and Riparian Buffers
Livestock stream exclusion entails a suite of BMPs, including fencing, alternative water sources, and riparian buffers. Fences are set back from the stream bank, and a vegetated area between the stream and fence is created for the riparian buffer. Alternative drinking sources, such as watering troughs, are placed in the pasture to provide cattle with a place to drink outside of the stream.
These projects have many benefits, including creating stable streambanks and improving water quality.
Because cattle are not trampling stream banks, there is more vegetation and less erosion.
Preventing cattle from depositing waste directly into streams lowers bacteria inputs, and nitrogen and phosphorus pollution.
Buffers provide shade, cooling the water and providing leaf litter to the waterway, which wildlife depend on for habitat and food.
These agricultural practices also improve animal herd health, which helps farmers' bottom lines. According to a 2015 report produced by the Chesapeake Bay Commission, "providing alternative watering systems away from streams also contributes to reduced cases of foot rot, bacterial inflammation, jaundice, fever, red nose, bovine virus diarrhea, tuberculosis, and mastitis."
Improved Pasture Management
Installing internal fencing and watering troughs also helps farmers to manage their grazing pastures. Fences and troughs are positioned so that animals can be rotated to different pastures, improving forage growth and efficiently managing livestock manure distribution.

Better grazing management also helps build soil health and improve water quality while reducing the amount of fertilizer and feed needed to maintain healthy cattle, saving farmers money. A May 2011 study by USDA Agricultural Research Service comparing grazing operations to conventional confinement dairies concluded that grazing operations reduced sediment erosion by 87 percent, reduced phosphorus runoff by 13 pounds per acre, increased carbon sequestration levels, and lowered ammonia emissions by 30 percent.
Good grazing management also helps farms be more productive. In Controlled Grazing of Virginia's Pastures, Harlan White writes, "Improved pasture management offers the single greatest opportunity to lower production costs, assuming that animal genetics, health, marketing procedures, and other areas of management have been addressed. A primary goal of livestock producers should be to utilize grazed forage for as many months of the year as possible . . ." When a farm is more productive it is more likely to remain operational and keep land in agricultural use rather than other, more environmentally disadvantageous uses.
Agriculture's pollution impact on the environment can be significantly reduced through simple, cost-efficient practices. This project continues CBF's successful history of working one-on-one with Virginia farmers to help them install these beneficial practices and is committed to providing farmers with the tools, expertise, and funding they need to make these important changes.