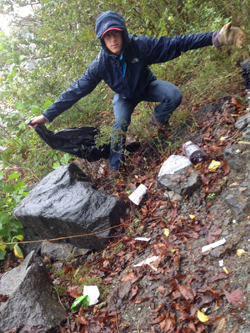 Joseph's report on how it went:
"Our Belle Isle Cleanup was a success! We made our way to the park at 9:30 Sunday morning when we discovered that due to a Folk Festival every driving entrance to Belle Isle was blocked. It took some time navigating through the city. Our caravan was broken a few times, but we eventually made it to Belle Isle. Once we arrived, it immediately began pouring rain. Regardless, we picked up plenty of trash. We totaled 8 full bags. We also cleared a few paths and cleaned up some debris being thrown around by the storm."
They also scouted a location beforehand to make sure the cleanup would be worthwhile. Joseph reported that they first wanted to clean up Tuckahoe Creek, "a small creek/swamp that runs through Henrico and Goochland counties and flows into the James River." But after visiting it "to scout the nastiest parts," he was "happy to say there was not enough waste to justify us spending the day there." So they switched to Belle Isle.
Joseph also said he put people "in charge of documenting everything and taking pictures" so that their work could be shared with others.
Here they are: