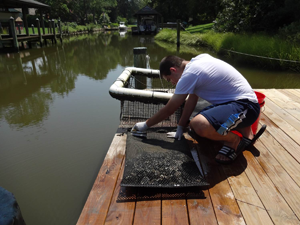 My name is David Lewis. I am a rising senior in high school and this is my 5th year as an oyster gardener for the Chesapeake Bay Foundation Oyster Restoration project. Being an oyster gardener has several benefits.
It is rewarding, a nice learning experience, and most of all, a lot of fun!
As an oyster gardener, I receive about 1000 baby oysters every year. I put them in a mesh bag in my backyard creek and let them grow. The work involved is easy. I clean the oysters almost every weekend from March through November. This involves brushing down the mesh bag to clear away the oysters' waste (fancy term for poop) from the mesh bag holes. If the holes get clogged then it prevents the oysters from breathing. This process only takes about an hour.
The only other task is to select the date to turn in the oysters. Some people just drop off their oysters and pick up new ones. I really like to ride the boat out and put my oysters on the oyster reefs. I usually invite a friend or two to come. We really enjoy the boat ride and dumping the oysters over the side of the boat watching them fall onto the reefs.
Oysters are important to the environment because they help filter out sediments to clean the waterway and they provide habitats for other organisms.