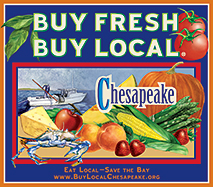 Our partners are the key to our mission of educating consumers and promoting local farmers, producers, and food businesses.
Brand Your Business Buy Fresh Buy Local
Would you like to become part of the fastest growing food movement in the nation and in the Chesapeake Bay region? Consumers are looking for food that's local and fresh, whether in a restaurant, at a farm stand, in a food-buying cooperative or a winery. If your business is committed to sourcing and selling "local," we invite you to become a partner of our chapter. In return you will receive these special benefits:
High visibility for your farm or business within the Chesapeake Bay Foundation's many outreach, education, and online resources, connecting with over 100,000 people each year.
Connection to an established, well-known, and highly credible network of Buy Fresh Buy Local chapters throughout our region and the U.S.
Marketing and educational tools promoting your support for local food and sustainable farming practices.
Visibility for your farm, business or organization.
Opportunities to connect with local and regional like-minded farmers, businesses and other organizations, and customers looking for locally produced food.
Become a Buy Fresh Buy Local Chesapeake Partner today! Complete the contact form below. We will be in touch with you within a week via e-mail and will send you a contract and payment form.
Questions that require an answer are marked with *
We apologize, but the selected Survey is currently unavailable.