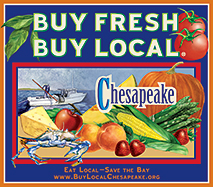 Buy Fresh Buy Local Chesapeake's tag line is "Eat Local—Save the Bay." How can eating local save the Bay? When you buy local food you are keeping local farmers farming, protecting their land with sustainable agriculture, and that means a healthier and cleaner Chesapeake Bay.
What do these "locals" have in common?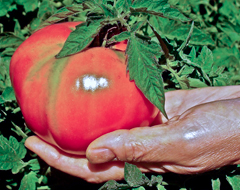 A freshly harvested tomato...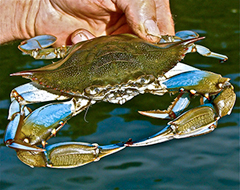 A Chesapeake Bay blue crab...
Tomatoes and crabs. They are both local foods, but there's something else that intimately ties them together.
When the farmers growing the tomatoes farm sustainably (using techniques that conserve soil and water)—keeping costs down and their soil productive—less pollution (soil and fertilizers) flows into local streams and the Chesapeake Bay. When water is clear with little muddy sediment or algae (which can bloom from too much fertilizer), sunlight is able to reach the bottom, nourishing underwater grasses. These rooted grasses provide critical habitat for young crabs and many other aquatic Bay species.
So, the cleaner the water that flows off the farm, the more underwater grasses will grow, and the more blue crabs there will be.
Did you know:
Total farmland acreage in the Chesapeake Bay region has declined by about 46 percent between 1950 and 2007. (USDA 2007 Census of Agriculture)
Farmers in 2006 received 19 cents of the retail food dollar, compared to 47 cents per food dollar in 1952. (USDA Economic Research Service)
More farmers and younger farmers getting into the sustainable food business as small producers see a profitable market and higher demand for their sustainable products.