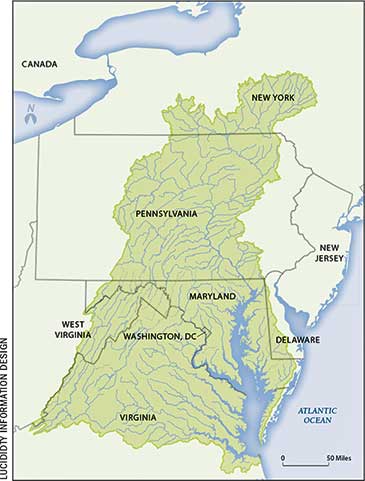 Read the full Executive Summary (PDF, 7pgs)
The Chesapeake Bay is a national treasure. Its forests, wetlands, and waters provide many natural benefits to the 17 million people and associated plants and animals that call this 64,000- square-mile region home. But those benefits have been greatly reduced by agricultural, urban and suburban, sewage treatment, and air pollution.
In 2010, the six Bay states, the District of Columbia, and the federal government began a renewed effort to restore the health of the Bay and its vast network of rivers and streams. That effort—the Chesapeake Clean Water Blueprint1—is designed to substantially reduce the amount of nitrogen, phosphorus, and sediment pollution that enters local waters and the Bay. Its goal: to restore the Bay's ecological health. In doing so, implementing the Blueprint will reduce risks to our health, provide a legacy of clean water for our children and grandchildren, and increase economic benefits to the region.
Fully implementing the Blueprint is a big job. It requires the commitment, time, and resources of all sectors of our society and every individual in the watershed.
So, what will be the return? According to the peer-reviewed economic report, The Economic Benefits of Cleaning Up the Chesapeake, it will be tremendous. The report's findings include the following:
In 2009 (before the Blueprint), the lands and waters of the Chesapeake Bay region provided economic benefits totaling $107.2 billion annually. This serves as the baseline for our study. These benefits include air and water filtration, agricultural and seafood production, property valuation, and flood and hurricane protection.

The value of these same benefits will increase by $22.5 billion to $129.7 billion annually if the Blueprint is fully implemented. Once realized, those benefits would be enjoyed year after year.

If the Blueprint is not fully implemented, pollution loads will increase, and the value of the natural benefits will decline by $5.6 billion annually to $101.5 billion. The value of the Bay region's natural benefits will decline further after 2025 as additional pollution continues to degrade our natural resources.
1 The Blueprint includes the science-based pollution limits established by the Chesapeake Bay Total Maximum Daily Load and the state-specific implementation plans designed to achieve those limits. EPA and the Bay jurisdictions agreed to implement practices to achieve 60 percent of the necessary pollution reductions by 2017, and 100 percent of those practices in place by 2025.