CBF's Pennsylvania Student Leadership Council's (SLC) encounter with an unusually large, odd looking, brown salamander prompted questions that eventually led to the campaign to designate an official state amphibian. The salamander was Cryptobranchus alleganiensis alleganiensis, commonly known as the Eastern hellbender.
Hellbenders are the largest salamander species in North America. They can be found in cold, clear, swift-running rivers and streams of the Susquehanna watershed. They prefer rocky streambeds with crevices, which they use for protection and for nesting sites. But the loss of forested buffers along these waterways is resulting in warmer waters and silted streambeds, degrading their habitat and decimating their numbers in streams where they were plentiful as recently as 1990.
The SLC students wondered why more people don't know about hellbenders and the problems they're facing. So they came up with a plan to designate the Eastern hellbender Pennsylvania's official state amphibian. To this end, they drafted a piece of legislation and met with elected officials to get it passed.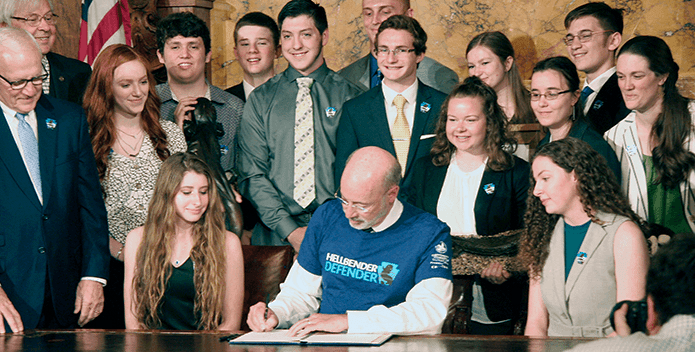 On April 23, 2019, Governor Tom Wolf signed Senate Bill 9 into law.
Organizations supporting the hellbender bill include:
Aquashicola/Pohopco Watershed Conservancy
Catawissa Creek Restoration Association
Central Pennsylvania Conservancy
Chestnut Ridge Chapter of Trout Unlimited
Earth to Table Products
Eastern Pennsylvania Coalition for Abandon Mine Reclamation
Loyal Hanna Watershed Association
Lycoming College
Mid-Penn Energy
Pennsylvania Council of Churches
Pennsylvania Forestry Association
Pennsylvania Parks and Forest Foundation
Pennypack Ecological Restoration Trust
Tri-County Conewago Creek Associations
Thornbury Township Environmental Advisory Council
Twin and Walker Creek Watershed Conservancy
Valley Forge Chapter of Trout Unlimited