What Is Climate Change?
Climate change refers to significant, long-term changes in weather patterns that result in warming temperatures and sea-level rise, unpredictable weather patterns and increased storm intensity. It is a reality around the world—and it's already having effects right here on our Bay. We are seeing more powerful storms increasing water pollution from runoff and stream erosion, higher temperatures putting species at risk and changing both water chemistry and underwater vegetation (warmer water holds less oxygen, and also reduces some species of underwater grasses), and rising sea levels causing dangerous flooding.
Left unchecked, climate change threatens Bay recovery, our economy, and our very existence. But there's still time to change course, protect the Bay, and save our planet. Since humans were the cause, we must also be the solution. But it will take all of us—in the Bay watershed and around the world—to make that change last.
Controlling emissions of climate-warming greenhouse gases is urgent to slow climate change, but other measures—including work already being done to improve water quality— can help trap carbon and buffer the Chesapeake against its most harmful effects.
For an in-depth discussion on climate change, watch our webinar, Climate Change: A Scientist and a Lawyer Walk into a Webinar.
How Climate Change Impacts the Chesapeake Bay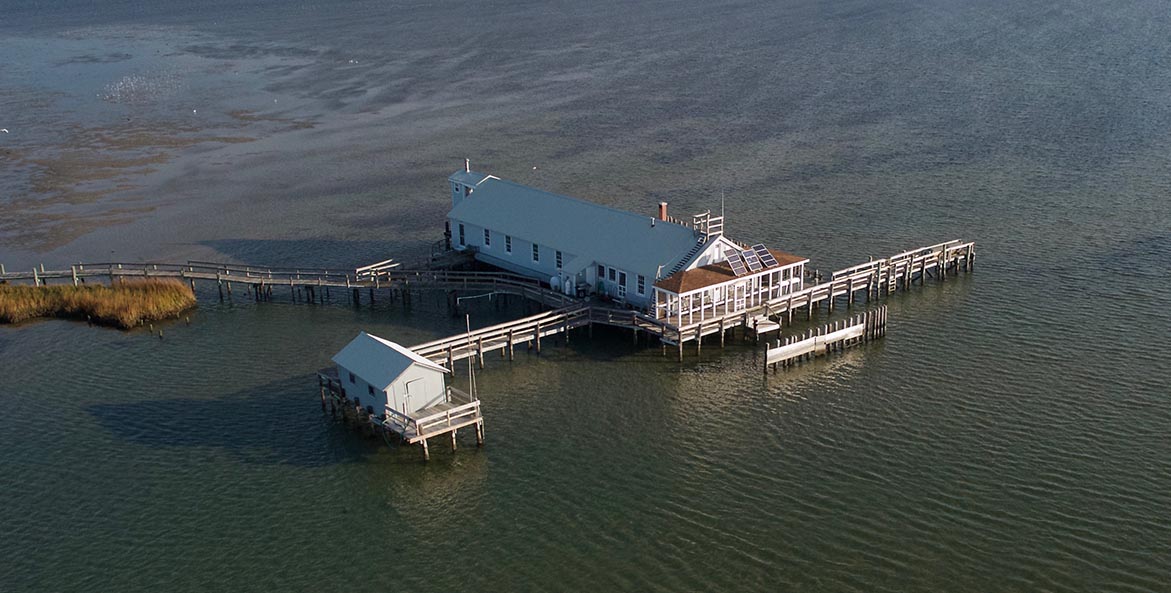 Climate change is affecting our precious Bay—adding more stress to a system still out of balance. The physical impact has long-lasting implications for its waters, wildlife, and watershed.
Severe Weather
The number of intense storms is on the rise. 2018—memorable for its relentless July storms and flooding—and 2019 brought record rainfalls, and with them more pollution and fresh water flushed into the Bay.
Heavy storms increase soil erosion, sewer overflows, flooding, and polluted runoff. These activities dump nitrogen, phosphorus, and sediment into rivers and the Bay. As a result, our waters experience more dead zones and algal blooms.
Larger than average inflows of fresh water threaten oysters and push other Bay-life out of their traditional habitats.
Higher Temperatures
Chesapeake Bay summer water temperatures are increasing by nearly a half degree Fahrenheit per decade and rising nearly twice as fast as global surface ocean water temperatures, according to a study by researchers at the Virginia Institute of Marine Science. The average annual surface water temperature in the Bay had warmed by 1.3 degrees since the late 1980s. As the Bay warms overall, it also becomes more likely to experience periods of extreme heat.
Warming waters are also being experienced in rivers and streams throughout the watershed. Average annual stream temperatures have increased by 1.1°F (.61°C) in the past six decades in the Chesapeake Bay watershed according to the U.S. Geological Survey (USGS).
Warmer waters have a decreased capacity to hold dissolved oxygen, exacerbating the Bay's fish-killing dead zones and contributing to algal blooms.
Rising water temperatures are stressing fish from the Bay's iconic striped bass to Pennsylvania's beloved brook trout.
Temperature sensitive species are at risk, like eelgrass, a food source for migratory waterfowl and important habitat for blue crabs.
Like higher inflows of fresh water, significant changes in water temperature displace Bay species, impacting fishing.
Rising temperatures on land may be one of the deadliest impacts of climate change. Find out more about the "heat island" effect below.
Rising Sea Levels
Sea-level rise is exacerbated by land subsidence. This combination of processes in the Chesapeake Bay has resulted in approximately one foot of net sea-level rise in the Bay over the past 100 years—a rate nearly twice that of the global historic average. According to some scientists, the region might see as much as a three- to four-foot sea-level rise this century.
Thousands of acres of environmentally critical tidal wetlands and shorelines are threatened, not to mention susceptible cities and towns.
In low-lying areas, storm surges combined with higher sea levels and increasingly erratic storm activity may create a "perfect storm" that will flood thousands of acres. Many of those areas are economically disadvantaged, and the combination of flooding and limited access to emergency facilities—facilities that might themselves be flooded—could be disastrous.
How Climate Change Impacts the Chesapeake Bay Region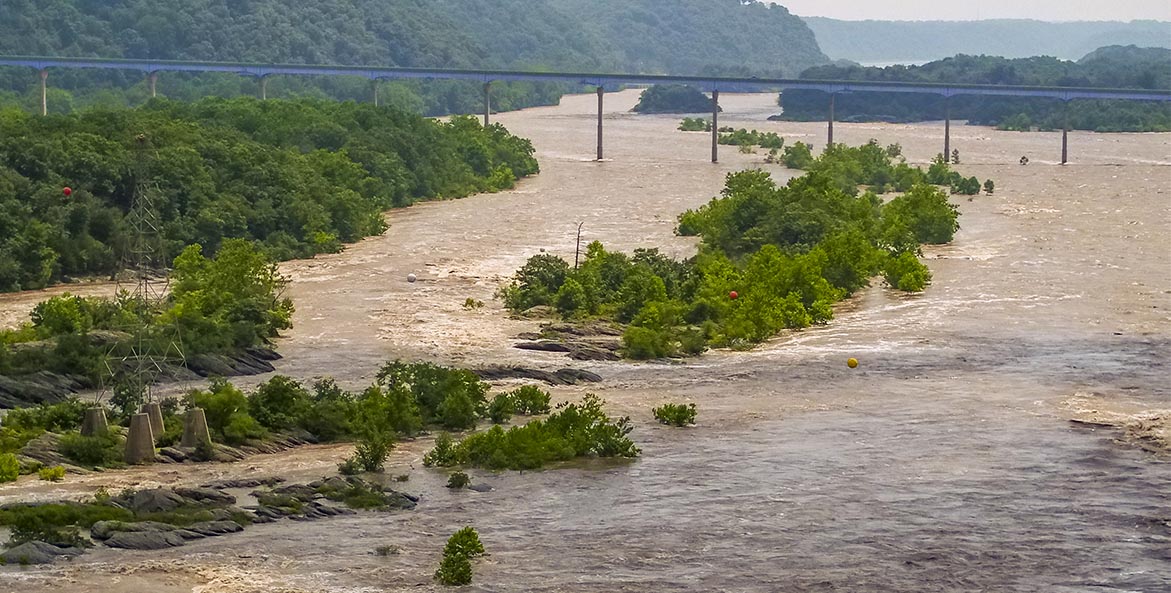 The Chesapeake watershed region spans 64,000-square miles and is home to 18 million people. It's also home to thousands of species, including the bald eagle and blue crab who live on and around the Bay. It is a national treasure, but also seriously threatened by pollution and development. Climate change adds new challenges to an ecosystem already under stress.
Climate Change in Maryland
The reality of climate change is very visible to those living on the Bay. Smith Island and Tangier Island are inhabited islands in the mid-Bay whose residents are already losing their homes to sea-level rise. Other previously inhabited islands, such as Sharp's Island and Holland's Island, are completely submerged.
On the property of the Chesapeake Bay Foundation in Annapolis, Maryland, several dozen acres of pine forest have been claimed by rising waters in just the last 25 years. Sharp's Island disappeared completely in 1962.
And in Baltimore, the EPA predicts that a three-degree overall air temperature increase could increase the heat-related death toll by 50 percent, from 85 to 130 people annually.
Climate Change in Virginia
The Bay's coastal communities face some of the fastest rates of sea-level rise in the nation. Cities are starting to find innovative fixes to flooding issues. Hampton is undertaking a city-wide effort, called Resilient Hampton, to tackle recurrent flooding from rising seas and storms. The city's plan notes that nearby Sewell's Point in Norfolk experienced nearly one and a half feet of sea-level rise in the past century and that eight of the eleven highest storm surges over 80 years of records occurred in the last two decades.
In addition, the Commonwealth now mandates the use of living shorelines in place of hardened structures like riprap and bulkheads for shoreline management. A living shoreline, at the design's core, is an erosion prevention tactic that has the ability to adapt to changing water levels and increased storm activity resulting from climate change.
Climate Change in Pennsylvania
The frequency and intensity of weather events are on the rise across Pennsylvania, but the impact is seen most clearly in the Chesapeake watershed region. These massive storms overwhelm rivers and creeks, as well as local storm pipes, resulting in dangerous floods. The storms not only pose an immediate risk to life and property, but they also threaten water quality and efforts to restore it.
At the local level, extreme weather is yet another strain on municipalities that are contending with aging infrastructure, sprawl, legacy stormwater management problems, and increasingly stringent requirements to reduce polluted urban runoff. But just as new infrastructure is built, strong powerful storms wash it away.
But it's not just flooding that's increasing in the Keystone State. Water temperature is also on the rise, putting stress on fish from the Bay's iconic striped bass to Pennsylvania's beloved brook trout.
The Impact of Rising Temperatures in our Cities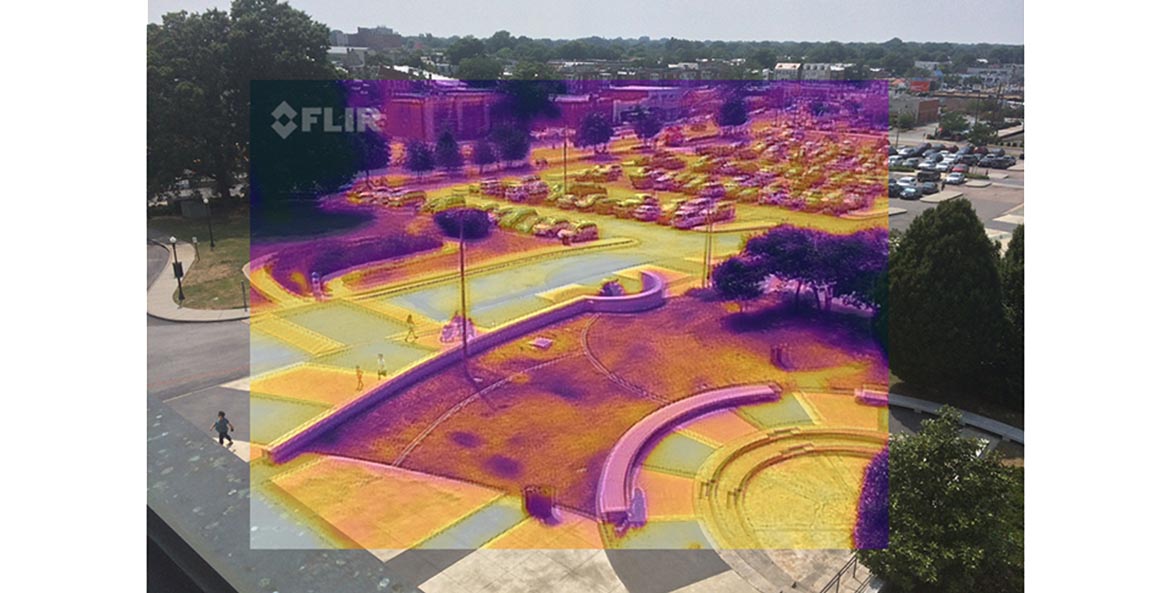 Rising temperatures on land may be one of the deadliest impacts of climate change. Cities are disproportionately affected. They are often warmer than surrounding rural areas due to the high density of roads, buildings, and hard surfaces, a phenomenon called the urban heat island effect. Even within the same city, certain neighborhoods are hotter—as much as 16 degrees Fahrenheit hotter, according to a 2019 study that looked at heat variations in Richmond, Baltimore, and Washington, D.C.
One of the study's researchers , Jeremy Hoffman, Chief Scientist at the Science Museum of Virginia, found the hottest neighborhoods today are the same neighborhoods once redlined under racially discriminatory home lending practices in the mid-1900s. These neighborhoods often remain lower income and communities of color, with fewer trees and open spaces, exposing residents who need to walk or use public transportation to dangerous heat.
For more on heat islands, watch our webinar, Throwing Shade: Heat Islands, Public Health, and Clean Water.
The future doesn't have to be so hot. Planting urban trees and other greenery and reducing hard surfaces not only cools city streets, it helps slow and filter the polluted stormwater runoff that impairs streams and the Bay.
How CBF is Working to Mitigate the Effects of Climate Change
Restoring the Bay and fighting climate change go hand in hand. Through advocacy and restoration, CBF is putting practices on the ground that reduce pollution to the Bay and help communities mitigate and adapt to climate change.
Better Buffer Program: CBF and Pennsylvania farmers are using a new mobile tool to help meet the Chesapeake Bay Clean Water Blueprint's pollution-reduction goals.
Carbon Reduction Fund: CBF in partnership with WGL Energy is finding creative ways to reduce carbon pollution and improve air and water quality. See our story on page 13 in the Spring 2020 issue of Save the Bay magazine.
Shoreline Protection: CBF is helping a Baltimore-area neighborhood restore their shoreline with marshes that will help stop flooding.
Solar Energy: CBF is fully supportive of solar power as an essential part of reducing emissions from fossil-fueled energy production. Cutting emissions not only combats the urgent threat of global climate change, but also reduces harmful air pollution that contributes nearly one-third of the nitrogen that pollutes local streams, rivers, and the Chesapeake Bay. We advocate for solar development that follows seven best practices to safeguard water quality and promote community well-being in the Chesapeake Bay watershed.
Emissions: One-third of the Bay's nitrogen pollution comes from the air. Reducing emissions of carbon dioxide, nitrogen oxides, and methane is essential to curb climate change and improve water quality. CBF's Federal Affairs Office is responding to attacks on important federal regulations that protect our air, water, and climate. When necessary, our litigation department takes legal action to hold the government accountable. For example, we challenged the repeal of the federal Clean Power Plan and its inadequate replacement with the Affordable Clean Energy (ACE) Rule. We also challenged EPA's move to block state-level greenhouse gas standards for car tailpipes and zero-emission-vehicle programs.
Green Infrastructure: Rain gardens, trees, constructed wetlands, and other green spaces can help reduce polluted runoff and flooding and provide relief from extreme heat. CBF is working with cities and community groups to place more trees in urban areas, such as our Hopewell Restoration Project in Virginia and environmental justice projects in low-income sections of three southcentral Pennsylvania cities. We're also working with Hampton, Virginia, to utilize innovative environmental impact bonds (EIBs) to finance green infrastructure projects.
Keystone 10 Million Trees Partnership: CBF and more than 130 partners are working to plant 10 million trees in priority landscapes in Pennsylvania by the end of 2025. From minimizing flooding to reducing urban heat islands and cutting internal heating and cooling costs, trees are a major player in fighting climate change. Learn more about the partnership at tenmilliontrees.org.
What YOU Can Do about Climate Change
Restoring the Bay and fighting climate change go hand in hand. Through advocacy and restoration, CBF is putting practices on the ground that reduce pollution to the Bay and help communities mitigate and adapt to climate change. Here's how you can help:
Support our climate-critical work. Make a donation to help CBF continue to restore oyster sanctuaries, plant trees that provide streamside buffers across the watershed, and advocate for government policies that protect our environment.
Join our action network. Get the latest updates on local and federal actions you can take by signing up to receive our action alerts.
Volunteer to plant trees: Visit tenmilliontrees.org to find planting events in Pennsylvania and check our calendar for upcoming events.
Donate to the Keystone Tree Fund when renewing your Pennsylvania driver's license and vehicle registration.
Take steps at home.
Ask your energy provider about options to get your electricity from renewable resources.
Replace hard surfaces with pervious pavement.
Carpooling and using public transportation are great ways to reduce your carbon footprint. However, let safety be your primary guide during the COVID-19 crisis. When ride sharing or in public spaces, always wear a mask and practice social distancing. When you're in a position to buy a car, think about a more efficient model, or an electric or hybrid.
There are endless opportunities for you to make a difference for the Bay and beyond. Find out other exciting ways to get involved here.