See where things stand in Maryland below, and learn about the current and future challenges we face.
Maryland's Progress Toward Pollution Reductions
We used EPA's scientific model to estimate pollution reductions made between 2009 and 2019 and if those reductions are on a trajectory to meet the 2025 goals. Maryland's pollution-reduction progress is summarized in the table below.
Wastewater treatment plant upgrades are the main reason the state is on track. Maryland needs to accelerate efforts in pollution reduction from agriculture and urban/suburban runoff.
Nitrogen
Phosphorus

MD

Maryland
Agriculture


Urban & Suburban
Polluted Runoff

Septic


N/A*
Wastewater &
Combined Sewer Outfall

TOTAL

Key

red
projected loads more than 25% off target or pollution is increasing
yellow
projected loads within 10-25% of target
green
projected loads less than 10% off target
*
No contribution from this source sector
Any increasing trendline is red, regardless of percentage.
Evaluating Maryland's Milestone Commitments
After examining the results of EPA's scientific model to estimate pollution reductions statewide and for each sector (see chart above), we evaluated Maryland's implementation of the programmatic commitments it made in its 2018-2019 milestone goals—in other words, the practices and programs the state will use to get the job done. The following is our analysis of key Maryland commitments.
Wastewater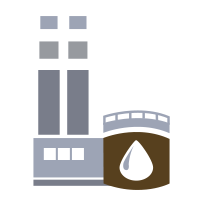 Maryland's updated Clean Water Blueprint (Phase III WIP) leans even more heavily on cuts to pollution from wastewater treatment plants. An exceptionally rainy period in 2018 and 2019 temporarily elevated phosphorus levels from wastewater, exposing how little margin for error exists in this sector. Pollution from septic systems remains a persistent problem.
Commitment: Upgrade nutrient removal technology at wastewater treatment plants to reduce nitrogen and phosphorus pollution.
Progress: On Track
Steps taken: The state and local jurisdictions have completed technology upgrades at 64 of Maryland's 67 largest plants and are ahead of schedule working on smaller facilities across the state.
Steps needed: Maryland must establish consistently lower phosphorus discharges at the newly-upgraded Patapsco plant, one of the state's largest. Increased investment in staffing and materials at plants across the state would help wastewater treatment operators optimize nutrient removal technology to reduce even more pollution.
Commitment: Improve programs to upgrade septic systems and extend sewer lines.
Progress: In Danger of Being Off Track
Steps taken: The state has established programs and funding sources for both efforts, but installation of Bay-friendly septic systems has slipped over the past few years. The state met only 57 percent of its installation goal for Fiscal Year 2020. Work to connect homes to sewer lines, however, is accelerating.
Steps needed: Concrete plans are needed to upgrade or retire septic systems in neighborhoods struggling with this source of pollution. MDE and local governments should engage communities in conversations about phasing in and financing new sewer lines while controlling future growth.
Urban/Suburban Polluted Runoff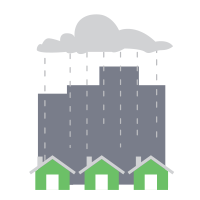 Due to new development and lagging efforts to reduce pollution in established neighborhoods, polluted runoff from stormwater is increasing and will be Maryland's second largest source of nitrogen pollution by 2025.
Commitment: Issue new permits with updated requirements to treat polluted runoff in urban and suburban areas.
Progress: Off Track
Steps taken: Polluted runoff from construction sites and developed areas is managed under permits issued by MDE. These permits expired in 2019 and contain outdated protection and restoration requirements.
Steps needed: The state must issue new permits as soon as possible. These include: the permit for Municipal Separate Storm Sewer Systems (MS4s), which should increase the use of natural filters like bioswales and tree plantings in developed areas, as well as replacing paved surfaces with pervious ones; the Construction General permit for stormwater from construction sites, which should include stronger protections for Maryland's highest-quality creeks and streams; and the Industrial General permit for stormwater discharged from industrial facilities, which should ensure vulnerable communities do not suffer disproportionately from toxics in industrial runoff.
Agriculture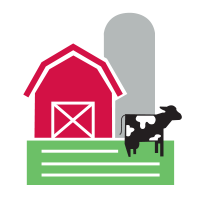 Ongoing pollution reduction efforts from farmers are a critical part of Maryland's strategy to meet its 2025 goals. Success with in-field management practices, like cover crops, must be maintained, and installation of natural filters, like pastures and streamside buffers, must increase.
Commitment: Improve documentation and increase implementation of best management practices to decrease nitrogen pollution from farms.
Progress: In Danger of Being Off Track
Steps taken: The Maryland Department of Agriculture (MDA) checks nearly 20 percent of Maryland's farms annually to see if they follow plans to manage fertilizer and manure, two big sources of nitrogen pollution. More farmers are using best management practices that reduce pollution, but it remains the primary source of pollution in some rural regions.
Steps needed: MDA should accelerate long-term solutions, like cost-effective forested stream buffers and pastures that filter pollution before it reaches the water. The Maryland General Assembly passed legislation in 2020 to support installation of natural filters and practices to improve soil-health, which will help.
Climate Change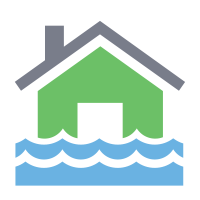 Climate change is a real and imminent threat to the Chesapeake Bay, bringing warmer water temperatures, rising seas levels, and more extreme rainfall. Maryland must reduce additional pollution to offset the impacts of a warming climate and ensure that management practices are resilient in the face of increasingly intense weather events.
Commitment: Coordinate education, funding,and regulations to address the harmful impacts of climate change on the Chesapeake Bay.
Progress: On Track
Steps taken: Maryland is working with EPA's Chesapeake Bay Program to update scientific models to predict climate change impacts on the Bay. The state initiated the Maryland Climate Leadership Academy to educate and train state and local leaders on climate issues, and the General Assembly authorized local jurisdictions to create Resilience Authorities to raise funds for climate change mitigation projects. Maryland is also part of the Regional Greenhouse Gas Initiative (RGGI), which aims to reduce emissions that drive climate change.
Steps needed: Significant new initiatives to reduce pollution and moderate climate change will likely be needed, such as the interstate Transportation & Climate Initiative and a statewide tree planting effort first proposed in the 2020 General Assembly session. The state's regulations for controlling polluted stormwater runoff may also need strengthening to address new precipitation patterns brought on by climate change.
Finishing the Job in Maryland
Maryland's record of dedicated funding, protective laws, and engaged communities puts the state on a trajectory to meet its 2025 pollution reduction goals. But these accomplishments will not be enough to sustain clean water over the long-term. The impacts of climate change, along with continued deforestation due to land development, leave a gap in the state's strategy to maintain progress over time. The state must prioritize restoration efforts that are long-lasting, cost-effective, and geographically targeted where the investments will have the best water quality results. Action is needed now to protect forests and plant more trees, improve soil health on farms, and provide technical assistance to farmers and local governments to fully achieve Maryland's clean water goals.