See where things stand in Pennsylvania below and learn about the current and future challenges we face.
Pennsylvania's Progress Toward Pollution Reductions
We used EPA's scientific model to estimate pollution reductions made between 2009 and 2019 to determine if current trends are on track to meet the 2025 Blueprint goals, both statewide and for each sector. Pennsylvania's pollution-reduction progress is summarized in the table below.
Wastewater treatment plant upgrades are on pace to meet pollution-reduction goals for that sector ahead of schedule. But the Commonwealth is significantly behind in implementing the practices necessary to reduce pollution from urban and suburban stormwater runoff and agriculture, the latter of which accounts for the vast majority of the pollution it must reduce.
Nitrogen
Phosphorus

PA

Pennsylvania
Agriculture


Urban & Suburban
Polluted Runoff

Septic


N/A*
Wastewater &
Combined Sewer Outfall

TOTAL

Key

red
projected loads more than 25% off target or pollution is increasing
yellow
projected loads within 10-25% of target
green
projected loads less than 10% off target
*
No contribution from this source sector
Any increasing trendline is red, regardless of percentage.
Evaluating Pennsylvania's Milestone Commitments
After examining the results of EPA's scientific model to estimate pollution reductions statewide and for each sector (see chart above), we looked at how well the states have implemented the programmatic commitments they made in their 2018-2019 milestone goals—in other words, the practices and programs they will use to get the job done. The following is our analysis of key Pennsylvania commitments.
Wastewater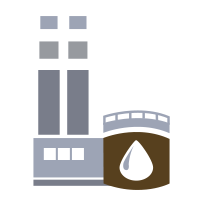 Pennsylvania is on pace to meet its 2025 Blueprint goals for wastewater ahead of schedule, largely by installing better technology at treatment plants or purchasing credits that reduce their contribution to nitrogen and phosphorus pollution.
Commitment: Include pollution limits, called "cap loads," for permits issued to wastewater treatment plants under the National Pollutant Discharge Elimination System (NPDES).
Progress: On Track
Steps taken: Pennsylvania achieved this milestone by including pollution limits for the 190 publicly-owned wastewater treatment plants in their NPDES permits, which regulate water pollution.
Steps needed: Expanding Pennsylvania's existing program to help wastewater plants optimize the practices and procedures they use to remove nutrients would help further reduce pollution. While the approach can vary depending on the plant, some examples of optimization techniques include changes to computer programming and more precise regulation of water temperature at key points of the treatment process.
Urban & Suburban Polluted Runoff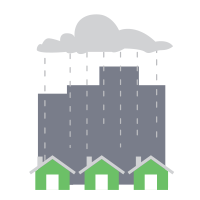 Many of Pennsylvania's small, local stormwater systems—called Phase II Municipal Separate Storm Sewer Systems (MS4s)—have undersized and aging infrastructure. As more land is developed, polluted runoff is increasing. Existing developed areas in urbanized communities continue to contribute polluted runoff to streams and rivers. Finally, while many communities aren't big enough to require an MS4 permit, collectively they make up a large part of the pollution load from this sector.
Commitment: Complete initial reviews of Chesapeake Bay Pollutant Reduction Plans, submitted by municipalities in September 2017, and ensure they are implemented.
Progress: In Danger of Being Off Track
Steps taken: The Pennsylvania Department of Environmental Protection (DEP) required roughly 360 municipal stormwater systems to produce Pollutant Reduction Plans that address water-quality problems in local streams and the Bay—a substantial step toward meeting Blueprint goals. By the end of 2019, DEP had completed the initial review of all the submitted plans. However,the agency considers many of the plans to be deficient and is awaiting updates from the municipalities.
Steps needed: The Commonwealth must not only ensure the plans are sound, but also ensure they are implemented.
Commitment: Provide guidance to encourage collaboration among and between municipal stormwater systems to achieve economically efficient pollution reductions in localized areas.
Progress: On Track
Steps taken: In the summer of 2019, Pennsylvania produced updated guidance to help municipalities meet their pollution reduction goals through collaborative efforts with neighboring communities or nearby farmlands. The success of the guidance will likely be determined in the next few years.
Steps needed: So far, most municipalities continue to address pollution independently, forgoing opportunities for cost-savings and coordination with neighboring local governments. There are a few notable exceptions, as in Luzerne and Blair Counties, and the Williamsport area. Utilizing the guidance, municipalities should actively seek collaboration and coordination with neighboring communities and landowners.
Agriculture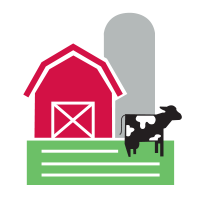 Agriculture dominates much of Pennsylvania's land in the Bay watershed, and the sector accounts for roughly 93 percent of the total remaining nitrogen reductions the Commonwealth must make to meet the Blueprint goals. Efforts to reduce pollution from farms continue to be significantly off track.
Commitment: Implement Agricultural Compliance and Enforcement Strategy to inspect farms in the Chesapeake Bay Watershed and ensure they have plans to limit pollution from erosion, manure, and fertilizer.
Progress: In Danger of Being Off Track
Steps taken: In 2018-2019 the Commonwealth verified that 2,951 farms, representing about 10 percent of agricultural lands, had the required plans in place to control pollution from erosion, manure, and fertilizers. DEP's Agricultural Planning Reimbursement Program has helped farms develop plans.
Steps needed: The Commonwealth's plan for a pilot project to assess if farms are fully implementing their plans is delayed. Many farms now require financial and technical assistance to establish the practices outlined in the plans. While farmers and conservation districts have made some progress, state lawmakers need to establish a dedicated, stable, state agricultural cost-share program to help farmers invest in conservation practices.
Commitment: Help farmers implement crop and soil management practices that improve long-term soil health.
Progress: On Track
Steps taken: Organizations working throughout Pennsylvania are helping farms increase soil organic matter and enhance soil structure in order to reduce erosion, nutrient and pesticide loss, and runoff to local streams draining to the Chesapeake Bay.
Steps needed: Farms need dedicated, stable funding sources and practical information adapted to their region and production system to increase adoption of cover crops, conservation tillage, managed grazing and other practices.
Accounting for Growth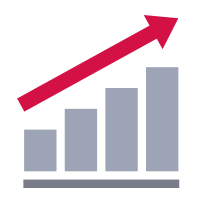 The loss of forests and farmland to development, additional livestock and poultry farming, and increased vehicle emissions all add pollution to Pennsylvania's local streams and the Bay.
Commitment: Pennsylvania did not establish a stand-alone milestone to account for growth.
Progress: Off Track
(In cases where a state did not set a specific milestone goal, yet the issue is relevant to the achievement of its pollution reduction goals, we assessed any related steps that have been taken to address the issue and whether those steps put the state on track for success.)

Steps taken: Although the state has a nationally recognized farmland preservation program, managing growth and land use is especially challenging because these decisions are made by the more than 1,100 municipal governments in Pennsylvania's portion of the Bay watershed.
Steps needed: Local governments should update planning and zoning policies to preserve sensitive landscapes, like forest buffers; adopt ordinances that limit sprawl outside of towns; limit land disturbance and the creation of hard surfaces; and manage stormwater with green infrastructure practices. Climate change, particularly extreme rainfall, makes it imperative to address these challenges.
Climate Change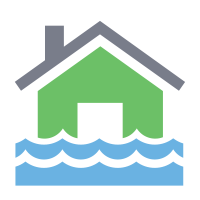 Climate change will make the difficult job of restoring the Commonwealth's rivers and streams and meeting its pollution reduction commitments for the Bay even harder. Climate change in Pennsylvania likely will increase and intensify precipitation and runoff, and warm waters.
Commitment: Pennsylvania did not establish a stand-alone 2018-19 milestone for climate change.
Progress: In Danger of Being Off Track
(In cases where a state did not set a specific milestone goal, yet the issue is relevant to the achievement of its pollution reduction goals, we assessed any related steps that have been taken to address the issue and whether those steps put the state on track for success.)

Steps taken: In its final Pennsylvania Clean Water Blueprint (Phase III WIP), the state projected approximately 4 million pounds of additional nitrogen and 140,000 pounds of additional phosphorus pollution from climate change, largely due to increased runoff. The plan does outline a strategy to address it.
Steps needed: Complete the process for joining the Regional Greenhouse Gas Initiative (RGGI), an interstate effort to reduce carbon emissions from power generation that contribute to climate change. Additionally, updates to the state stormwater management manual, local ordinances, pollution reduction plans for permitted municipal stormwater systems, and county stormwater plans will need to reflect the impacts of climate change.
Finishing the Job in Pennsylvania
Pennsylvania is on pace to achieve pollution reduction goals for wastewater treatment plants. But to meet its overall Blueprint goals and improve local rivers and streams, the Commonwealth must fully address pollution from agriculture first and foremost, as well as urban and suburban runoff.
As finalized, the Commonwealth's final Pennsylvania Clean Water Blueprint (Phase III WIP) falls roughly 27 percent short of its goal to reduce nitrogen pollution and has a self-identified $324 million annual funding shortfall.
The poor agricultural economy is a significant barrier that is hindering farms from adopting the conservation measures needed to reduce pollution. Despite dire need for a dedicated state cost-share program to help fund the design and implementation of farm conservation practices, the Commonwealth currently only has the Conservation Excellence Grant Programto support farms in York and Lancaster Counties. If there is any chance of success, this must change.
If it does not, Pennsylvania runs the risk of increased federal enforcement, such as increased regulations for livestock operations, industrial and municipal stormwater sources, and wastewater treatment plants. EPA could also shift or withhold grant funding for Pennsylvania, among other actions.
Excess nutrients in fertilizer are carried by runoff and have a significant impact on the health of Pennsylvania's streams and the Chesapeake Bay. If passed, SB 915 will be the first of its kind in Pennsylvania to establish best practices for use of fertilizer so it can be applied to maximize its effectiveness and minimize its harm to our local waterways. Take action now to tell your state Representative to support Senate Bill 915 and send a clear message that clean local waters are important in Pennsylvania.
Take Action
Keystone 10 Million Trees Partnership
Streamside forested buffers, with native trees and shrubs planted along the waterway, are one of the most cost-effective practices for reducing nitrogen, phosphorus, and sediment pollution in both rural and urban landscapes. Pennsylvania committed to plant 95,000 acres of forested buffers by 2025. To reach this ambitious goal, CBF is coordinating a partnership that will galvanize the expertise, experience, and muscle of national, regional, state, and local agencies; conservation organizations; outdoor enthusiasts; businesses; and citizens committed to improving Pennsylvania's communities, economy, and ecology. These buffers will support natural ecosystems, provide wildlife habitat, stabilize streambanks, improve soil health, and draw carbon from the atmosphere, in addition to capturing nutrient and sediment runoff before it reaches the water. Find out more at tenmilliontrees.org.