Maryland is currently on track to meet the state's 2025 pollution-reduction targets overall. Significant and ongoing investments in wastewater treatment technology and conservation practices on farms have substantially reduced pollution. However, recent maintenance and permit compliance failures at some of the state's largest wastewater treatment plants threaten this progress. Pollution is still increasing from urban/suburban runoff as more land is developed and forests are lost. And more work is needed on farms. To stay on track, the state must redouble efforts to protect and restore natural filters like forests, streamside buffers, and wetlands that reduce pollution and fight climate change in both urban and rural settings.
Learn more about where things stand in Maryland below, and the current and future challenges we face.
Maryland's Progress Toward Pollution Reductions
We used the Chesapeake Bay Program's scientific model to estimate pollution reductions made between 2009 and 2020 and if those reductions are on a trajectory to meet the 2025 targets. Maryland's pollution-reduction progress is summarized in the table below.
Wastewater treatment plant upgrades are the main reason the state is on track overall—accounting for roughly half of the pollution reductions Maryland needs to meet its 2025 Blueprint targets—though recent concerns at some of the state's largest plants call into question real-world improvements. Agricultural pollution is also declining, though not fast enough to meet the state's targets. Pollution from urban/suburban runoff is increasing. While declines in pollution from the wastewater sector are currently large enough to keep the state on track for its 2025 commitments, the long-term health of state waterways requires Maryland to accelerate efforts to reduce pollution from agriculture and urban/suburban runoff.
Individual sectors compared to 2025 Phase III WIP. Total compared to EPA Planning Target.
Nitrogen
Phosphorus

MD

Maryland
Agriculture

In Danger

Off Track

Urban/Suburban Polluted Runoff

Off Track

On Track

Septic

Off Track

N/A

Wastewater & Combined Sewer Outfall

On Track

On Track

Overall

On Track

On Track
Key

| | |
| --- | --- |
| Off Track | Projected loads more than 25% off target or pollution is increasing |
| In Danger of Being Off Track | Projected loads within 10-25% of target |
| On Track | Projected loads less than 10% off target |
| N/A | No contribution from this source sector |
Evaluating Maryland's Milestone Commitments
After examining the results of the Chesapeake Bay Program's scientific model to estimate pollution reductions statewide and for each sector (see chart above), we evaluated Maryland's implementation of the programmatic commitments it made in its 2020-2021 milestones—in other words, the practices and policies the state will use to get the job done. The following is our analysis of key Maryland commitments.
Wastewater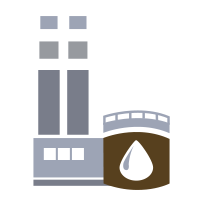 Improvements to wastewater treatment plants have had remarkable success reducing excess nitrogen and phosphorus pollution to the Chesapeake Bay. This progress represents about half of the total pollution reductions Maryland needs to meet its 2025 Blueprint targets. It demonstrates the value of science-based regulation and sustained investment in cost-effective pollution-reduction practices. However, ensuring permit compliance and full implementation of technology upgrades at treatment plants is essential to realize real-world benefits to water quality.
Commitment: Upgrade nutrient removal technology at wastewater treatment plants to reduce nitrogen and phosphorus pollution.
Progress: ON TRACK
Steps taken: The state and local jurisdictions have now completed technology upgrades at 64 of the state's 67 largest plants and are ahead of schedule improving smaller facilities across the state.
Steps needed: Several major exceedances of permit pollution limits have occurred at some of the state's largest wastewater treatment plants. This will require more frequent inspections and enforcement to catch and resolve problems. A related commitment to upgrade septic systems or connect them to high-performing wastewater treatment plants has not held pace. Concrete plans are needed to upgrade or retire septic systems in neighborhoods struggling with this source of pollution.
Urban/Suburban Polluted Runoff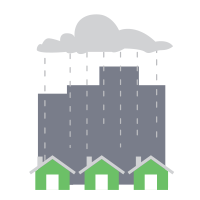 Due to new development and lagging efforts to reduce pollution in established neighborhoods, nitrogen pollution from urban/suburban runoff is increasing and is Maryland's second largest pollution source. Some permit renewals that govern local stormwater systems, construction activity, and industrial sites are overdue, and others contain insufficient protection and restoration requirements.
Commitment: Issue new permits with updated requirements to treat polluted runoff in urban and suburban areas.
Progress: OFF TRACK
Steps taken: The state recently issued some overdue permit renewals for Municipal Separate Storm Sewer Systems (MS4s) in its most populous regions. But the new permits fail to protect water quality, especially as climate change brings more frequent, severe rainstorms. Instead, they cut in half the pace at which populated areas are required to replace hard surfaces—one of the most effective ways to reduce urban/suburban runoff pollution. They also allow populated areas to continue relying on practices that do not control runoff—such as stream restoration, street sweeping, or the purchase of water quality credits from wastewater treatment plants—to comply with their permits. CBF and Blue Water Baltimore are currently suing the Maryland Department of the Environment (MDE) over the shortcomings in the MS4 permits for Baltimore City and Baltimore County.
Steps needed: The state must strengthen the MS4 permits, which should increase the use of natural filters like bioswales and tree plantings in developed areas, and account for increased precipitation from climate change. It must also issue related permits to control runoff, including: the Construction General permit for stormwater from construction sites, which should include stronger protections for Maryland's highest-quality creeks and streams; and the Industrial General permit for stormwater discharged from industrial facilities, which should ensure vulnerable communities do not suffer disproportionately from toxics in industrial runoff. All of these permits must better account for increasingly severe rainfall and other effects of climate change.
Agriculture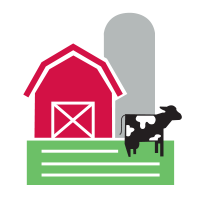 Programs that support conservation practices on farms, like cover crops and phosphorus management, have made important pollution reductions. But these broad strategies alone are not enough to put Maryland on pace to meet its targets for agriculture by the Blueprint's 2025 deadline. With just four years to go, Maryland must accelerate the pace of restoration on farmland and give more attention to restoring natural filters such as streamside forest buffers and pastures.
Commitment: Fully implement Maryland's phosphorus management program.
Progress: On Track
Steps taken: Farmers, industry representatives, regulators, and environmental advocates cooperatively developed a program and identified funding to ensure phosphorus, in the form of manure for fertilizer, is only applied to fields that can absorb it. A phase-in of the program was expected to reach every farm by the end of 2021.
Steps needed: Timely reporting of phosphorus levels in the soil and changing to farm practices that reduce excessive phosphorus levels will be critical as the program extends to cover more farmland. Identifying best practices to appropriately manage phosphorus should be a priority over the coming year.
Commitment: Increase natural filters and healthy soil cover on agricultural land.
Progress: Slightly Off Track
Steps taken: Over the past two years, the General Assembly has made it substantially easier for farmers to access funding and technical assistance for restoration using natural filter practices like tree plantings and pasture establishment.
Steps needed: The state's targets for establishing natural filters on farms are not ambitious enough and the pace of implementation is not fast enough to meet pollution-reduction targets and make lasting gains for clean water. Strengthening incentives for farmers to maintain diverse, year-round crop or pasture cover in their fields should be a high priority. The state should also work to maximize enrollment in the federal Conservation Reserve Enhancement Program (CREP), which is currently decreasing and far below the amount allowed, and make restoration of natural filters standard practice on lands subject to conservation easements.
Issue in Focus: Land Development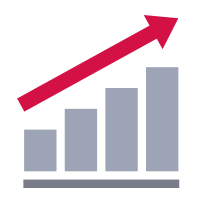 Preliminary data produced by Chesapeake Conservancy, University of Vermont, and U.S. Geological Survey suggest changes in the watershed's land use between 2014 and 2018 with important implications for water quality. States may or may not have milestone commitments dedicated to addressing these land use changes, and therefore cannot be assigned an 'on track' or 'off track' rating. However, in this section, we outline findings from the data, any steps the state has already taken to address the issue, and further steps that are needed.
Preliminary data suggest that Maryland adds about 6,000 acres of rooftops, roadways, parking lots, and lawns every year, an area larger than a city the size of Annapolis. About 2,500 acres of forest and non-urban tree canopy are modified annually due to such land use/land cover changes as timber harvest, urbanization, agricultural expansion, and other drivers. Over 90 percent of the state's net forest loss comes from urban and suburban growth, meaning natural filters like forests are replaced with buildings and hard surfaces that funnel more pollution into waterways. This continued shift in Maryland's landscape degrades local rivers and creeks and makes it harder to clean up the Chesapeake Bay.
Steps taken: Maryland committed to sustain funding for state land conservation and preservation programs, which help protect sensitive natural landscapes from development. Recent annual appropriations by the governor and General Assembly have met the mark, though the state must ensure that repayments for past program cuts directly support land protection.
Steps needed: The state must do better to account for growth and offset the negative impacts of development on water quality. For example, it should strengthen state forest conservation laws, which currently require replanting only one acre of trees for every four acres cut. It should not allow growth to proceed using traditional septic systems when less-polluting systems are available. Regulations intended to protect the state's healthiest creeks and streams must change to fully consider alternatives that could minimize the footprint and impact of new construction. And, as noted earlier in this report, the state must strengthen permits and controls on polluted urban/suburban runoff.
Finishing the Job in Maryland
Model projections show Maryland is largely on track to meet its 2025 pollution-reduction targets, thanks to the state's long-term commitments to upgrade wastewater treatment plants and adopt conservation practices on farms. However, to fully realize these gains and achieve its Blueprint targets, Maryland must take the following urgent actions:
First, the state must accelerate work to restore natural filters on farms and install pollution controls on hardened surfaces in urban and suburban areas. Action is still needed to protect forests, improve soil health on farms, and provide technical assistance to farmers and local governments.
Second, Maryland must continue to inspect and take enforcement action where wastewater treatment facilities have fallen out of compliance. Failing to do so risks backsliding on hard-won progress, and poses threats to water quality, public health, and the seafood industry.
Finally, climate change and continued deforestation due to land development will further stress Maryland's waterways. The state must do more to account for these growing threats to its Clean Water Blueprint.