Despite reducing over 4 million pounds of nitrogen pollution in 2020, Pennsylvania is not on track to achieve its 2025 pollution-reduction targets, and the Commonwealth is significantly behind in implementing the practices necessary to close the gap. More than 90 percent of its remaining pollution reductions must come from agriculture. While farmers are adopting conservation practices, a massive influx of technical and financial assistance is required to provide the resources to put these practices in place at the scale and pace necessary. Across the watershed in Pennsylvania, the wastewater sector remains the one area of noteworthy success. However, the loss of farms and forests to development, coupled with more severe storms linked to climate change, pose new challenges for stemming rising pollution from urban/suburban runoff.
Learn more about where things stand in Pennsylvania below, and the current and future challenges we face.
Pennsylvania's Progress Toward Pollution Reductions 
We used the Chesapeake Bay Program's (CBP) scientific model to estimate pollution reductions made between 2009 and 2020 and if those reductions are on a trajectory to meet the 2025 targets. Pennsylvania's pollution-reduction progress is summarized in the table below.
Pennsylvania is not on track to achieve its 2025 pollution-reduction targets.The biggest gap is in agricultural pollution, which, while declining, accounts for more than 90 percent of the remaining nitrogen reductions Pennsylvania must make. At the same time, pollution from urban and suburban areas is increasing. Big declines in pollution from wastewater remains one area of noteworthy success, but problems persist at some facilities, and the gains are not nearly large enough to make up for pollution from agricultural and urban/suburban runoff.
Individual sectors compared to 2025 Phase III WIP. Total compared to EPA Planning Target.
Nitrogen
Phosphorus

PA

Pennsylvania
Agriculture

Off Track

Off Track

Urban/Suburban Polluted Runoff

Off Track

Off Track

Septic

Off Track

N/A

Wastewater & Combined Sewer Outfall

On Track

On Track

Overall

Off Track

In Danger
Key

| | |
| --- | --- |
| Off Track | Projected loads more than 25% off target or pollution is increasing |
| In Danger of Being Off Track | Projected loads within 10-25% of target |
| On Track | Projected loads less than 10% off target |
| N/A | No contribution from this source sector |
Evaluating Pennsylvania's Milestone Commitments 
After examining the results of the Chesapeake Bay Program's scientific model to estimate pollution reductions statewide and for each sector (see chart above), we evaluated Pennsylvania's implementation of the programmatic commitments it made in its 2020-2021 milestones —in other words, the practices and policies the Commonwealth will use to get the job done. The following is our analysis of key Pennsylvania commitments.
Wastewater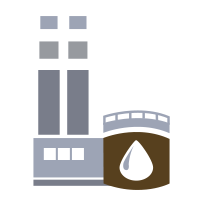 Pennsylvania is on pace to meet its 2025 Blueprint targets for wastewater ahead of schedule, largely by installing better technology at treatment plants, enhancing the efficiency of existing treatment plant technologies, or purchasing credits that reduce their contribution to nitrogen and phosphorus pollution. Combined sewer overflows are a challenge for many communities, particularly older cities and boroughs; however, they represent less than 2 percent of Pennsylvania's wastewater nitrogen pollution to the Bay.
Commitment: Continue to provide "enhanced technical assistance" to help wastewater treatment plants optimize nutrient load reductions with existing technology.
Progress: On Track
Steps taken: Pennsylvania has offered assistance to a number of publicly-owned wastewater treatment plants to help optimize pollution reductions. While the approach can vary depending on the plant, some examples of optimization techniques include changes to computer programming and more precise regulation of water temperature at key points of the treatment process.
Steps needed: Continue to offer assistance, including financial incentives when available, to help wastewater treatment plants remove as much pollution as possible. This is particularly important for treatment plants serving financially distressed and environmental justice areas.
Urban & Suburban Polluted Runoff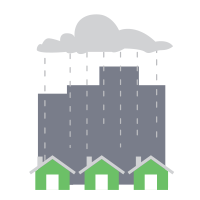 The loss of fields and forests to development and the increasing frequency and severity of storms due to climate change are increasing polluted runoff from urban and suburban areas. Despite these new challenges, Pennsylvania has not substantially updated its 15-year-old manual for designing and implementing practices that reduce polluted runoff, called stormwater, including for development projects after construction.
Commitment: Complete revisions to the Pennsylvania Stormwater Best Management Practice Manual by the end of 2021.
Progress: Off Track
Steps taken: Pennsylvania continues to work with Villanova University and a subcontractor to update the 2006 manual.
Steps needed: The updated manual has yet to be released. In 2022, Pennsylvania must finalize, release, and encourage broad adoption of the updated manual to achieve greater reductions in polluted runoff from new development and redevelopment activities. To help ensure the manual is embraced, the state and its partners will need to conduct outreach and education to municipal engineers and officials, developers, and others.
Commitment: Implementation of stormwater control practices in urbanized areas, construction stormwater permits, and on developed areas outside of the scope of the permitting programs.
Progress: Off Track
Steps taken: The state continues efforts to engage municipalities and, where possible, provide technical and grant funding assistance to implement practices that reduce polluted runoff. The ongoing effects of the pandemic, however, continue to strain state and municipal resources.
Steps needed: Many municipalities struggle with finding the technical and financial resources to implement programs that reduce polluted runoff from streets, buildings, and other hard surfaces common to developed areas. Pennsylvania should pass the recently proposed Pennsylvania Clean Streams Fund (Senate Bill 832/House Bill 1901), which would direct $25 million to assist municipalities with these challenges. It also includes up to $6.25 million toward tree plantings along community streets and stream sides, which help trap pollution before it enters the water. Municipalities should also consider forming partnerships like a regional stormwater joint venture. These partnerships can help reduce costs and maximize benefits by allowing communities to work collaboratively on projects. 
Agriculture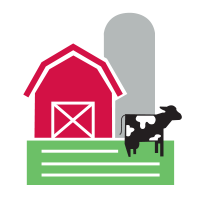 Agriculture dominates much of Pennsylvania's landscape in the Bay watershed, and the Commonwealth is counting on this sector to achieve more than 90 percent of its remaining nitrogen-pollution reductions. The challenge is especially daunting because each farm's circumstances are unique, and many farms lack resources to invest in water quality improvements. Farmers are adopting conservation practices. In 2020, model estimates indicated conservation practices by Pennsylvania farmers would result in over 2 million pounds of additional nitrogen-pollution reductions. Despite that progress, Pennsylvania remains significantly behind the pace and scale necessary to reduce pollution. A major acceleration of financial and technical assistance is urgent and essential to help farmers establish the conservation practices needed to reach Pennsylvania's commitment.
Commitment: Help farmers implement crop and soil management practices that improve long-term soil health.
Progress: Off Track
Steps taken: Farms across Pennsylvania are shifting toward production systems that improve the health of their soils to reduce erosion, nutrient and pesticide loss, and polluted runoff to local streams draining to the Chesapeake Bay. In particular, the Commonwealth is on track to meet its milestone targets for the acres of farmland planted in traditional cover crops (crops that are grown off-season to keep soil and nutrients on the land) and using high residue tillage (a conservation practice that leaves more of the soil surface covered with the leaves and stems of cover crops when they are cut down). However, Pennsylvania is far off track meeting targets for practices such as rotational grazing (rotating livestock frequently between pastures to allow fields time to regenerate) and the implementation of soil and water conservation and nutrient management plans at the whole-farm level.
Steps needed: The Commonwealth should pass legislation to create the Agricultural Conservation Assistance Program (ACAP). This would provide dedicated, stable funding sources and farm-specific technical assistance to increase the number of farms implementing crop and soil management practices that work together to reduce pollution across the whole farm.
Commitment: Implement Agricultural Compliance and Enforcement Strategy to inspect farms in the Chesapeake Bay Watershed and ensure they have plans to limit pollution from erosion, manure, and fertilizer.
Progress: Slightly Off Track
Steps taken: From 2016 to 2020, the Commonwealth verified that 11,162 farms, representing almost 41.7 percent of farmland in the Chesapeake Bay watershed in Pennsylvania, had the required plans in place to control pollution from erosion, manure, and fertilizers. In 2019, the majority of farms already had plans in place at the time of inspection, many by taking advantage of the cost-share provided by the Agricultural Plan Reimbursement Program. By the end of the fiscal year, 98 percent of the inspected farms had the necessary plans.
Steps needed: While farmers and conservation districts have made some progress, farms now require financial and technical assistance to implement the practices outlined in the plans. State lawmakers need to pass Senate Bill 832 and House Bill 1901 to create the Clean Streams Fund and establish ACAP, a dedicated, stable, state agricultural cost-share program to help farmers invest in conservation practices. Additionally, inspections still need to be completed on more than half of Pennsylvania farms in the Bay watershed. Without these inspections, farmers and conservation managers will not know what work and resources are needed.
A comprehensive communication/outreach strategy to engage farmers/landowners in planting and maintaining riparian forest buffers, and technical assistance and funding sources to achieve 95,000 acres of forested buffers by 2025.
Progress: Off Track
Steps taken: Streamside forested buffers, with native trees and shrubs planted along waterways, are one of the most cost-effective practices for reducing nitrogen, phosphorus, and sediment pollution in both rural and urban landscapes. The Pennsylvania Department of Conservation and Natural Resources (DCNR) provides financial support through the Riparian Forest Buffer Grant program and the TreeVitalize program, a public-private partnership to build capacity within communities to plan for, plant, and care for trees.
Steps needed: Despite the benefits of streamside forested buffers, Pennsylvania established just over a quarter of the buffers its two-year milestone commitment calls for by 2021. Increased funding and technical assistance are required to accelerate the creation of new buffers and maintain existing buffers. Maintenance is important to ensure tree survival, which can be threatened by flooding, wildlife damage, weed competition, and other challenges.
Issue in Focus: Land Development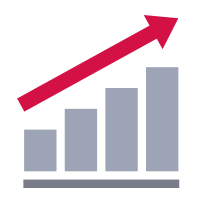 Preliminary data produced by Chesapeake Conservancy, University of Vermont, and U.S. Geological Survey suggest changes in the watershed's land use between 2014 and 2018, with important implications for water quality. States may or may not have milestone commitments dedicated to addressing these land use changes, and therefore cannot be assigned an 'on track' or 'off track' rating. However, in this section, we outline findings from the data, any steps the state has already taken to address the issue, and further steps that are needed.
Land use planning and management in Pennsylvania is done by local municipalities. There are over 1,100 such municipalities in the state's Bay watershed alone. Preliminary data suggest that each year, Pennsylvania loses about 6,000 acres of valuable forests, fields, and farmland to development, including for new residential land uses and massive commercial warehouse and distribution facilities. Recently, large-scale solar arrays have also emerged as a new threat to these sensitive lands. While solar power is essential to address climate change, clearing forests, wetlands, or prime farmland for solar arrays can diminish the land's ability to naturally filter water and capture carbon—undermining clean water and climate targets. Large-scale arrays are proposed for several farms and even forests across the Commonwealth, and more proposals are likely to come as Pennsylvania seeks to achieve clean energy goals.
Rising pollution from urban and suburban areas—made worse by extreme rainfall linked to climate change—makes it imperative for the Commonwealth to addresses these challenges.
Steps taken: Established in 1988, Pennsylvania's nationally recognized farmland preservation program has preserved over 600,000 acres, statewide, from development.
Steps needed: Local governments should update planning and zoning policies to preserve sensitive landscapes. These include intact and contiguous, quality forests, forest buffers, steep slopes, and wetlands. They should also direct solar arrays and new development away from these areas in favor of already developed land and brownfields; adopt ordinances that limit sprawl outside of towns; limit land disturbance and the creation of hard surfaces; and manage polluted runoff with green infrastructure practices. Pollution from new development that occurs on forests and prime farmland should be offset—achieving a net reduction in pollution—by using onsite best management practices, and, when necessary, implementing practices that reduce pollution at a nearby location.
Finishing the Job in Pennsylvania
Pennsylvania is off track to meet its 2025 pollution-reduction targets. Right now, wastewater treatment is the only sector that is meeting its targets, and it is not enough to make up for the enormous amount of pollution reductions that must still come from agriculture. Growing pollution from urban and suburban areas further impedes progress. There is no easy or inexpensive solution. It will take strong commitment and aggressive actions to close the gap in time.
Pennsylvania's original plan to finish the job (Phase III WIP) fell far short of its 2025 pollution-reduction commitments. Though it has promised to submit an updated plan to EPA, the fact remains the Commonwealth is far behind where it needs to be and it has an enormous amount of work to catch up—circumstances no plan alone will change. To be clear, this failure falls squarely on the General Assembly. Despite incredible efforts by local conservation districts, farmers, and many others working for clean water, their dedication cannot overcome the woefully inadequate state funding and assistance to date. Bottom line, Pennsylvania's leaders have not made clean water a priority, and that must change.
Fortunately, it still can. To meet its commitments, Pennsylvania must urgently undertake a major acceleration of financial and technical assistance to provide farmers the resources they need to adopt conservation practices at the scale and pace necessary. It can start by passing the Pennsylvania Clean Streams Fund and establishing the Agricultural Conservation Assistance Program (ACAP)—a dedicated, stable, state agricultural cost-share program—with sufficient funding. The federal government can—and should—amplify these efforts by directing more funding to its agricultural conservation programs in Pennsylvania. The Clean Streams Fund will also provide municipalities with much-needed investment to implement practices that reduce polluted runoff from urban and suburban areas, a problem that will only worsen as climate change drives more erratic and severe storms.
Local governments, which hold much of the decision-making authority over land use in Pennsylvania, must also update planning and zoning policies to preserve sensitive landscapes and limit the proliferation of hard surfaces.
These challenges are difficult but necessary to address. Doing so will improve the health of Pennsylvania's farms and soils, reduce polluted storm runoff that damages property and streams, and ultimately attain clean water in rivers, streams, and the Chesapeake Bay.