On September 13, 2016, the Chesapeake Bay Foundation (CBF) called on Pennsylvania and the U.S. Department of Agriculture (USDA) to focus additional investments in five south-central counties to accelerate pollution reductions from agriculture.
The list is topped by Lancaster County, which is home to the most productive agricultural land in the Commonwealth but also delivers by far the most nitrogen pollution from agriculture. Next are York, Franklin, Cumberland, and Adams. These counties contribute more than 30 million pounds per year of nitrogen pollution from agriculture to the Chesapeake Bay annually.
Click a county Priority Watershed map to view it larger. To download all five, click here.
CBF analyzed federal agency data to identify these five priority counties that Pennsylvania's Clean Water Blueprint is counting on to reduce the most agricultural pollution. Not surprisingly, the counties that emerged as top priorities also generate the most nitrogen pollution in the Susquehanna Basin.
"Pennsylvania has identified more than 1,400 miles of rivers and streams in these five priority counties as being damaged by agricultural pollution," said CBF's Pennsylvania Executive Director Harry Campbell. "While efforts need to continue in all Pennsylvania watershed counties, by prioritizing new resources in these five counties the Commonwealth can greatly accelerate its restoration efforts."
CBF is calling on federal partners, particularly USDA, to provide an initial, immediate commitment of $20 million in new restoration funds, with a particular focus on the priority counties. The group also urges state and local governments to provide additional outreach, technical assistance, and funding. The new funding will not complete the job, but it is an important start.
INVESTING FOR PERFORMANCE: "THE 3 Ps"
In March, Pennsylvania State University College of Agriculture and 120 diverse agriculture stakeholders agreed that resources should be invested in areas of high priority and agricultural practices with the most potential to reduce pollution.
The conference also highlighted "the 3 Ps"—place, practices, and people—and the need for additional investment of public and private funding. The "3 P" approach would ensure strategic use of funds to achieve the greatest nutrient and sediment reductions to benefit both local water quality and the Chesapeake Bay.
PLACE: HOW CBF IDENTIFIED THE TOP 5
Building on this concept, CBF used data from the U.S. Geological Survey and the Environmental Protection Agency (EPA) to identify the individual watersheds that are producing the most nitrogen pollution to local streams and ultimately the Chesapeake Bay.
These five priority counties together include
20 percent of the Commonwealth's farms,
34 percent of total agricultural product sales, and
40 percent of livestock product sales, according to the 2012 Census of Agriculture.
They also contribute more than 30 million pounds per year of nitrogen pollution from agriculture to Pennsylvania's rivers and streams, nearly half of the Commonwealth's entire annual load of 63 million pounds.
CBF's analysis of agency data indicates that if the five priority counties—Lancaster, York, Franklin, Cumberland, and Adams—fully met their 2025 Blueprint pollution-reduction commitments, the Commonwealth would achieve roughly a 14.1 million pound nitrogen reduction. That would represent more than half of the entire state's 2025 nitrogen pollution-reduction goal.
"Fast action in these counties would also help the Commonwealth make significant progress against its most immediate challenge, the projected 2017 shortfall of 16 million pounds," said CBF's Pennsylvania Executive Director Harry Campbell. "In addition to reducing pollution, increased federal funding will create jobs and benefit local economies."
PRACTICES: WHICH WILL HAVE THE BIGGEST IMPACT?
In addition to geographic focus, any new resources should also be invested in the pollution reducing practices that will most effectively accelerate progress toward water-quality goals and bring farmers into compliance with state regulations. Based on Pennsylvania's WIP, there are six conservation practices that, if fully implemented, will achieve more than 70 percent of the necessary nitrogen pollution reductions from agriculture. Importantly, these practices will also reduce the phosphorus and sediment runoff that damages local streams and rivers.
These practices include:
conservation tillage;
advanced nutrient management;
cover crops; animal waste storage systems;
forested buffers; and
cropland conversion to pasture, hay, or other vegetation.
There is also evidence that many of these practices are among the most cost-effective.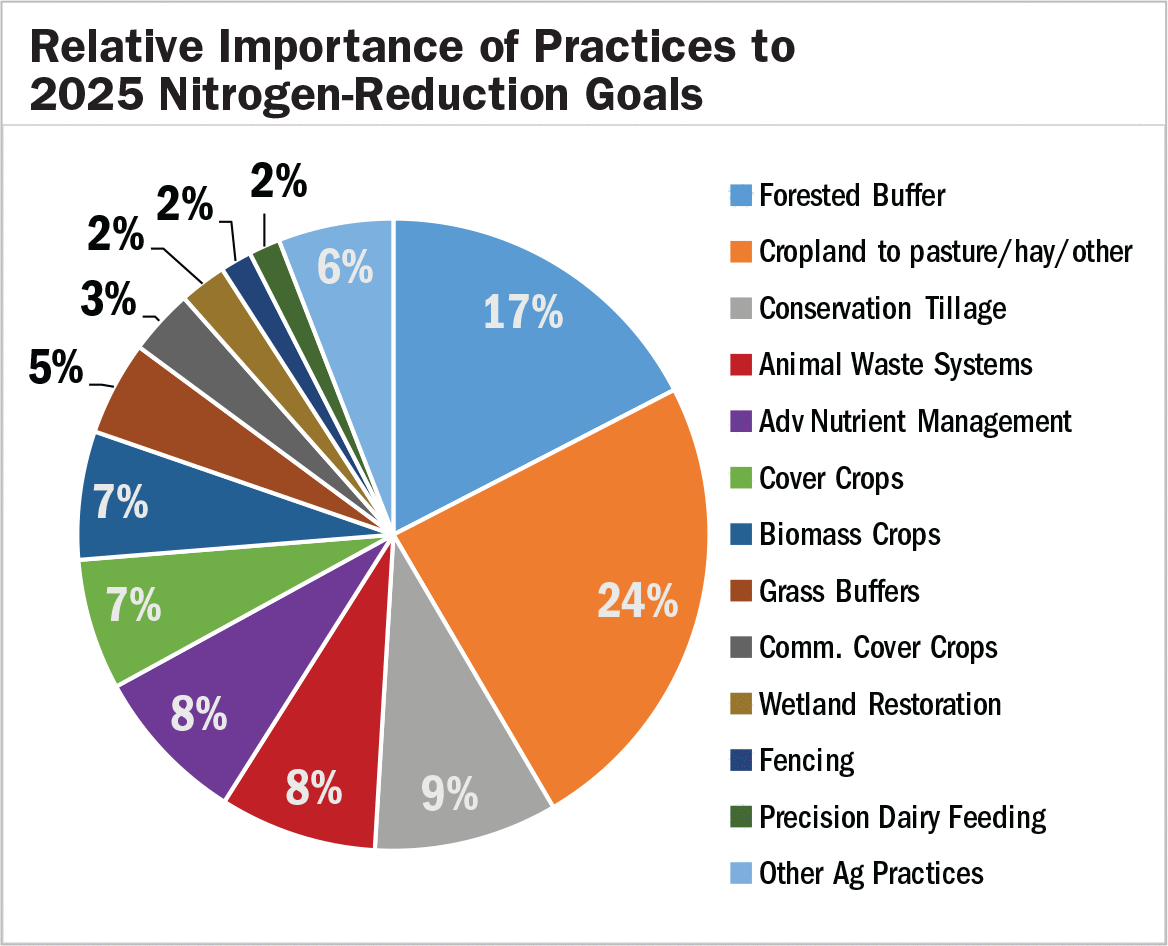 Click image to view larger
Many Pennsylvania farmers have shown that they are willing to install conservation practices that reduce pollution. However, every year Pennsylvania farmers who want to install those practices are turned away because of a lack of resources available to assist them.
PEOPLE: WHAT WE NEED TO MAKE IT WORK
The successful focusing of geography and practices will depend on strategic coordination and collaboration among existing federal, state, local, non-governmental, and private partners, as well as more efficient delivery of conservation programs. Increased support for outreach and technical assistance capacity—areas that are currently insufficient to keep up with existing demand in some locations—will also be crucial.
If Pennsylvania meets its commitments, a peer-reviewed economic analysis commissioned by CBF found that implementing the Blueprint would increase nature's benefits in the Commonwealth by $6.2 billion annually through cleaner water, cleaner air, hurricane and flood protection, improved recreational opportunities, and more.
For additional details and footnotes, see CBF's white paper, "Closing Pennsylvania's Pollution-Reduction Gap."