---
2022 Maryland Shellfish Aquaculture Conference
Tuesday, November 15, 2022
See our event page for information and to register
---
Why Aquaculture?
U.S. per capita seafood consumption ranks fourth in the world, yet we barely break the top 25 producers of aquaculture seafood globally. To satisfy our demand, we import nearly $19 billion in seafood, resulting in a $12 billion seafood trade deficit annually. Developing a profitable aquaculture industry would reduce the seafood trade deficit, create jobs in working waterfront communities, and provide consumers with fresh, locally-sourced products.
In fact, a December 2019 assessment by Virginia Tech and Engle-Stone$ found that the growth of oyster farming in Maryland has provided valuable employment opportunities for watermen and others in coastal areas of the state.
Download the Executive Summary (PDF, 716 KB, 3 pages )
Download the full report (PDF, 1.26 MB, 51 pages)
About the Network
The Maryland Shellfish Growers Network provides resources, technical assistance, and mentoring to new and veteran shellfish growers to help them apply best practices, share information, and promote Maryland's aquaculture industry. Resources provided by the network include:
individual technical assistance from GIS specialists to help locate a lease;
homeowner outreach and education on the benefits of aquaculture and how shellfish farms operate;
mentorship for new growers to gain knowledge from veteran farmers;
a growers' survey and economic outlook report outlining current and future economic benefits of Maryland's aquaculture industry;
a database of state and federal financial assistance opportunities for aquaculture businesses; and
a growers network calendar and directory to promote Maryland aquaculture and local seafood to the general public.
Why Should I Join?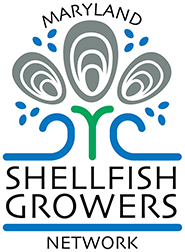 The Maryland Shellfish Growers Network can provide you with access to resources, as well as workshops and free registration for the network's planned Maryland Aquaculture Conference. The network will host field days at participating farms to share information and best practices, and members will have access to one-on-one assistance from a GIS specialist for locating lease sites.
New growers interested in learning from veterans will be paired with a veteran grower who can provide guidance and knowledge about building a profitable aquaculture business. This voluntary mentoring program is provided at no cost to new growers. Mentors will receive a stipend for their time and be reimbursed for mileage associated with mentorship activities.
Members of the network will also be reimbursed for travel to network workshops and events.
Membership in the Maryland Shellfish Growers Network is free.
How to Join
To become a member of the Maryland Shellfish Growers Network, simply fill the application below and a member of the network facilitation team will follow up with you.
For additional information about the Maryland Shellfish Growers Network, please contact Allison Colden or call 410-268-8816.
The Maryland Shellfish Growers Network is a collaboration between the Chesapeake Bay Foundation and University of Maryland Extension.