What Is Agricultural Cost-Sharing?
Agricultural cost-share programs provide federal and state funding that defray farmers' costs for installing conservation practices. While each program is different, they typically support practices such as fencing livestock out of streams, planting forested buffers along stream corridors to trap pollution, rotationally grazing livestock on grass pastures, using cover crops to prevent soil erosion, and developing plans to manage fertilizers and manure. It's important to note that these conservation practices don't only improve water quality, they usually increase farm productivity by building healthy soil and improving livestock health.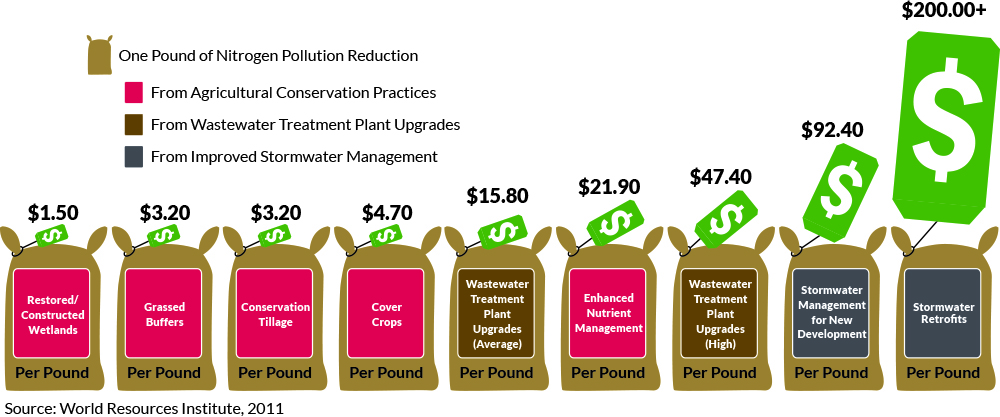 The amount of funding that farmers receive varies by practice—for some projects, farmers receive a flat rate per acre, while other practices are reimbursed at a percentage of the total cost.
Most cost-share programs also provide some level of technical assistance. Most often this is provided by local specialists who can help farmers design and implement practices that work best for their land.
Why Is Agricultural Cost-Sharing Important?
Farms cover approximately one-third of the 64,000-square-mile Chesapeake Bay watershed, an area of land second only to forests. From Virginia's Shenandoah Valley to Central Pennsylvania to Maryland's Eastern Shore, agriculture is an integral part of the Chesapeake's history and cultural identity. The region's farm economy supports thousands of jobs and produces food for millions of Americans.
Farmland and open spaces also serve as precious natural filters for our water by soaking up rainfall before it reaches streams and the Bay; preserving this land is especially important as development occurs across the watershed and small family farms disappear.
With so much resting on farmers' success, providing consistent, targeted, and effective support for cost-share programs is critical for states to achieve the 2025 pollution reduction goals outlined in the Chesapeake Clean Water Blueprint. Maryland, Pennsylvania, and Virginia—the states that account for 90 percent of the watershed's pollution—are relying on farms to make 52 percent, 93 percent , and 77 percent respectively of their remaining nitrogen reductions.
Despite the important role cost-share programs play, resources vary greatly across the states.
Find out more about the impact of agricultural cost-share in Maryland, Pennsylvania, and Virginia.