What is Runoff Pollution?
Polluted runoff is one of the most harmful sources of pollution to the Bay and its waters. And much of it starts right in the urban and suburban neighborhoods where we live.
As rainwater runs off our streets, parking lots, lawns, and other surfaces, it picks up pet waste, pesticides, fertilizer, oil, and other contaminants. This polluted runoff typically is not filtered in the way that wastewater is treated at a sewage plant. If the draining water doesn't evaporate or soak into the ground, it flushes straight into local creeks, rivers, and the Chesapeake Bay, adversely affecting water quality and aquatic life.
What Are Examples of Runoff Pollution?
Urban and suburban stormwater runoff erodes streams, kills fish, pollutes swimming beaches, floods homes, and causes many other problems. Stormwater runoff collects an often-toxic mix of pollutants including:
Trash
Soil and sediment
Fecal bacteria
Nitrogen and phosphorus
Oil and other petroleum products
Pesticides and herbicides
Road salt
Toxic metals including copper, lead, and zinc
Effects of Runoff Pollution
The effects of runoff pollution are vast and long-lasting. Runoff pollution has an impact on drinking water, the health of marine life, and it is literally changing the landscape of our watershed by:
Reshaping the Watershed: Strong currents of runoff scour stream banks, destabilizing the natural contours of the streams and even altering their depths.
Affecting the Quality of Water: Runoff muddies drinking water sources and carries bacteria, making the treatment and use of such water more expensive
Endangering Aquatic Life: Eroded dirt from the runoff blocks sunlight from reaching underwater grasses and smothers the aquatic homes of oysters and other life. As grasses and marine life die, fish and other creatures that rely on them are placed in jeopardy. The runoff also carries nutrients that spur algae blooms that cause low oxygen and kill fish.
Not only wildlife is endangered by stormwater pollution; residents of the watershed region are deeply affected, too. Polluted runoff from urban and suburban areas is:
Contaminating Recreation Areas: Virginia and Maryland caution people not to swim in waterways for 48 hours after a heavy rain, as polluted runoff carrying bacteria has resulted in serious illnesses.
Increasing Water Damage: In urban and suburban areas where ground surfaces have been hardened and the polluted water has no place to go, local streets and basements often flood, causing repeated and costly damage to homes and businesses.
Solutions for Runoff Pollution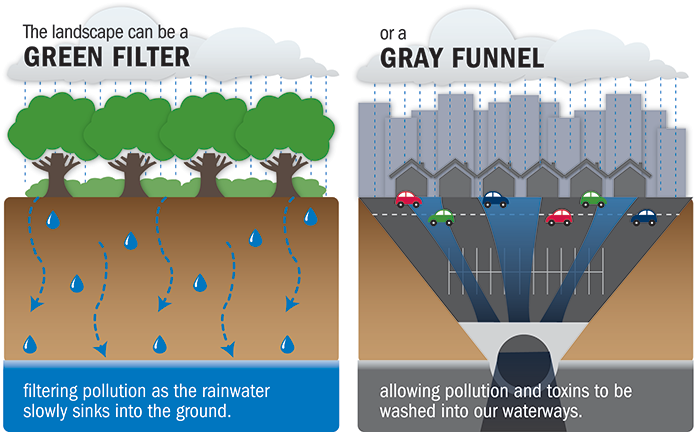 One promising solution to mitigate runoff pollution is to create "green infrastructure." The idea is simple: Slow down and soak up the runoff. Strategic greening efforts include:
Planting rain gardens and other natural spaces in key drainage areas
Replacing old pavement with pervious pavement wherever possible
Planting gardens on rooftops
Planting trees
These and other green solutions not only are cost-effective, they provide secondary social benefits: shade, wildlife habitat, a more pleasant neighborhood, to name a few. We call this the "green filter" approach to managing runoff.
CBF has introduced local Bay jurisdictions to a new way of financing these green filters. It's called "impact investment." It helps slow down and soak up runoff, and also creates local sustainable jobs and more healthy, vibrant communities. Learn more about the latest such project in Hampton Roads, Virginia.
Join Us in Saving the Bay from Runoff Pollution
Additional information about stormwater management can be found at the following websites:
The Center for Watershed Protection
Low Impact Development Center
Low Impact Development Urban Design Tools
From Our Blog
Video
In the summer of 2016, CBF tested bacteria levels in local Maryland streams after heavy rains, finding troubling results.

CBF Senior Scientist Beth McGee explains how the road salts used during winter storms can affect the Bay and its rivers and streams.

Kim Coble, Vice President for Environmental Protection and Restoration, delivers a challenge to design, innovate, and engineer solutions to stop nitrogen pollution from entering Baltimore's Inner Harbor.