How It Works
In the fall, build oyster cages and fill them with "spat on shell" - tiny baby oysters living on old oyster shells. Hang the cages off a dock so the spat can have a chance to grow. Then in late spring, return the more mature oysters to be placed on an oyster sanctuary. Watch these videos to see the whole process.
Why Oysters?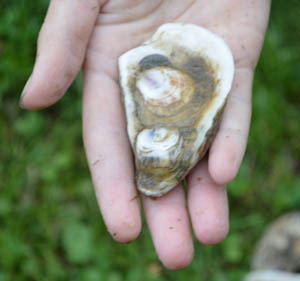 Oysters filter algae out of the water, and a single adult oyster can filter up to 50 gallons of water a day. Young oysters also grow on top of older oysters, forming reefs that provide shelter for other animals, like fish and crabs.
Unfortunately, after decades of overharvesting, habitat destruction, water pollution, and a bout with disease, oyster levels in the Bay have dropped to about 2 percent of their historic levels. So CBF and others are working to rebuild the oyster population, through oyster gardening and other efforts. More oyster facts.
When Can I Start?
Oyster gardening workshops happen in the late summer or early fall. At the workshops you build cages and get oyster spat.
Where Can I Do This?
You need access to a dock that's located on a body of water with a minimum salinity level. Check out this FAQ to see the parts of the Bay and its rivers where oysters can survive.
How Do I Sign Up?
Check our Maryland and Virginia oyster gardening pages for details.
Watch these videos to see the whole process:
30 Oct 2014
Episode 1
|
0:02:25
30 Oct 2014
Episode 2
|
0:02:22
30 Oct 2014
Episode 3
|
0:02:23
30 Oct 2014
Episode 4
|
0:03:17
Awesome Student Oyster Gardeners
Jessica Jenkins documented her work as an oyster gardener and made videos to show other students how they can get involved too. Read about her experience on her blog, The Pearl Next Door.
Check out another student-made video on "How to Build an Oyster Cage":
More links on CBF and oysters