The Chesapeake Bay Foundation (CBF) is partnering with Montgomery County Public Schools (MCPS) to launch a new oyster gardening program for sixth graders at YMCA Camp Letts in Edgewater this fall.
The new program will enable students who attend the county's outdoor education program at Camp Letts to participate in hands-on lessons about oysters and their importance to the Chesapeake Bay ecosystem. An adult oyster can filter up to 50 gallons of water per day. Oysters also naturally build reefs that serve as habitat for fish, crabs, and other important Bay species.
To create and maintain the oyster garden at Camp Letts, CBF will contribute about 2,500 spat-on-shell oysters each year that students will take care of in 16 cages. Spat are very small, nearly microscopic, juvenile oysters that attach to recycled oyster shells and grow over time into adult oysters. Students will assist with cleaning algae and other organisms from oyster cages that will be suspended from the camp's floating dock on the Rhode River. The first oyster garden at the location will be ready before the start of the school year in September.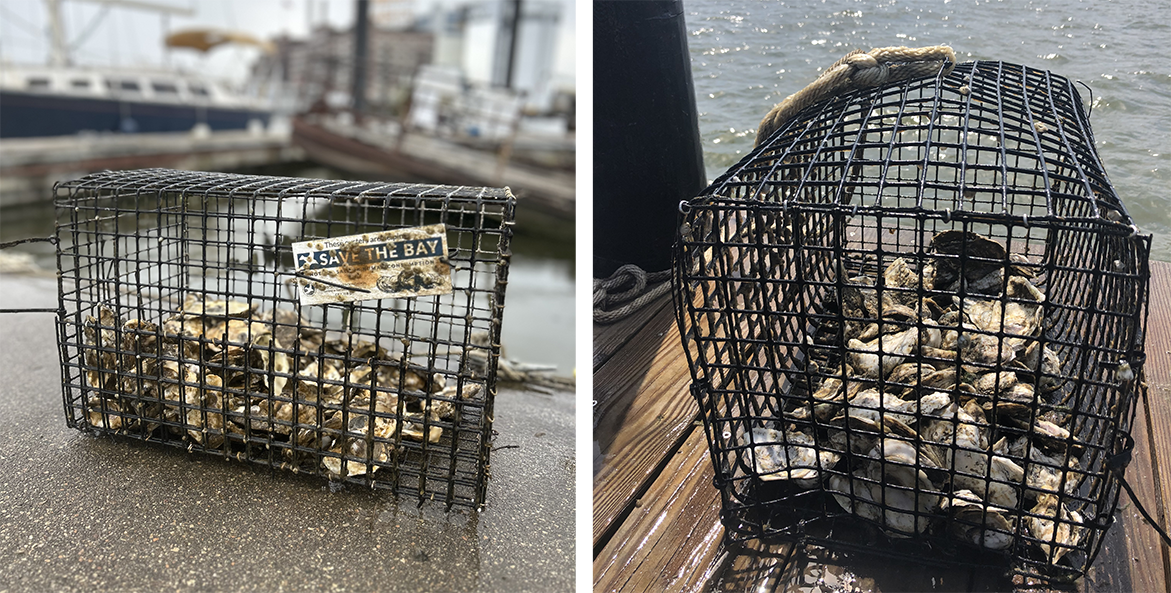 As students clean the cages, they'll also be able to view and learn about benthic organisms such as worms, shrimp, and other small creatures that find homes on oyster reefs.
"At CBF we want to connect students with the Chesapeake Bay and its ecology and one of the best ways to do that is to learn about oysters," said Kellie Fiala, CBF's Maryland Oyster Restoration Coordinator. "Oysters are a keystone species that improve water quality, build habitat for other species, and serve as a food source.
"However, due to a combination of pollution, diseases, and overharvesting, the Bay's oyster population is at historic low levels. We're hoping that as students learn about the importance of oysters to the Bay, they'll support ongoing efforts to protect and restore the Chesapeake's oyster population," Fiala added.
Each year about 3,000 students and 300 adults will interact with the oyster garden at Camp Letts through MCPS' outdoor education program, which includes lessons on how to evaluate the health of watersheds and ecosystems.
The oysters raised by students at Camp Letts will be added to sanctuary reefs in the South and Rhode Rivers each year so they can continue to grow. The camp in Edgewater is one of the closest areas to Montgomery County that enables students to interact with brackish Bay waters, which are a mix of salty ocean water and freshwater. Students will be tasked with comparing the organisms found in the brackish water with those they can typically find in the freshwater ecosystems that exist in Montgomery County.
CBF's oyster restoration staff will train MCPS outdoor educators on how to run oyster gardening sessions for the students and provide learning materials.
"We are excited to give students an opportunity to learn about the importance of oysters and what we can do as citizens who live upstream to protect the bay," said MCPS Outdoor Education Center teacher Antonio Carrillo.
CBF runs several oyster gardening programs in Maryland and Virginia that enable organizations and individuals to raise oysters on private docks or at public waterfront locations. All the oysters raised through CBF's oyster gardening programs are later added to sanctuary reefs in the Bay where they are protected from harvest.
If you would like to get involved with our oyster gardening program, please email our oyster restoration staff.