The future of environmental improvement lies with the next generation, and that starts with education and involvement.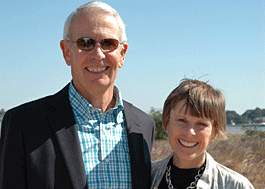 Joan and Macon Brock of Virginia Beach, Virginia, have been extraordinary philanthropists. Their impressive history of giving spans decades and interests, and reflects their personal desire to leave this world better than they found it. In keeping with this noble goal, their gift to The Brock Environmental Center at Pleasure House Point will indelibly enrich and improve the Hampton Roads community.
"The Chesapeake Bay Foundation is a leader in environmental initiatives, championing collaboration with local conservation groups in support of clean waterways and the Chesapeake Bay itself.
This center, which we were so pleased to be a part of, will be a destination for environmental education and cooperation in the region. This project is an unparalleled chance for conservation, education, restoration, and community-building, one that we are honored to support," said Macon.
As natives of Norfolk, and long-time residents of Virginia Beach, the Brocks have deep roots in the community, and have donated their time and support to many local organizations. "This place has been home to both Macon and me," said Joan. "We used to ski on the Elizabeth River, we fished and crabbed in the Lynnhaven River, and we boat on the Bay. It's something we want to preserve for our children, and we want to share this with future generations."
CBF is immensely grateful for their leadership. While Macon sadly passed away in December 2017, Joan continues to be a generous supporter of CBF.