The Bay Advocacy Institute (BAI) offers college students the opportunity to delve into Chesapeake Bay topics, gain real-world skills in advocacy, and develop environmental solutions for their local community and beyond. CBF provides the expertise, training, and resources for this next generation of Chesapeake advocates to engage and inspire action on the issues that matter to them.
All programming through BAI is free of charge to both the students and the college.
Inspiring College Students to Use Their Voice
As part of CBF's Chesapeake 1 Million Voices for Clean Water campaign, the Bay Advocacy Institute engages college students in Chesapeake Bay watershed issues and advocacy. The program encourages students to find issues that matter to them, and provides them with the skills to use their personal experiences, community connections, and unique voices to take action. BAI provides programming to community institutions, two-year, and four-year colleges and universities within the Chesapeake Bay watershed. We tailor presentations and trainings for each group of students, engaging with all majors of study, class standings, and experience. BAI provides the tools for engaged college students to raise their voice in support of clean water, healthier communities, and a restored Chesapeake.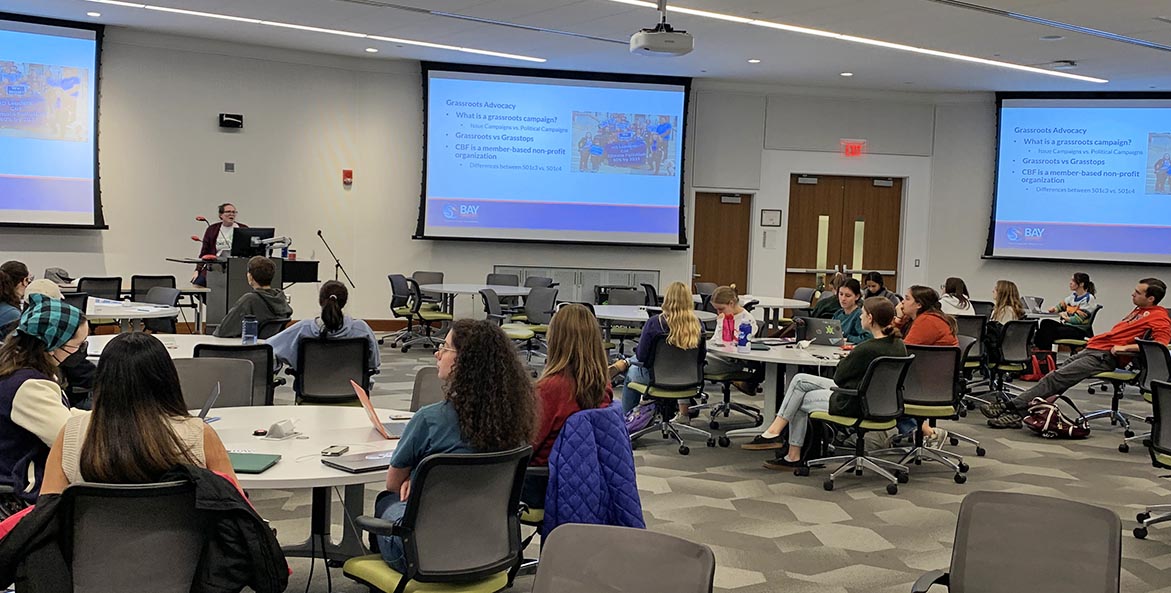 On Campus, Outdoors, and Online
The Bay Advocacy Institute includes:
Four to five hours of on-campus training sessions, which include presentations, workshops, and discussions. Topics include federal and state advocacy, climate change and optimism, environmental justice, and environmental law.
One full-day, immersive field experience led by expert CBF educators. Students will join us by canoe to study the dynamic ecosystems of local streams and rivers, while investigating local issues through water quality and biotic sampling.
Additional webinars and events made uniquely for college students. From environmental career panels to volunteer days at CBF's Clagett Farm, BAI provides students with well-rounded offerings for engagement and continued learning.
Mentoring to complete a Student Advocacy Plan, through which students dig deeper into an issue in their own community and brainstorm actionable solutions they can take to address that issue.
The option to become a Certified Chesapeake Bay Advocate with CBF. The skills gained from this certification program builds students' resumes while bolstering CBF's efforts to raise a diverse network of voices from across the watershed in support of saving the Bay.
A monthly email newsletter and access to the BAI LinkedIn page, highlighting opportunities for continued engagement and networking with CBF and partners.
This program is aimed to be highly flexible, fitting the needs and availability of the group of students we are working with!
What Students Are Saying about BAI
1 / 4
Before BAI, I know I was interested in environmental justice. But after BAI, I learned what I can do with my passion and what steps are necessary for creating an effective plan for doing any kind of environmental advocacy.
2 / 4
The most important thing I learned from BAI was that every issue somehow relates to the Bay. Everything is connected so in order to enact change in one area, all areas must be talked about and brought to light as well. Not just one person can save the Bay, but we all can together.
3 / 4
One of the most important things I learned was how to communicate science and policy effectively to the public. Science communication is one of the most crucial jobs in getting the public more involved in advocacy and I had never been taught how to do this in any of my university coursework.
4 / 4
BAI has encouraged me to be more engaged in environmental issues because it showed me how to become more involved in local environmental politics. Our representatives are our voices and, after BAI, I have the knowledge and training to communicate my ideas about environmental issues with them.
❮
❯
The Bay Advocacy Institute has been hosted at the following colleges:
University of Maryland
Virginia Wesleyan University
Salisbury University
Franklin & Marshall College
Chesapeake College
Are you a student or faculty member interested in BAI for your college? Contact Annabelle Harvey, Federal Policy Coordinator for more information!