Juicy burgers dripping with cheese, steak grilled to perfection, hot dogs crammed with pickles and ketchup and hot mustard . . . sounds like a summer picnic (and heartburn) to us! But here's an idea: What if we were to swap the burger for some healthy and equally delicious (if not more so) meatless meals this summer?
After all, as our new and improved Bay Footprint Calculator indicates, if everyone in the Bay region only ate the recommended amount of protein (instead of the 30 percent more than needed as the USDA reports), the resulting nitrogen pollution reductions would be equivalent to what is needed to Save the Bay. Seriously. It's as simple as that! That's enough to inspire us to back off the beef this summer. How about you? To get you started, here are some of our favorite veggie-inspired and oh-so-yummy dishes perfect for that summer picnic. Mouth, get ready to water!
Spinach Quinoa Salad with Cherries and Toasted Almonds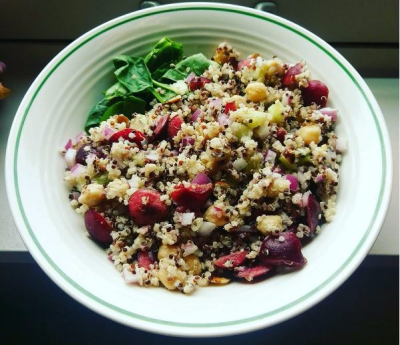 Salad:
⅓ cup sliced almonds
1 ½ cups quinoa
1 bag of baby spinach
2 cups of fresh cherries, pitted and chopped (sub 1 cup of dried cherries when fresh are not in season)
1 cucumber, peeled and diced
½ red onion, peeled and finely chopped (½ cup)
1 15 oz. can of chickpeas, rinsed and drained
Dressing:
¼ cup of plain yogurt
3 tablespoons of extra virgin olive oil (a citrus flavored olive oil would probably be great, too)
2 tablespoons of fresh lemon juice
2 cloves of garlic, minced or pressed
Salt and pepper to taste
Prepare the quinoa according to package directions (3 cups of salted water for 1 ½ cups quinoa should do it). Once finished, spread it out on a plate or baking sheet and put in the fridge to cool. Heat a small unoiled skillet over medium heat and add the almonds. Toast until almonds are lightly browned, stirring frequently to avoid burning. Once quinoa is cool, put all the salad ingredients accept spinach together in a large bowl and mix. Wisk together all dressing ingredients until smooth. Pour dressing over salad and mix to coat. Place salad in fridge for roughly 30 minutes to allow flavors to develop. Serve over a bed of spinach.
White Bean Roll-Ups
Ingredients
1 can of white cannelloni beans
Soft flour or whole wheat tortillas
¼ cup finely diced cilantro
One (or more to taste) diced jalapeno pepper
1 cup of shredded cheese
Half a lime squeezed juice
1 tablespoon olive oil
Salt and pepper to taste
Directions
Preheat oven at 425. Drain and mash the cannelloni beans and fold in the rest of the ingredients. Divide evenly among tortillas and roll them up. Bake in oven for 15-20 minutes.
Optional Dipping Sauce:
⅓ cup mayo
1 tablespoon chili paste
Half a lime of lime juice
½ tablespoon basil paste (or finely chopped basil)
Fresh or dried cilantro to taste
Combine, then stir in fresh water to reach dressing consistency.
Creamy Black Bean and Cilantro Dip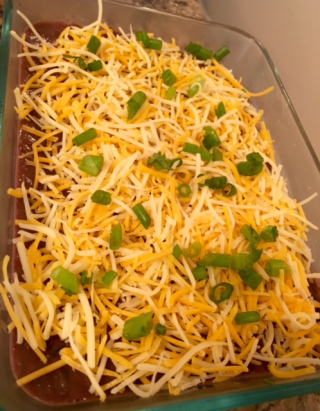 Ingredients
2 ½ cups cooked black beans
⅓ cup vegetable broth
2 cloves garlic
Juice of 1 line
Pinch of salt
½ teaspoon chili powder
¼ cup chopped cilantro
½ cup chopped green onions (put aside a tiny bit for topping)
1 cup shredded cheddar cheese
Directions
Sauté garlic briefly. Throw all ingredients except cheese into a food processor and run until creamy. Top with shredded cheddar cheese and a sprinkling of chopped green onion. Serve hot, cold, or room temperature. For a vegan option, just skip the cheese!
Grilled Eggplant Involtini with Tomato Sauce
Ingredients
6 pounds heirloom tomatoes
Olive oil
One onion, finely chopped
4 cloves of garlic minced
Large bunch of basil
1 bag of baby spinach
3 eggplant sliced long ways into ¼ inch slices
2 cups fresh dipped Ricotta
1 cup shredded fresh mozzarella
1 ½ cup Parmesan cheese
2 eggs beaten
Zest of 1 lemon
4 cloves of chopped roasted garlic
1 tablespoons of fresh chopped thyme
Salt and pepper
For the tomato sauce:
Cut the stems of the tomato, score the bottom with an X, and blanch. Peel the tomatoes and roughly chop. Sauté the onion and four minced cloves of garlic in olive oil. Add chopped tomatoes and simmer 15-20 minutes.
For the involtini:
Brush both sides of the sliced eggplant with olive oil, and generously salt and pepper. Grill the eggplant over high heat until browned and limp. Mix cheeses, roasted garlic, lemon zest, beaten eggs, and thyme. Place three spinach leaves, one leaf of basil, and cheese mixture on the large end of the eggplant and roll it up. Repeat with all slices of eggplant. Place a small amount of the tomato sauce in the bottom of a gratin dish. Put the rolled up eggplant on the sauce. Top with more sauce and any remaining cheese mixture. Bake at 350 until bubbling.
Tomato-Corn Pasta Salad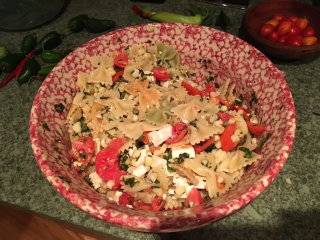 Ingredients
5 tablespoons of olive oil
4 tablespoons of rice vinegar
1 tablespoon of balsamic vinegar
½ cup chopped fresh basil
2 large garlic cloves, chopped
1 ½ cup fresh corn kernels (cut from 3 ears) or frozen, thawed
1 ¼ pounds tomatoes
8 ounces pasta (such as bowties or penne), freshly cooked
½ cup of feta cheese
Directions
Whisk 4 tablespoons oil, vinegar, and basil in large bowl to blend. Heat remaining 1 tablespoon oil in heavy large skillet over medium heat. Add corn and garlic, sauté three minutes. Add corn and garlic to dressing in bowl. Add tomatoes, pasta, and cheese to bowl and toss to blend. Season salad with salt and pepper.
Cold Asian Noodles
Ingredients
4 cups of fresh, crunchy vegetables like snow peas, bell peppers, cucumbers, scallions (combine a few vegetables if possible)
12 ounces pasta (Chinese egg noodles, linguine, or even angel hair will do)
2 tablespoons dark sesame oil
½ cup tahini (or peanut butter if necessary)
1 tablespoon sugar
3 tablespoons soy sauce
1 teaspoon minced ginger
1 tablespoon rice or white wine vinegar
A splash of Tabasco to taste
Pepper to taste
Directions
Cut vegetables in long strips (or peel/seed peas) while cooking pasta—toss cooked pasta with a little bit of sesame oil. Whisk together sesame oil, tahini, sugar, soy, ginger, vinegar, Tabasco, and pepper—thin the sauce with hot water until the consistency of heavy cream. Toss the noodles with sauce and add vegetables.
Asian Cole Slaw
Ingredients
2 packages Ramen noodles (any flavor works)
2 packages of "broccoli slaw"
1 cup sliced toasted almonds
1 cup sunflower seeds
1 bunch of green onions (chopped)
½ cup sugar
¼ cup vegetable oil
⅓ cup white vinegar (you can also use rice vinegar or do half and half)
Directions
Crush noodles into large bowl. Top with slaw, onions, almonds, sunflower seeds. In separate small bowl, mix seasoning packets (from the ramen noodles), sugar, oil, and vinegar. Pour over slaw and chill for 24 hours or overnight. Toss before serving.
Happy cooking (and eating)! And don't forget to check out our Bay Footprint Calculator to get your pollution score. While there, you'll get tips for how you can improve your grade by making simple, healthy changes in your daily life, including eating less meat!
Issues in this Post