It's Chesapeake Bay Awareness Week, and we're talking trash. Pick-up, that is. Find out how Virginians have reimagined Clean the Bay Day during the pandemic. Discover 10 steps you can take today to help clean the Bay and find more ways to make your home Bay-friendly with our Backyard Report Card. Learn about the emerging issue of microplastic pollution and investigate the benefit of living shorelines. And if you've ever wondered what to call the aroma in the air after a summer rainstorm, find out as we wrap up our nature journaling series!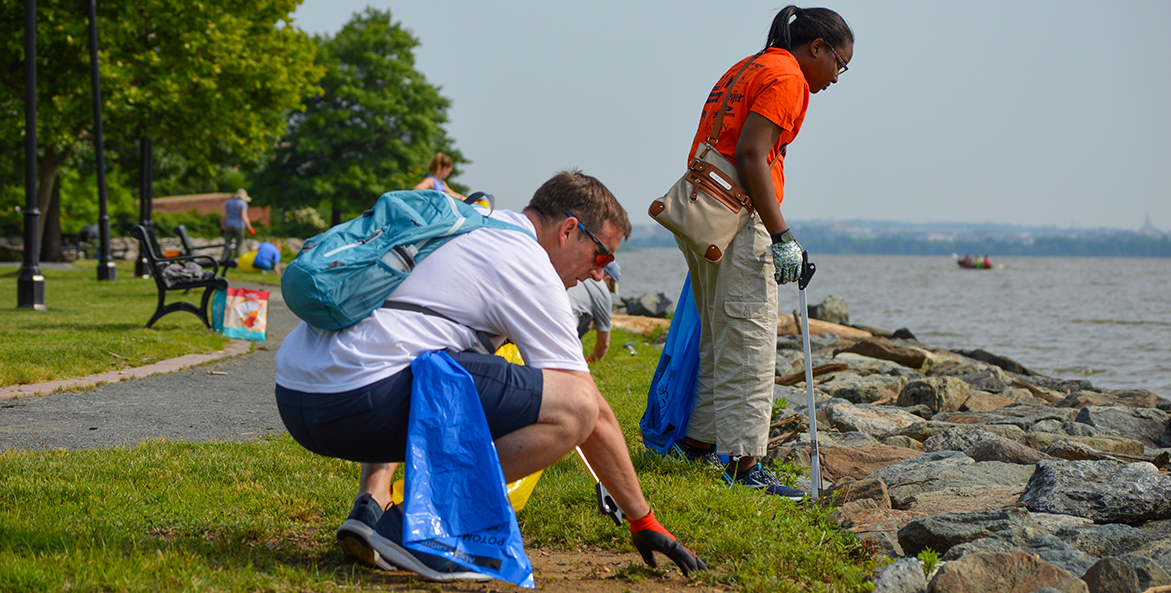 Uplifting and educational Bay stories, inspirational videos, and more to bring the Bay home to you and your loved ones.
Saving the Bay can seem like a huge task, but it begins with each of us taking action on the small things. Not sure where to start? Here are 10 simple steps—from buying local produce to scooping up dog poop—that will lead to cleaner water in our rivers, streams, and the Bay.
For the first time since its inception in 1989, Virginia's Clean the Bay Day tradition, organized by CBF and local partners, was cancelled due to pandemic restrictions. That didn't stop many dedicated Virginians and others across the watershed from doing their part to pick up litter this week.
Microplastics, tiny particles of plastic less than five millimeters long, are polluting oceans and waterways around the globe. In this webinar, Dr. Fred C. Dobbs, Chair of Old Dominion University's Department of Ocean, Earth & Atmospheric Sciences, joined us to discuss microplastics' environmental impact, potential health concerns, and ways to reduce our world's "plastic overload."

Our new initiative to provide students, teachers, and parents with valuable, curriculum-based resources to connect with the Bay and its rivers while at home.
Clean water starts with each of us—in our homes, yards, neighborhoods, and communities. From turning off the faucet when we brush our teeth to mowing our lawns less frequently, every action matters. Follow along with our Backyard Report Card video and downloadable investigation to explore how you impact the Bay at home and what you can do to safeguard water quality.
With the long, warm summer days, the Bay is changing and the plant and animal species that favor the saltier, warmer water are becoming more active and abundant. We wrap up our nature journaling series this week with prompts that ask you to observe, wonder, go forth, and stay curious!
For many years, shorelines along the Chesapeake Bay were "armored" with bulkheads and artificial barriers to reduce erosion. But natural shorelines—braced by grasses, trees, and other vegetation—are an important defense against pollution. Join CBF educators Tiffany and Michael as they investigate how living shorelines not only reduce erosion but also help fight climate change.
What You Can Do
Like dolphins? Who doesn't! Join us Wednesday, June 17 for our next webinar, Dolphin Watch: Tracking Dolphins in the Bay where Amber Fandel, Research Analyst with the Chesapeake Biological Lab, will share when and where dolphins are being sighted in the Bay and how you can help track them.
Test your Bay knowledge and watershed wordsmithing with our new crossword puzzle!
Bring the Bay to your next Zoom meeting by downloading and using your favorite Bay image!
Like what you see? Sign up to have this delivered right to your e-mail box as our weekly Save the Bay e-newsletter—a roundup of uplifting Bay stories, inspirational videos, helpful teaching resources, and much more.
Help us continue to bring the Bay to you at home each week. Now through June 30, your gift to save the Bay will be worth double thanks to a generous matching gift from our friends at The Orokawa Foundation!