The GIANT Company has installed a ground and rooftop solar system of over 6,700 panels that is good for light bills and bees.
The environmental benefits of the 2.4-megawatt system are equal to reducing 4.5 million pounds of carbon dioxide, taking 425 cars off the road each year, or powering 476 homes, annually. It produces more than 3 million kilowatt hours annually and at times will offset 100 percent of the electricity needs of the home office in Carlisle, Pennsylvania.
The native meadow that is part of the seven-acre pollinator-friendly solar field provides habitat for pollinators, birds, and other small wildlife while improving the quality of the soil beneath it, reducing runoff and creating an attractive backdrop to the site.
"Addressing climate change and reducing our reliance on fossil fuels will require commitments from companies like GIANT to take an active role in changing how we think about the energy we use," says Pennsylvania Department of Environmental Protection Secretary Patrick McDonnell. "Switching to renewable sources and increasing energy efficiency will both save the company money and improve the environment."
"At GIANT, we strive to make every day Earth Day, and that's why we continuously explore new and innovative ways to reduce our operational footprint," said Manuel Haro, vice president of strategy at GIANT. Completion of the rooftop phase was announced on Earth Day in 2019.
Completion of the solar array on the ground and pollinator field was announced during National Pollinator Week last month.
During months when the solar array provides more than the building consumes, excess solar energy is metered, sent back into the surrounding utility grid, and absorbed by other homes and business in the area. GIANT receives energy credits that can be used in low solar production months. The building is still connected to the Pennsylvania Power and Light grid for electric supply when solar energy is insufficient for its needs.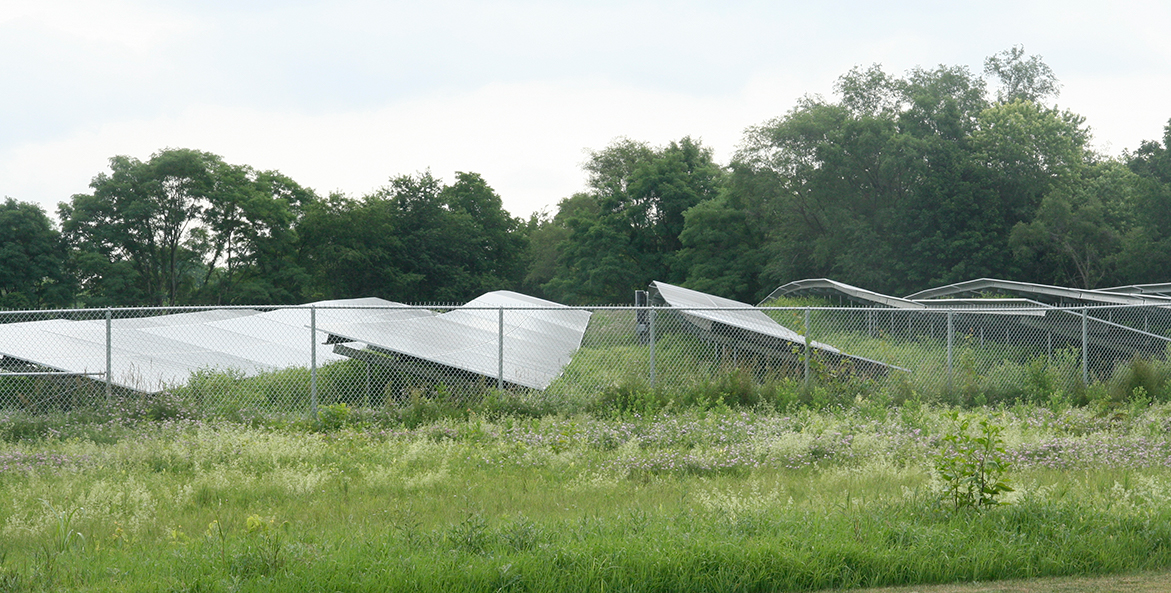 GIANT says the pollinated solar field is the first of its kind for a grocery retailer and creates a synergistic environment which contributes both to clean energy and support for bee and pollinator populations essential to agriculture.
"One out of every third bite we eat is thanks to pollinators," said Pennsylvania Department of Agriculture Deputy Secretary Cheryl Cook. "It's important that we all take steps to protect our vital workforce of pollinators; their value to agriculture is nearly impossible to estimate, but we see it in the grocery store and on our plate every day."
"From almonds to zucchini and countless fruits, vegetables, and nuts in between, nearly one-third of our food supply depends on pollinators, making bees an essential part of our food supply chain and ecosystem," says Nicholas Bertram, president of The GIANT Company. "For The GIANT Company, healing the planet starts at home, so creating a pollinator habitat at our headquarters is a natural first step as we work to address the declining bee population."
The field includes more than 20 varieties of wildflowers native to the northeast and Central Pennsylvania like Butterfly Milkweed, Mountain Mint, Blue Mistflower, and Golden Alexander.
According to GIANT, honeybees pollinate $15 billion worth of food crops in the United States each year, yet populations have been experiencing a decline for more than three decades.
Beekeepers across the United States lost an estimated 40 percent of their honeybee colonies from April 2018 to April 2019, according to the latest annual nationwide survey conducted by the University of Maryland-led nonprofit Bee Informed Partnership.
Planet Bee Foundation has constructed the beehives for the pollinator-friendly solar field and will tend to the health of the colonies as the bees provide their essential pollinator services to the local ecosystem.
"This is a great example of both good corporate citizenship and smart business sense," said Shannon Gority, CBF's Pennsylvania Executive Director. "Climate change is already adversely affecting Pennsylvania rivers and the Chesapeake Bay. Rainstorms are more intense, carrying runoff pollution into local streams, local flooding is more frequent, and the water temperatures and biochemical makeup of our waterways and the Bay is beginning to change. The more advantage we can take of energy from the sun and wind, at the right scale and location, the less these impacts will be in the future."
The GIANT Company consists of supermarkets and superstores, home delivery, and fueling stations. It supports 190 stores and customers in Pennsylvania, Maryland, Virginia, and West Virginia.
Issues in this Post