As COVID-19 quarantines swept the country, hiking, hunting, and fishing were still allowable activities across Pennsylvania.
The Pennsylvania Fish and Boat Commission (PFBC) and about one million anglers of all ages had been counting on that. In fact, they needed the outdoors respite.
However, trout stocking trucks usually lead large convoys of helpers and gawkers. And opening days of trout season have over-crowded carnival atmospheres with anglers standing shoulder-to-shoulder.
As the COVID curve swung upward, and the Pennsylvania Governor's stay-at-home order was in place, it became clear that, behind the mantra of "Resource First" and one million anglers and millions of trout hoping to get together, the PFBC had to change course.
"March 16 is sort of when it fell apart," PFBC Executive Director Tim Schaeffer remembers."
The first step was for the commission to announce it was reducing opening days to one for mentored youth and one statewide.
"We also made the decision that we weren't going to allow volunteers to help us. That broke our hearts," Schaeffer says. "Then is just snowballed and frankly one day ran into the next."
Below the surface, there was another complicating factor amid concerns for safety of staff and the public.
"We have a live product in our hatcheries, and we need to get that live product out," Schaeffer says. "We needed to free up capacity in order to take in fish that would be put in the streams two years from now."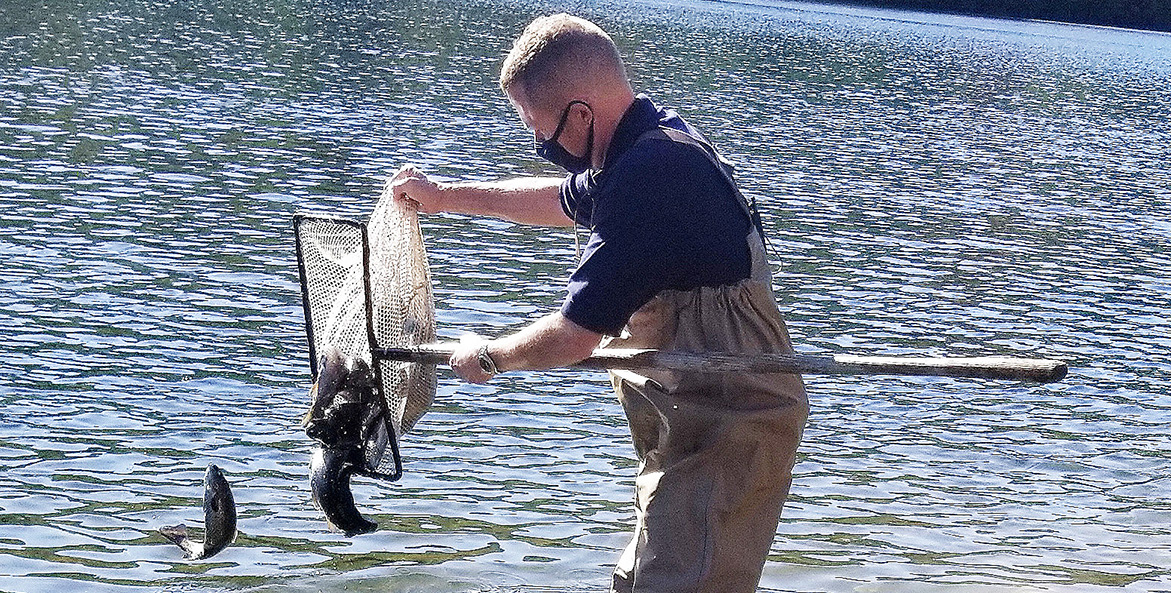 The PFBC raises and releases 3.2 million trout a year for preseason and in-season stockings. Co-operative nurseries add another one million.
Just as over-crowding isn't healthy for people in a pandemic, it also endangers fish.
"The longer you have fish that are growing in one crowed area, they are more susceptible to disease," Schaeffer says. "So, it was the right thing for the fish to get them out of the hatcheries."
How to have them come together safely was the task.
In addition to stocked fish, the Commonwealth boasts thousands of miles of wild trout waters that are second to none.
"What better way to get away from people than to be two miles up into a state forest or game lands pursuing wild trout," Schaeffer says.
"It's all about habitat and water quality for the great fisheries that we have," Schaeffer adds. "The things we do for wild trout and other species also helps to minimize the flow of nutrients and sediment downstream."
Throughout the decision-making process, the commission was in regular contact with the governor, and Departments of Health and Conservation, and Natural Resources (DCNR). More trout are stocked in state parks and forests, managed by DCNR, than anywhere else.
So, in a move designed to be a surprise and kept that way until the last minutes, the trout season was opened at 8 a.m. on April 7, a Tuesday—instead of the normal Saturday. It could dilute opening day over-crowding.
"A few anglers were mighty upset over the surprise of opening day," Dave "Trout King" Swope says. The Adams County angler has helped the PFBC stock fish for 44 years and manages a co-operative in Fairfield. "My comment to them was, 'If you fished in Maryland the trout season was closed. At least here you could get outdoors trout fishing and enjoy the beauty that God has created for all of us."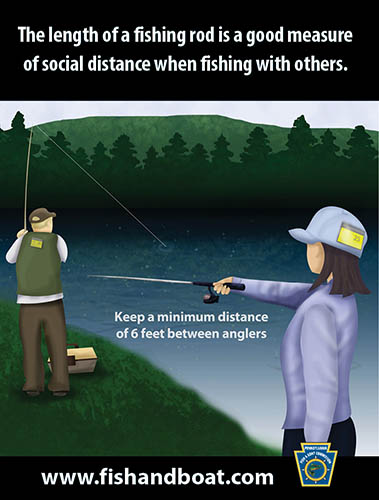 In making the announcement and throughout the season, the commission emphasized greatly that anglers should wear masks and stay at least six feet from others.
The early-season opener also meant that those four million trout would have to be out before then and without the help of volunteers.
There was also the little matter of getting fishing licenses when many of the retailers that sell them were closed due to the pandemic. The commission eliminated its license display requirement and pointed anglers toward online sales, where licenses triple.
Anglers who crave a bit of normalcy will find the trout seasons look a little familiar this year.
The 2021 trout seasons in Pennsylvania will include a Mentored Youth Day on Saturday, March 27, and a statewide opening day on Saturday, April 3. It means an extra two weeks of trout fishing. Preseason stocking started February 15 and will continue during the season.
"Folks have been used to the social distancing and masking requirements in every other facet of their lives" Schaeffer adds. "We're comfortable that they will do that."
"We wanted to get the fish in the water and season opened as soon as possible," Schaeffer says. "Numbers are trending now, but if there's anything that we learned in the last year, it's that uncertainty can rule the day."
Issues in this Post