Cooped up at home at the start of the pandemic, Vanessa Bolin looked out her back window at a neglected, kudzu-covered field and saw a beautiful garden.
Gone were the discarded mattresses and abandoned bags of concrete. In their place, Bolin envisioned a plot where her Northside Richmond neighbors could grow their own food and medicine affordably while renewing the damaged Earth.
Three years later, Community Roots Garden is all of that and more. Bolin, an Indigenous activist, artist, and herbalist, also uses the garden she founded to teach people about sustainability, soil health, and the natural resiliency of the land.
Modern scientists and agronomists have given these practices formal names and created academic disciplines to study and teach them. Many are now part of a suite of holistic farming methods collectively referred to as "regenerative agriculture." But to Bolin , they are simply how you farm.
"That's the only way I know. I learned from my grandfather, from my aunties, from my dad—from people who have always gardened or farmed," Bolin says. "If I want to garden a different way, I would have to go and learn that."
Farming in Tune with Nature
The term "regenerative agriculture" may be new, but the idea of farming in harmony with nature is not. It's actually tens of thousands of years old. Indigenous people in North America, Africa, and around the world practiced it for millennia before white European colonizers stole their land, killed and enslaved their people, and tried to destroy their way of life.
Fortunately, many regenerative farming techniques have been preserved by elders and passed down to the next generation for tens of thousands of years.
Regenerative practices—which include growing compatible crops together, planting cover crops on harvested fields, rotating where crops grow and animals feed, and many others that help build the health of the land and surrounding waterways—are central to current efforts to restore the Chesapeake Bay watershed. Agriculture is the largest source of pollution to waterways, but it is increasingly seen as one of the biggest opportunities to turn around a pattern of degradation and create healthy ecological and human communities.
That's why CBF's top priority for the next Farm Bill, which Congress must write this year, is to ensure programs that reward farmers for using conservation practices include support for these age-old practices. As advocates for farming methods pioneered by ancient cultures, we want to honor their wisdom and learn from the descendants who use these methods today.
The term "regenerative agriculture" may be new, but the idea of farming in harmony with nature is not.
The way Thelonius Cook sees it, the scientific community is simply "catching up through technology and starting to learn about things that maybe other cultures knew through other means." Cook owns and manages Mighty Thundercloud Edible Forest on Virginia's Eastern Shore.
Cook grows an array of fruits, vegetables, and herbs on his 7.5-acre farm, including ginger, tomatoes, watermelons, kale, hemp, and Callaloo (a leafy green that originated in West Africa). He also sells cut flowers and uses plants he grows to make elixirs, like ginger switchel (a Colonial-era drink with Caribbean origins) and hibiscus juice, that promote good health.
"Don't get confused by the terminology," says Cook, who holds a master's degree in sustainable development from the University of London. "This is just the way that we farm. We've always had that sort of relationship with nature."
"The problem is when it's treated as this new thing," he says. "'Oh, you mean what Indigenous folks have been doing for thousands of years.' We need to get back to that, doing regenerative agriculture practices, if that's what we want to call it."
Back at Richmond's Community Roots Garden, Bolin notes, "All Indigenous people had some practices of how they got their food. Those who grew food, they always worked with the land. [They knew] what would grow, what would not grow, what they needed to do make the crops better, where to forage not only for food, but for medicine."
You can find medicinal herbs and plants like elderberry and chamomile at Community Roots Garden. Bolin and her fellow farmers also grow several varieties of Indigenous squash, African cowpeas, paw paws (a sweet tree fruit native to this region), potatoes, strawberries, Napa cabbage, and zucchini, just to name a few examples of the garden's year-round bounty.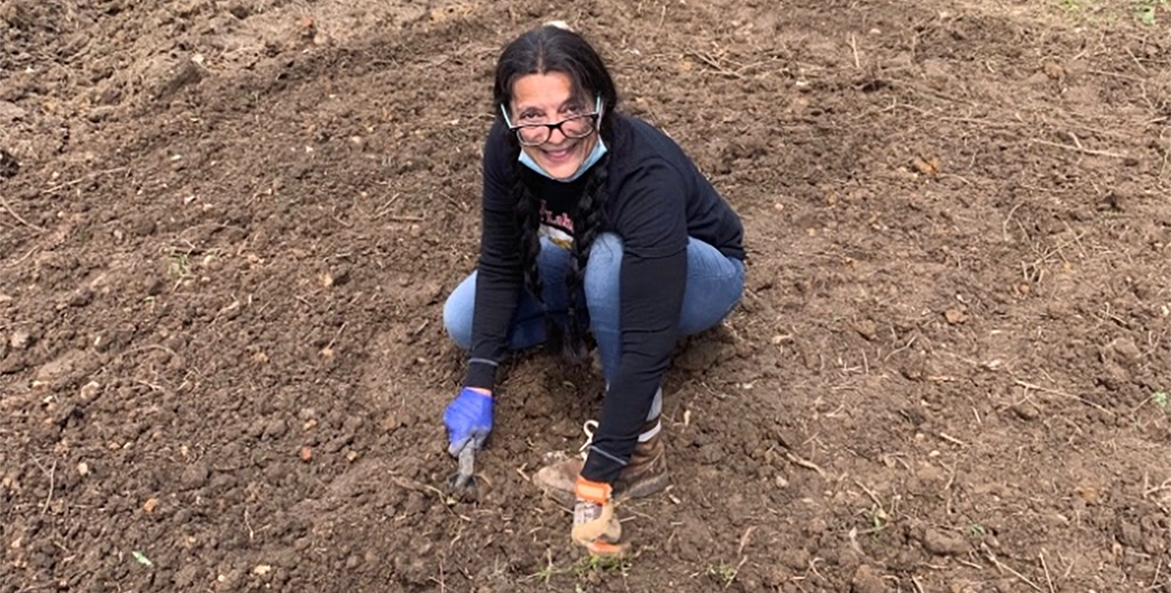 Providing Healing and Leaving a Legacy
More white and conventional farmers may be starting to recognize the wisdom of traditional Black and Indigenous peoples farming methods. Unfortunately, Bolin and Cook say they are losing something important in the process—the emphasis on community, social justice, and healing.
"It's about being more 'we-centric' than 'I-centric," Bolin says. "This is about taking care of the land, feeding your family, feeding your neighbors. Those are things our people have always done."
All of Community Roots Garden's organic produce and the land to grow it on is free. People are encouraged to take only what they need and leave the rest for others. Bolin is a passionate believer that everyone should have access to fresh, healthy foods and that communities have a responsibility to look out for those in need.
She believes people also need a peaceful place to nourish their souls, get back to the land, and restore their spirits. She is proud that Community Roots Garden has become one such "sacred space."
"A lot of people just come out there to put their hands into the soil. They leave their sorrows there and gain peace," Bolin observes. "We want that to be around forever and ever because in this chaotic world and this hectic life, people need a place to go . . . to restore themselves."
Mighty Thundercloud Edible Forest is becoming one of those places, too. That wasn't the plan when Cook bought it, though. Growing up on the land he now owns, Cook only saw farmwork as chores that he and his sister were eager to finish.
It took a trip to East Africa, where Cook immersed himself in the culture, talked to farmers, and ate what they grew, for him to feel a spiritual connection to his family's agricultural heritage. But it wasn't until visitors and volunteers started showing up on his farm a few years ago that he realized people in his community hungered for something he could provide.
Cook believes young Black visitors from nearby urban areas in particular "are following sort of the inner calling to return to the land. I'm conscious of that now and really creating the space because I realized they were looking for certain things" beyond seeing how a farm operates.
"We are coming to the land under our own [power], as opposed to when we were first brought here and forced [to work] and were exploited," Cook said. Many of those enslaved Africans' descendants ultimately left agricultural regions like Virginia's Eastern Shore. Fortunately for Cook, the few who stayed and continued farming kept their ancestors' knowledge alive. It was still alive for Cook to tap when he bought his farm in 2014.
These days, Cook wants to be "a gateway or that bridge," creating opportunities for people to learn from him and transmitting what he has learned from his parents and elder farmers to the next generation.
Leaving a legacy for future generations is what drives Bolin as well. Community Roots Garden is currently planting pecan and walnut trees that will not produce their first fruit until after she dies. But Bolin's grandchildren and their grandchildren and all of their neighbors will see them. She hopes they will think of her and how the community came together three years ago to create this free garden.
"I'm not doing this for the here and now. I'm doing it for the next seven generations. I'm doing it for the people who come after me," Bolin says.
Vanessa Bolin and Thelonius Cook are part of the Million Acre Challenge, a collaborative project of farmers and advocates working to advance soil health throughout the Chesapeake Bay region. CBF is a founding partner.