This article was originally published in the Daily Press on March 5.
Oysters are a favorite at Heirloom Restaurant in Virginia Beach, which on average sells about 300 a day. "Oysters are one of many local ingredients that put Virginia Beach on the map as far as culinary offerings go," Brent Cowan, Heirloom's owner and head chef, said. "There's just something about a fresh oyster, that sweet brine, perfectly shucked, served nice and cold or roasted on the grill."
After customers finish their meals, staff put the oyster shells into five-gallon buckets, which are picked up twice a week by volunteers from the Chesapeake Bay Foundation. Baby oysters will attach to these recycled shells in local reefs. It's a satisfying cycle from water to restaurant and back.
While this shell is an essential resource for restoration work, some restaurants still send oyster shells to landfills. This year, Virginia is taking an important step to increase oyster shell recycling through legislation that the General Assembly just passed and sent to the governor. The bill establishes a new fund to keep oyster shells out of the trash by providing grants to businesses and people that recycle shells, as well as organizations that maintain shell recycling bins.
"By recycling, you're not filling up the landfills and dumpsters with oyster shells," Cowan said. "The more oysters we have, the cleaner our waterways and the Chesapeake Bay will be."
Virginia oyster harvests are climbing and investments in clean water from Virginia legislators are key to making sure this trend continues, as the Editorial Board recently noted. But a lesser-known issue is the scarcity of oyster shells, where a limited supply and increasing demand for restoration work has driven up the cost of shells.
In the face of this tight supply, several volunteer-based programs in Virginia pick up empty oyster shells from businesses, oyster roasts and bins where anyone can drop off shells after meals. The shells are then cured and prepared for planting on oyster reefs.
Baby oysters must attach to a hard surface to grow. In nature, this is often the shell of another oyster, which can eventually host 10 or more new oysters. These networks of oysters create reefs that filter water and form homes for fish, crabs and other species vital to businesses that rely on fishing and seafood.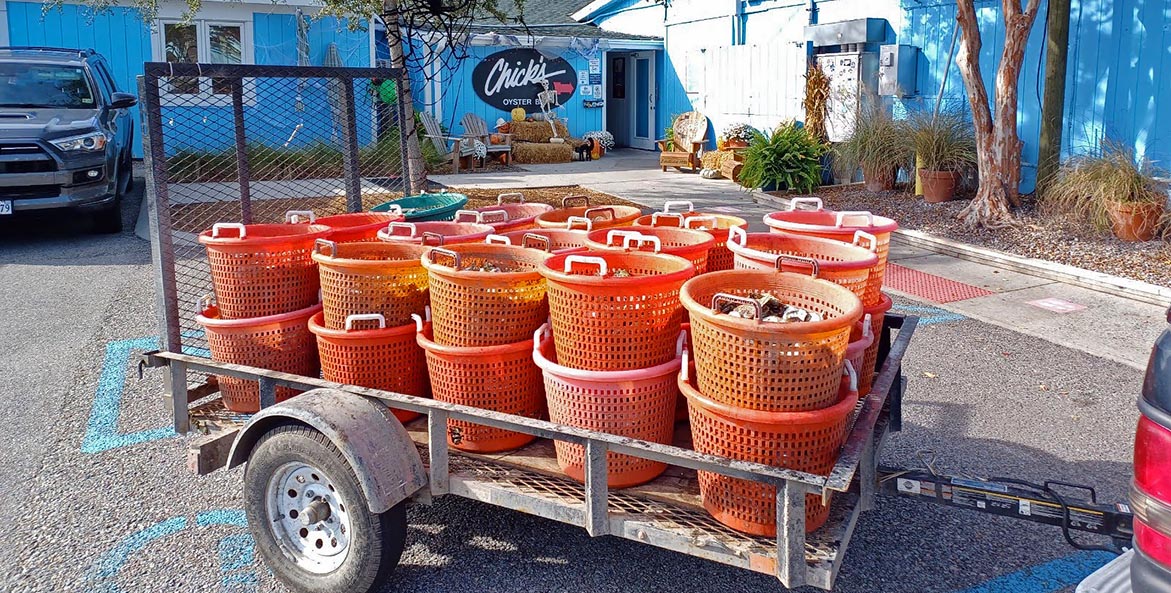 Virginia's adoption of a fund to help businesses and organizations recycle oyster shells will give a much-needed boost to shell supplies. Some restaurants may be unaware of shell recycling programs or hesitant to dedicate staff time and space to store shells until they are picked up.
"Now more than ever it's important to provide incentives for recycling shells," Cowan said. "Restaurants continue to face many challenges coming out of COVID, including staffing shortages, higher food costs and inflation affecting shipping costs, gas prices and operating costs in general."
Hampton Roads legislators Sen. Monty Mason and Del. Tim Anderson sponsored the shell recycling legislation. The restaurants that participate, along with the people who drop off shells at bins, are all doing their part to work towards the Chesapeake Oyster Alliance goal of adding 10 billion oysters to the bay by 2025.
But perhaps the biggest benefit of sending oyster shells to reefs is giving back to the waters that provide us with fresh seafood in the first place. Heirloom Restaurant is rooted firmly in the region's farms and waterways, and Cowan's childhood memories in Hampton Roads of his father and grandfather enjoying oysters roasted on the grill.
He now recycles shells for the next generation. "I hope my kids will always be able to swim in the Bay and the Lynnhaven River," Cowan said. "If we want to keep swimming and serving oysters and have clean waterways for fish and shrimp, restoring oyster populations is key."
Find out more about CBF's own shell recycling programs in Maryland and Virginia.
Issues in this Post