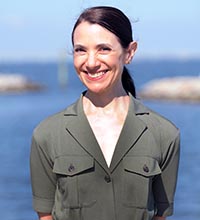 Lisa Caruso grew up in Baltimore County and began her career at The York (PA) Dispatch as the newspaper's first environmental reporter. She's a longtime resident of Washington, D.C., and is delighted to notch another first as CBF's first communications coordinator for federal and local District issues. As a Georgetown University graduate, she has spent her entire life (except for junior year abroad in Paris) in the Bay's 64,000-square-mile watershed.
Lisa covered politics and policy in the nation's capital for more than two decades before making the jump to environmental communications and unleashing her inner advocate.
Away from the office, you'll find her devouring nonfiction books on the latest subject to pique her curiosity, strolling around D.C.'s many colorful neighborhoods, or tirelessly rooting for her beloved Georgetown Hoyas basketball team. With friends in Eastport who sail, she's partial to that Annapolis enclave—but eager to explore farther afield. She swears Old Bay is as delicious on corn on the cob as it is on crabs.
Lisa's Posts
May 5, 2021

Cultivating healthy anglers and stewards of our waters in the Latino community.

December 7, 2020

CBF Clean Water Captain Mike Taylor took advantage of technology to share testimony with EPA from his home in Virginia Beach.

July 15, 2020

As part of our Chesapeake Classrooms professional learning program, we're offering a timely new course for teachers focused on the intersection of two of the most important issues we face today—protecting the environment and advancing social justice.