DC on the Half Shell
Monday, February 25, 2019
5:30-9:00 p.m.
Dock 5 at Union Market
1309 5th Street, NE
Washington, D.C. 20002
Directions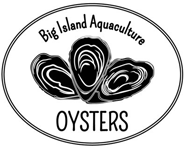 Big Island Aquaculture
Gloucester, Virginia
Big Island Aquaculture is a small, family run business serving customers with great tasting oysters while helping sustain the beauty of the Chesapeake Bay and promoting its rich culture. Our Big Island Oysters are grown on a beautiful, pristine body of water nestled between the York River, the Mobjack Bay, and Myrtle Point Narrows. Big Island Aquaculture Oysters is a working oyster farm featuring floating cages and cultured triploid oysters. Their oysters grow at the top of the water column.
http://www.bigislandaquaculture.com

Hollywood Oyster Co.
Hollywood, Maryland
Tal Petty started growing oysters on weekends at his family's farm and soon had dozens of cages and thousands of oysters that he shared with friends. Tal had an 'aha' moment in 2013 and moved from Bethesda, Maryland to the oyster farm—he hasn't looked back. Tal and his wife, Na, operate Hollywood Farm on 100 percent solar-powered energy and have three unique oysters with Sweet Jesus, Va Va Voom, and Seasiders.
https://hollywoodoyster.com/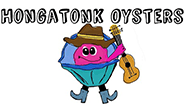 Honga Oyster Company
Toddville Maryland
Honga Oysters are grown in the tidal straits of the Honga River, where the Honga River meets Fishing Bay on the Eastern Shore of the Chesapeake Bay. HongaTonk and Honey Cup Oysters are grown in cages in the fast-moving tidal waters of Honga River. They have a nicely rounded shape and a deep cup, and have medium salinity and full robust flavor, with a smooth subtle finish. For more information, visit them on Facebook at https://www.facebook.com/HongaOyster/.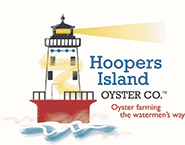 Hoopers Island Oyster Aquaculture Co.
Hooper's Island, Maryland
Hoopers Island Oyster Co. is a multi-generational family business. Timeless traditions married with innovative technologies defines our spirit and our business model. From seed to shuck, they invite you to discover oyster farming, the watermen's way. Hooper's Island Oyster Aquaculture Company produces and markets high quality half-shell oysters. They offer three types of sweet and salty oysters grown off the small islands of Maryland's Eastern Shore in Dorchester County. For more information, visit https://hoopersisland.com/.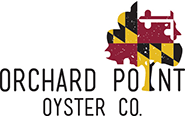 Orchard Point Oyster Co.
Chester River, Maryland
Orchard Points are grown in off-bottom cages, in the waters near the mouth of the Chester River in the Upper Bay Region of Maryland's Eastern Shore. Oysters are tumbled in small batches to promote a deep, consistent shell cup. For more information, visit http://orchardpointoysters.com.



Rappahannock River Oyster Co.
Topping, Virginia
In 2001, when cousins, Ryan and Travis Croxton, set out to revive their grandfather's oyster company, the Chesapeake Bay had just recorded its lowest oyster harvest in history. The mission seemed clear: to resurrect the native Bay oyster and put it back on the map. Virginia is now seeing harvest tallies not witnessed in a generation, and Virginia now leads the entire East Coast in oyster production. Today, Rappahannock River Oyster Co. has a new mission: to celebrate good food grown well—or to put it another way, to celebrate our community of like-minded friends—because it's always been about more than just oysters. It's about good people doing great things.
www.rroysters.com/oysters/rappahannock-river-oysters
ShoreThing Shellfish, LLC
Tall Timbers, Maryland
Shore Thing Shellfish, LLC is a small, member owned and operated oyster farm in St. Mary's County, Maryland. They have been growing oysters since 2011 and provide a variety of other oyster-based services, including living shoreline installations and spat on shell planting for restoration and mitigation. They use the most environmentally friendly practices possible and are continuing Maryland's waterman heritage. "We are beyond sustainable. We are 'restorable.' "
www.shorethingshellfish.com
www.facebook.com/ShoreThingShellfishLlc
Tangier Wilds
Tangier Island, Virginia
James "Ooker" Eskridge, mayor of Tangier Island, Virginia, is a working waterman from this island in the middle of Chesapeake Bay. He harvests crabs and oysters from around his home where the Tangier Sound and Chesapeake Bay meet. These are salty and clean wild-caught oysters.

Need more info? Contact us at tdwan@cbf.org or 443-482-2129.
This page was last updated on January 2, 2019.