Runoff pollution is increasing because the amount of land covered by parking lots, roads, roofs, and driveways, continues to grow. Meanwhile, forests, meadows, and other natural filters are disappearing, and manmade filtration systems to control runoff have not compensated for the loss.
With climate change potentially increasing the amount of precipitation, localized flooding can result as once designated "100-year storms" occur with greater frequency.
Only 10 to 20 percent of rain that falls in forests, fields, and other natural areas runs off, with the rest absorbed by soil and plants. By contrast, close to 100 percent of the rain that falls on concrete and other hard surface produces runoff. An inch of rain falling on an acre of hardened surface produces 27,000 gallons of runoff.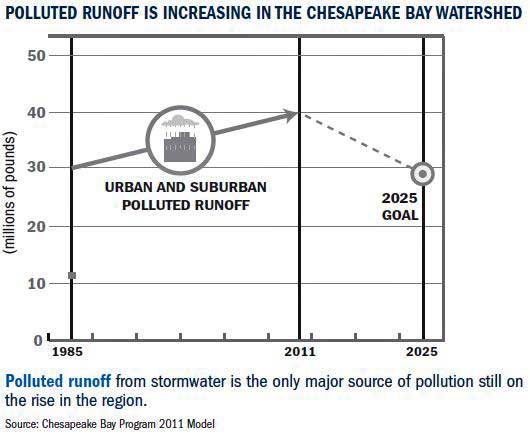 In the Chesapeake Bay watershed, almost 5.4 million acres of land are developed, which is about 13 percent of the land that drains into the estuary. More than a third of this developed land (or 1.9 million acres) is covered in pavement, roofs, and other surfaces that rain cannot penetrate. That means that about three percent of the Bay watershed is covered in impervious surfaces. The percentage of coverage by hard surfaces is much higher in urbanized communities: 51 percent in Baltimore; 46 percent in Washington, D.C.; and 24 percent in Newport News, Virginia.
Chesapeake Bay watershed map of impervious surfaces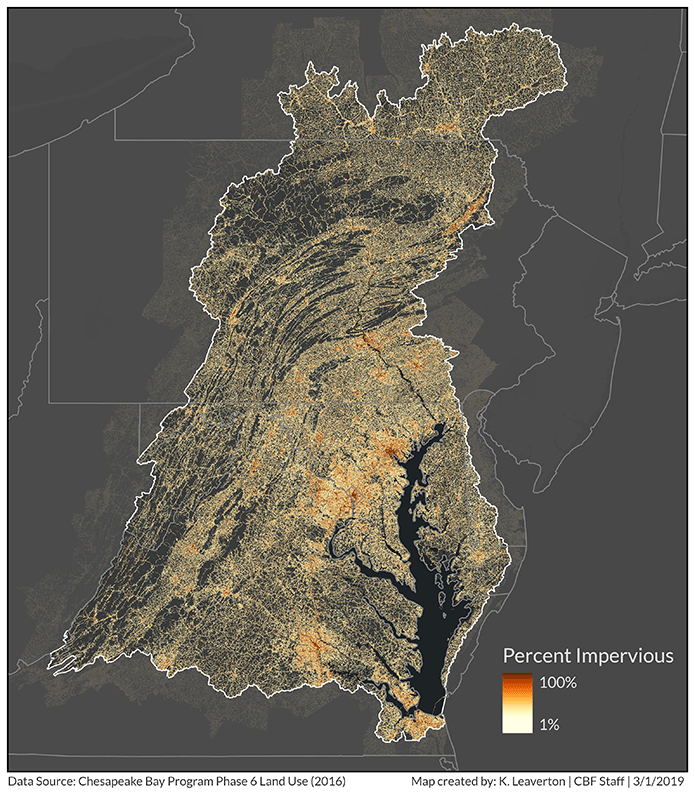 Click here for "Maps: Rivers at Risk"
Spread-out development patterns—also known as sprawl—largely comprise the prevailing form of new development across the Bay watershed, although there are signs that the alternative – more compact development within and adjacent to existing urban and suburban areas – is also occurring with more frequency. One of the signs of sprawl is when the rate of land development far exceeds the rate of population growth. In Maryland alone, the population grew by 39 percent but the developed land multiplied by 154 percent from the 1970s through the early 2000s.
Another indication of sprawl is when exurban resource land (farmland, forestland, and fallow areas) is regularly being lost. Since 2007, Pennsylvania, Maryland, and Virginia have been losing about 28,000 acres of farmland annually, much of it to development. From 2007-2017, forestland fared better, but forest losses and conversion continued to occur in parts of Virginia and in urbanizing Maryland jurisdictions. Overall, the land development rate averages about 40,000 acres per year across the Bay watershed which, while considerable (equivalent to a city the size of Baltimore), is 0.1 percent of the overall watershed land area each year. Overall, expansion of urban and suburban developed areas explain why this source of nitrogen pollution is still increasing.
A Toxic Brew
"What we do on land goes right into a storm drain and then right into our sources of drinking water and the places where we recreate," according to Richard Batiuk, former Associate Director for Science, Analysis, and Implementation with the U.S. Environmental Protection Agency's Chesapeake Bay Program. "People always think, 'once it disappears, it's okay.' No, it stays around and it comes back and bites you, either through your faucet or an inability to have a meal of rockfish or crabs."
The list of pollutants in runoff is long. Trash dropped on the street. Nitrogen and phosphorus from fertilizers on lawns and air pollution that settles on the ground. Fecal bacteria, viruses, and other pathogens from animal and human waste. Oil and toxic petroleum products from vehicles and driveway sealants. Pesticides and herbicides from lawns and gardens. Road salt. Dirt from stream banks and construction sites that lack runoff control fencing. Toxic metals, such as copper, lead, and zinc from vehicles, roofing materials, and paints.
Did you know:
The brake linings of cars and trucks are often made with copper, and they shed a fine dust of this toxic metal onto streets. The Maryland Department of the Environment sampled runoff from the state's major urban areas and found copper in 92 percent of the samples. Fifty-three percent of the time the levels would be acutely toxic to aquatic life. (Copper also appears in waterways because, among other reasons, the metal is an ingredient in herbicides.) Zinc from car tires, road salt, paint, and other products has also been found in runoff, as well as the toxic metals lead, chromium, and cadmium.
Oil and other petroleum products in runoff are well known by scientists to be toxic to aquatic life, even in low concentrations.
Researchers have detected pesticides (including sometimes dieldrin and the now-banned chlordane) in 97 percent of suburban and urban runoff samples nationally, and at levels high enough to harm aquatic life 83 percent of the time. For example, Lake Roland in Baltimore County is so polluted with chlordane—a termite killing pesticide sprayed in nearby homes—that anglers are warned to limit their consumption of fish from the lake.