We firmly believe in learning outside and cannot wait to resume our typical field programs with students, teachers, and administrators from across the watershed this fall. Visit our 2021-2022 field program offerings and request dates today!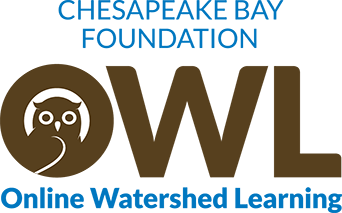 During the 2020-21 school year, we offered the opportunity to engage with our educators online through live, guided instruction, through our Online Watershed Learning (OWL) program. We developed this new learning adventure to correlate with state education standards, accommodate the needs of individual classrooms, engage students in actions to help save the Bay, and reach new audiences during the school closures required by COVID-19. Although this program was very successful and we enjoyed working with students and teachers all over the watershed, we are putting all of our energies to getting back into the field and we hope you can join us there.
If you have questions, please contact us at EducationCoordinator@cbf.org or by phone at 800-445-5572.