Our expert educators will join your class to lead inquiry-based activities and discussions. Students will be inspired to investigate local environmental issues relevant to their communities and engage in actions to help save the Bay.
How the CBF OWL Program Works
A CBF educator will lead an online, interactive 45-minute lesson on one of our available themes (see below) with you and your students. Each reservation will include:
one lesson and will accommodate up to six class sections;
a conference call with a CBF educator beforehand to prepare you for each lesson;
guidance on CBF's supplemental Learn Outside, Learn at Home online resources, including video lessons from the field, student investigations, and student action extensions;
a designed learning adventure that correlates with state education standards to accommodate the needs of individual classrooms.
Cost: $50 per reservation. Fee waivers are available for schools that qualify (this includes Title 1 or FARM schools. Additionally, schools that have extenuating financial needs may also apply for fee waiver consideration.)
Choose from the following six themes (click on the theme name for more information):
Meet our team of CBF Educators
CBF OWL Program Themes
State of the Bay
How do scientists determine the health of the Chesapeake? Join this learning experience to uncover key elements for assessing the health of our watershed. Along the way we will examine our own connections to indicators for the state of the Bay and decide how relevant these factors are to our communities.
Available lessons:
Habitat
Nutrients—Too Much of a Good Thing
Sediment in Streams
Watershed Connections
What happens when rain hits the land? This experience will examine the biggest threats to the Chesapeake Bay. We'll scour our own neighborhoods looking for sources of nutrient or sediment pollutants and create ideas on how to reduce them.
Available lessons:
Riparian Buffers and Clean Water
Reducing Erosion
Nutrients—Too Much of a Good Thing
Chesapeake Bay Ecosystems
The Chesapeake Bay is an estuary, a place where fresh and saltwater mix to provide a unique habitat for a vast array of birds, mammals, insects, and fish. Get up close and personal with some of the Bay's coolest critters as you contemplate how each is adapted to live in this environment.
Available lessons:
Learn About Fish
Underwater Grasses
Blue Crabs 101
Freshwater Ecosystems
What makes a healthy freshwater stream? This experience will take a close look at the key indicators of health and the types of pollution that have the biggest impact on our tributaries. We'll study the animals that live in freshwater, examine fish anatomy and uncover the strange world of freshwater mussels.
Available lessons:
Healthy Streams
Riparian Buffers and Clean Water
Fresh Water Mussels
Oysters and A Clear Bay
Why does the Bay depend on oysters? How can a small animal that doesn't even move have an impact on you? In this experience, we'll go on a deep dive to learn about these essential creatures and calculate how many oysters you'd need to filter the water your family uses each day.
Available lessons:
Oyster Filter Power
Biology of an Oyster Reef
History of Oysters
Forests, Wetlands and Healthy Water
Trees and wetlands are among nature's most important natural filters. They clean our air and water. They also provide vital habitat for animals. But how much do you really know about them? Join this experience to learn how to identify trees, see the superpowers of wetlands and how scientists monitor water quality of our rivers and streams.
Available lessons:
Riparian Buffers and Clean Water
Why is Water Quality Important?
Wetlands
Questions? Email EducationCoordinator@cbf.org or call 1-800-445-5572.
On Our Blog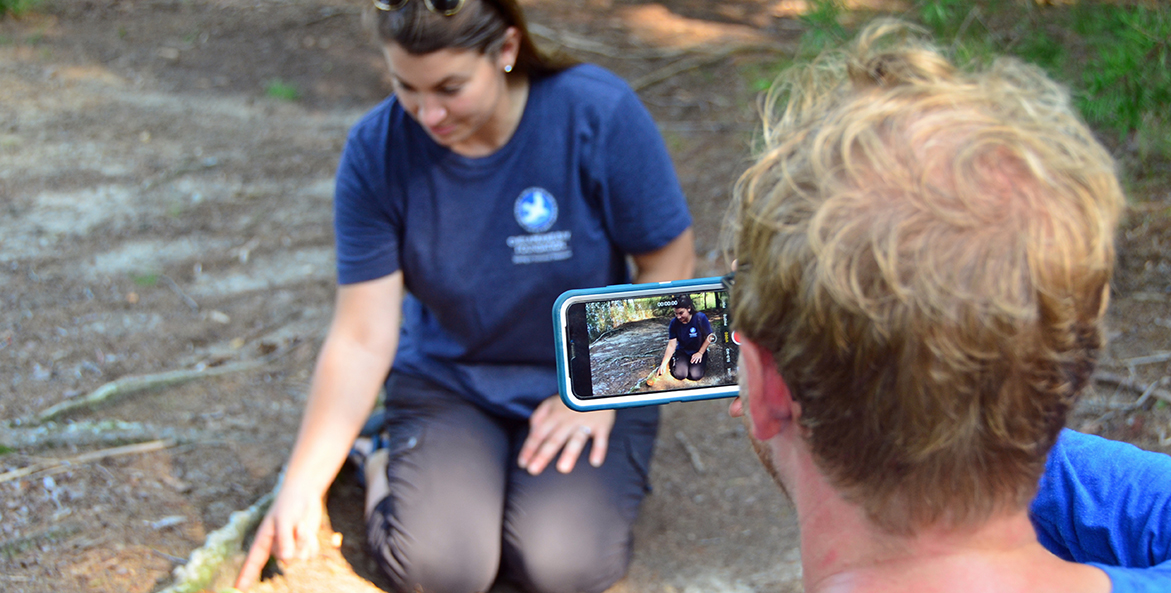 We sit down with three CBF educators to ask them about our new virtual learning program and what they're excited for in the coming months.