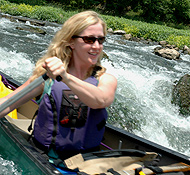 Tenure at CBF: February 1997- Present
Deidra was inspired to take on a career in conservation by her parents as she grew up in rural northeast Ohio. Her father is an environmental sculptor and her mother is a Master Gardener. She earned a Bachelor of Science Degree in Conservation from the Biology Department at Kent State University. While in school and shortly afterwards, Deidra gained experience as a wildlife technician, assisting in research for Willamette University with the National Geographic Society and Chiricahua National Monument to assess the conservation status of the Chiricahua Fox Squirrel, Peccary, and Coatimundi. She also assisted in conducting research for the Virginia Department of Game and Inland Fisheries to assess the conservation status of Bobwhite Quail. Through these experiences, she learned to observe behavior and habitat use through live trapping to take physiological measurements, radio-telemetric tracking to establish home ranges, and habitat measurements.
In the early to mid-1990s, Deidra became a naturalist for Pymatuning State Park where she learned how to design, prepare, and conduct interpretive nature programs and ultimately found her love of environmental education. She began as a canoe program educator for the Chesapeake Bay Foundation in 1997 and grew to take on senior manager roles and then director roles for the Education Department. Her current focus is managing, leading, and developing program plans with senior staff to align with the Chesapeake Bay Foundation's long-term goals through meaningful field experiences and in student leadership opportunities.
Education:
B.S. in Conservation Biology, Kent State University, 1995
Nonprofit Management Executive Certification, Georgetown University, 2007
Institute for Transformational Leadership Workshop, Georgetown University, 2019