Most understand that how we treat the land has a direct correlation to the health of our waterways. Implementing best management practices on farms, reducing urban and suburban polluted runoff, and upgrading wastewater treatment plants are all critical to protecting and restoring our waterways. But often overlooked is the major impact air pollution has on water quality.
Each year, more than 85 million pounds of nitrogen pollution—about one-third of the Bay's total yearly load—comes from air pollution. And this excess nitrogen contributes to algal blooms, often creating dead zones in the Bay that cannot support underwater grasses, crabs, fish, and other marine life. Moreover, air pollution, primarily from power plants, is also the main source of the mercury that contaminates fish in the Bay watershed.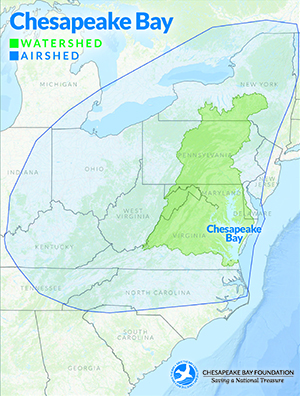 While the damage caused by air pollution is undeniable, addressing this pollution is incredibly challenging given the vast size of the Chesapeake Bay "airshed." At 570,000-square-miles, stretching from North Carolina to Canada and as far west as central Indiana, the airshed is more than nine times the size of the watershed. And throughout the airshed, power plants are the primary source of pollution, particularly coal-burning power plants.
Which is why we are dismayed that the EPA abdicated its responsibility under the Clean Air Act by denying petitions requesting 19 coal-fired power plants in Pennsylvania, West Virginia, Ohio, Indiana, and Kentucky to reduce air pollution that travels across state lines. These emissions harm not only our water quality, but also makes it difficult for us to breathe, especially children and seniors.
Despite this failure by the EPA, we will continue the fight to address these upwind pollution sources. Stay tuned for updates on how you can help.
This Week in the Watershed: Chlorophyll Consequences, Sinister Snakeheads, and Florence Aftermath
What's Happening Around the Watershed?

September 22
September 27
September 28-29
September 29
September 30
October 4
October 6
October 8
October 9
October 10
October 11
October 13
October 20
October 21
October 24